Inside Nicolette Mason's Wedding-Dress Fitting with Designer Christian Siriano
All the sparkly, shimmery, golden gorgeousness you could possibly want.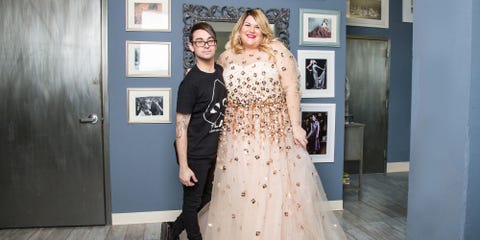 Marie Claire contributing editor Nicolette Mason created the wedding dress of her dreams with a little help from her designer pal. Come see all the sparkly, shimmery, golden gorgeousness.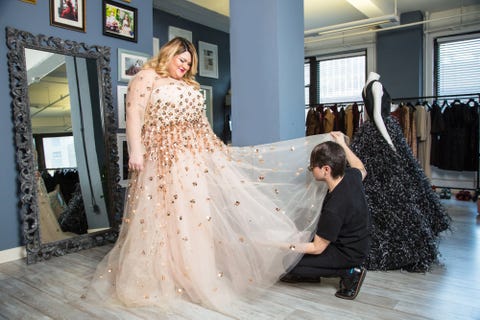 I first met Christian Siriano nearly six years ago, when I was writing for Vogue Italia. After interviewing him, we became fast friends. I've developed an even greater love, respect, and admiration for him—not just as a person, but as a designer. He really creates magic with fabric, and seeing his red-carpet looks for women of all shapes and sizes, I knew he could create something stunning for my non-sample-size frame.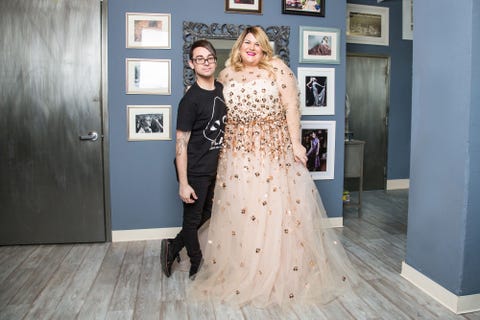 Like many brides-to-be, I had an idea of what my dream dress would look like (check out my trip to Kleinfeld here). But for the most part, I took my very disjointed sources of inspiration and trusted Christian to bring it all together. Because we've been friends for years, there was an automatic shorthand to the way we communicate —and working with a designer who already knows my personal style, my personality, and the way I typically dress was a huge advantage. My mind and nerves were also totally at ease because Christian has such a fluency designing for lots of different body types. Not many designers can do that, but I think it's what sets him apart!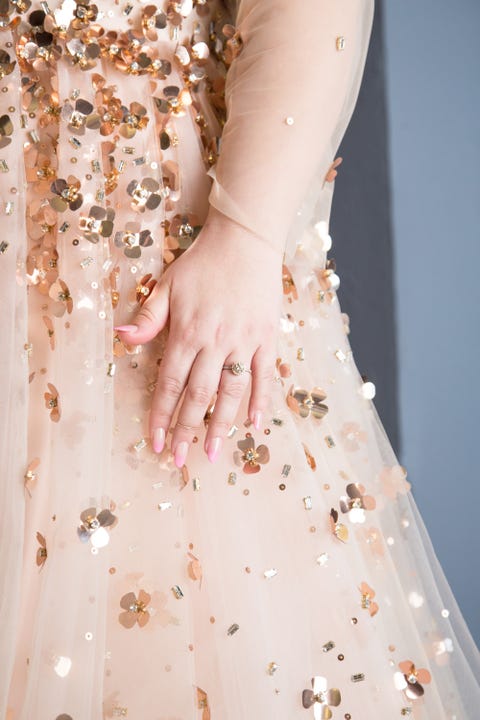 What Christian ended up creating for me was, without a doubt, my dream gown. The dress was made in delicate layers of hand-dyed blush pink and champagne tulle, with a sweetheart bustling and an illusion neckline and full illusion sleeves—which had crystals, rhinestones, and rose gold appliqués cascading up and down from the waistline.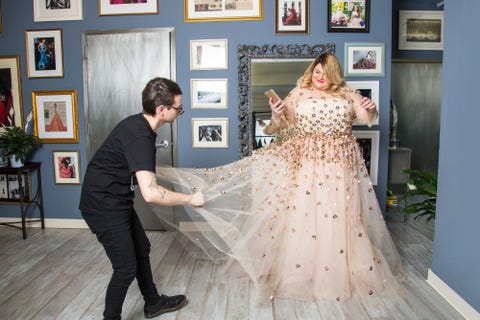 We went through four rounds of fittings, with the last adjustments made the week of the wedding. The fitting process is where I really got to see Christian's genius come to life. Seams were moved within millimeters that made a world of difference, boning was added, and he was able to design really innovative ways to make the dress fit (and feel) perfect, like a clever stretch panel hidden in the armpit to insure comfort when I moved around, and invisible zippers so that the illusion sleeves looked like a second skin.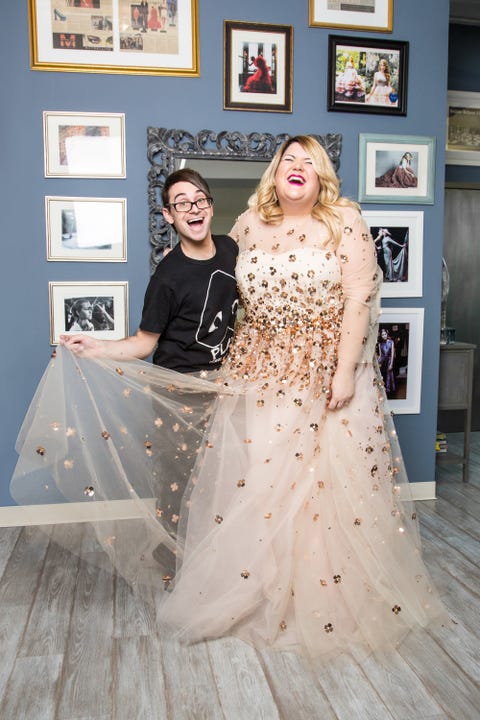 It felt ethereal and magical, and floated when I moved. I knew I wouldn't wear a traditional white gown, but what Christian created exceeded every one of my expectations about mine and Ali's wedding day. I can honestly say that everything about my dress was perfect!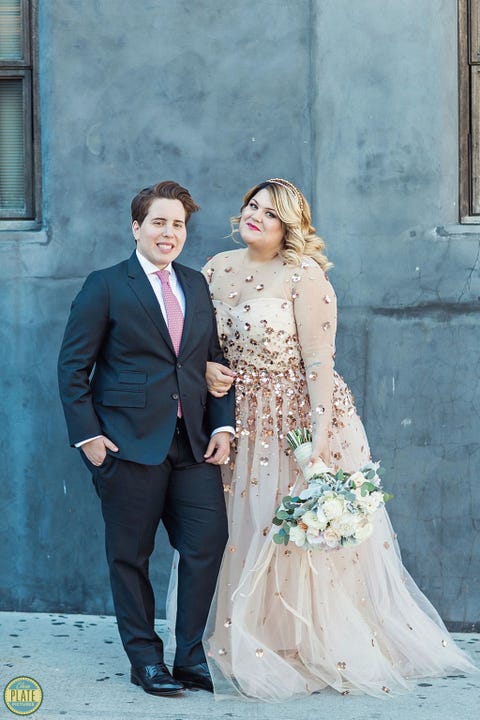 Even though we are far from being a traditional couple, I didn't let Ali see my wedding dress until the day of our wedding. We did a "first look" about two hours before our ceremony, and Ali was sort of speechless. We were on a terrace outside of our room at the Wythe Hotel, overlooking New York City, and she twirled me around to look at the dress. She had a huge smile plastered across her face and we shared our excitement that in a few short hours, we'd be married. I don't think she would have expected anything less than a rose-gold-and-crystal-covered blush pink gown from me!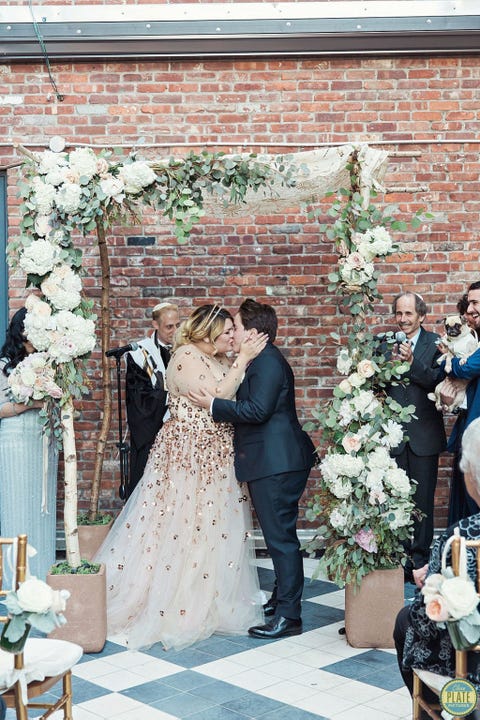 Not to exhaust a totally patriarchal cliche, but…I felt like a princess. Wearing the dress, and even looking back at pictures, I automatically swell up with sheer joy. If I had a reason to wear it every day, I probably would.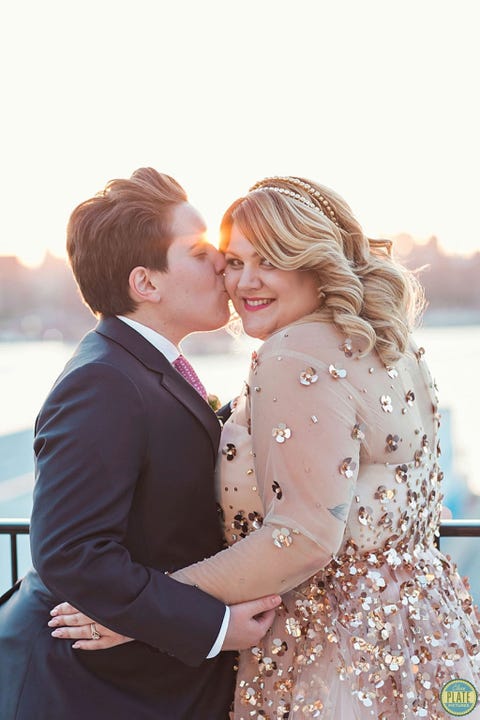 I know I write about the transformative quality of clothing for a living, but it's been a while since I put something on that completely altered my sense of self. My wedding gown really did that.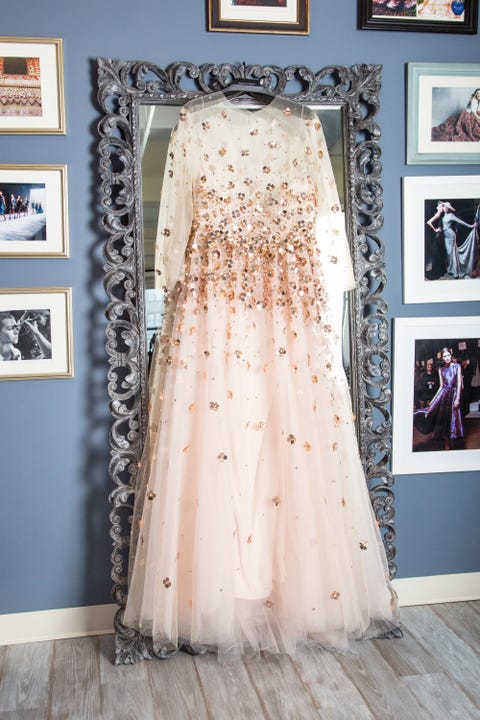 Now that the wedding is all over and done with, I'm thinking of showcasing the dress in a frame. It's just so gorgeous and I don't want to keep it tucked away in a box deep in my closet. Seeing it really brings me a ton of joy. That said, I also fantasize about busting it out and wearing it for a dinner party, or to curl up on the couch and watch a movie. The dress only getting about twelve hours of wear in its lifetime is just too sad to think about. It deserves more than that!
This content is created and maintained by a third party, and imported onto this page to help users provide their email addresses. You may be able to find more information about this and similar content at piano.io