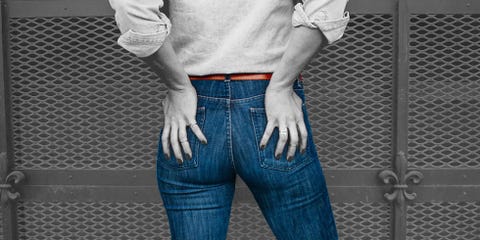 Buying jeans is one of the hardest things known to man, up there with solving the Beal Conjecture and folding a fitted sheet neatly. This is mostly because a lot can go wrong, and it takes a lot of factors for it to go right. But we've helped to narrow it down. Here, denim to minimize your "problem" areas and options to define your best assets. And we do mean assets.
Low-rise jeans have the propensity to create muffin tops where they don't even exist. Go for a high-rise to avoid the problem altogether, and hide anything in that midsection you're not particularly keen on.
Guess 1981 High-Rise Skinny Jeans with Silicone Rinse, $89; guess.com
2
Minimizes Hips and Thighs
The curve-contouring design minimizes your hips and thighs and lifts everything up. So, you know, you look *damn* good.
Nicole Skinny, $168; beijaflorjeans.com
Fact: Flares are back. Fact #2: They elongate the hell out of your legs. You're welcome.
Citizens of Humanity Cherie High Rise Flare, $238; revolveclothing.com
4
Gives Your Booty a Lift
Boyfriend jeans are like a universally flattering shape—wear 'em loose, look great.
AEO x Café Tomgirl Jean, $50; ae.com