Inside The Studio With Lady Grey
After meeting at school in Boston, designers Jill Martinelli and Sabine Le Guyader discovered that they not only shared the same aesthetic, they shared the same entrepreneurial spirit. The ladies made the move to New York after graduating, and immediately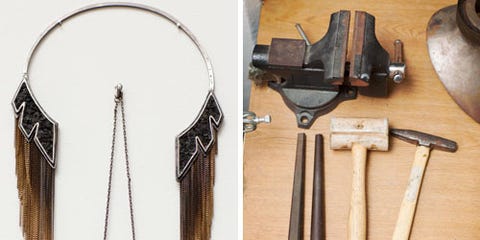 After meeting at school in Boston, designers Jill Martinelli and Sabine Le Guyader discovered that they not only shared the same aesthetic, they shared the same entrepreneurial spirit. The ladies made the move to New York after graduating, and immediately began production on their line, Lady Grey. Martinelli and Le Guyader invited us into their Brooklyn studio space, and spoke to us about their experiences as female business owners, how they get inspired, and what it's like working with a best friend.. Photography by Kathryn Wirsing.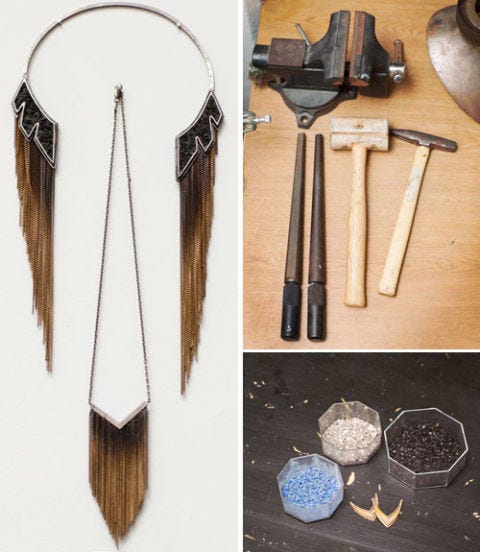 Lady Grey
Marie Claire: How did you decide on the name Lady Grey for your line?
Jill: We knew the story about Lady Jane Grey, and at that time it really fit the vibe of our designs.
Do you find new inspiration each season, or do you have an idea that carries through all of your collections?
Jill: Our aesthetic definitely carries through with every collection. And I think that dictates what the collection will turn out to be—whatever process we're really in to that time combined with our existing designs.
Sabine: We kind of work backwards. We don't really start with photos or imagery to guide us. We start to make things and then when a piece is almost done we're like, "Oh my god, this is so equestrian," or something. Then we hone in on that.
Jill: We make a lot of prototypes. So instead of drawing things up, we just make a shape and start carving. And we work with each other and talk about shapes.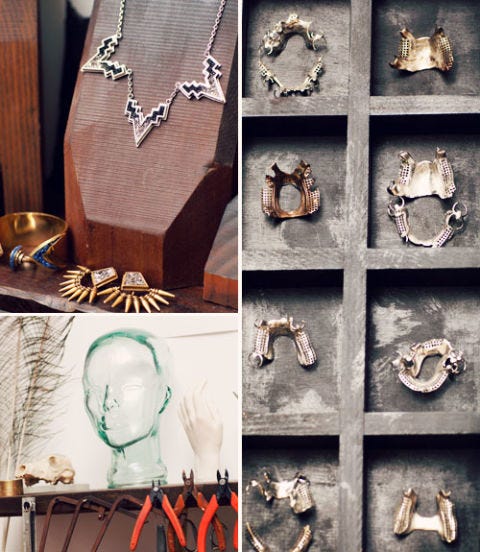 Lady Grey
Marie Claire: How did you guys officially start your brand? How did it come to be?
Jill: We became friends in school and noticed that we were both making really dark and twisted jewelry for projects. We both liked each others work, and once we started talking we realized that we had both worked at dentist's office as teenagers, and learnt how to make jewelry from that. I worked with an orthodontist so I welded brackets and did castings of teeth.
Sabine: My dad is a dental technician so he does the framework that you would make dentures on.
Jill: I always knew what I wanted to do—I always wanted to be in fashion. There was a sale at school once and I was like, "Sabine, do you want to make some necklaces with me for the sale?" So we started by doing that, and that was it. Then we started working out of my kitchen.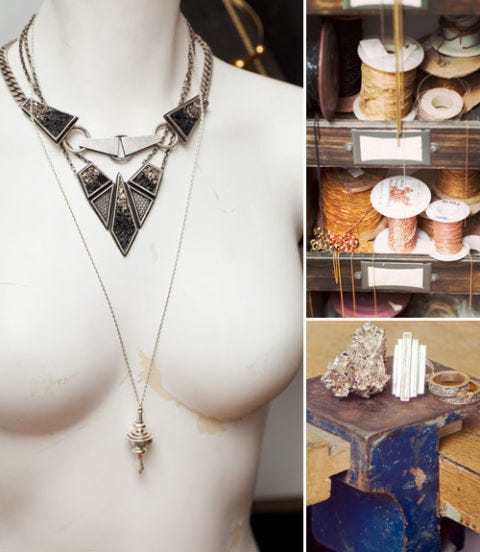 Lady Grey
Marie Claire: Are there certain things you are interested in that later emerge in your designs, whether it's a shape or something in nature?
Jill & Sabine: I think we always look at structures, even architecture and sculptures. Like László Moholy-Nagy—we always look at his work. And we're always inspired by anything 3-D.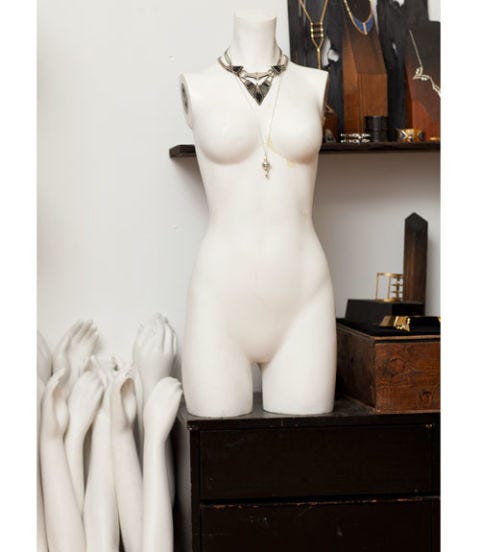 Lady Grey
Marie Claire: What is it like working as a pair of female friends? Are you guys friends first and partners second, or has it always been easy for you to navigate that business relationship?
Jill: It's always been pretty easy I would say.
Sabine: Yeah, we're definitely friends. We hang out together outside of work.
Jill: We're very close. It's kind of weird. No—it's not weird, but we'll go out for a drink after being in the studio together for 12 hours and still have things to talk about. I guess at this point it's not awkward if we're disagreeing on something—we just figure it out. We both respect each other.
Sabine: We also used to live together when we started the label. Until two years ago our studio was in our apartment on another floor. And we would start the morning with coffee, talk about the dreams we'd had the night before, then go to work downstairs in our pajamas all day.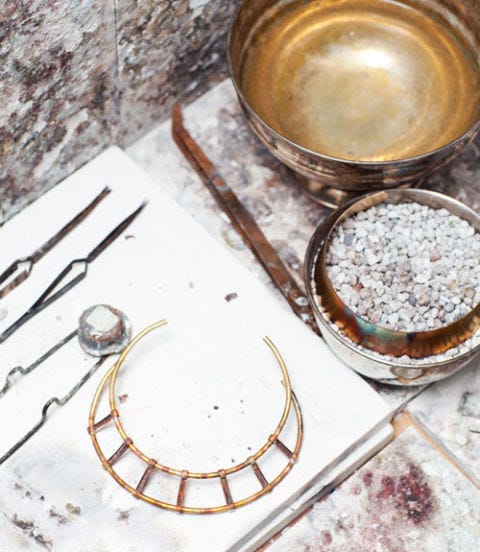 Lady Grey
Marie Claire: When you moved to New York and started this business, what challenges presented themselves?
Jill: Promoting the business—and ourselves—was a littie challenging. Networking and promoting was different for us, we were used to designing in our studio!
Sabine: Because of our education and our background—we studied more design than business basics—it was a little harder for us then someone who might have learnt more of that in school.
Jill: With things like that it was tricky. And learning how to keep the integrity of the jewelry we're making, but producing more of it, that was tricky. Finding that balance. We still probably do so much more work then we should do, but the amount of work that goes in to each piece is huge.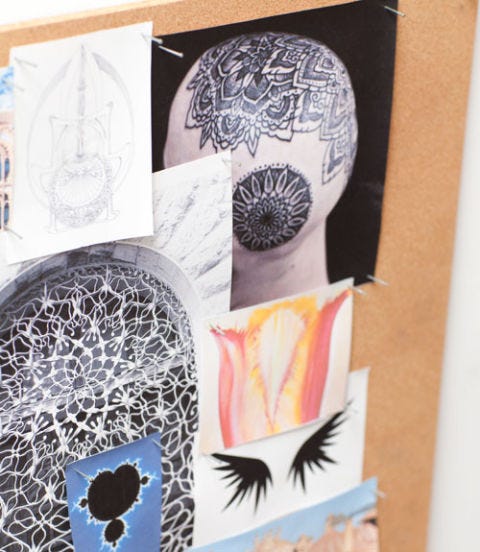 Lady Grey
Marie Claire: What advice would you give to a young woman who's looking to start her own business?
Sabine: Part of me wants to say just start making stuff. Because that's what we did—we just started making jewelry. But sometimes I wish we had built a structure before really coming out with our collection. It's hard to say! Because you also want to get a good team behind you and launch it the right way.
Jill: You need to decide what kind of company and what kind of brand you want to be first, then I think you should keep right on that. Don't be afraid to ask questions. If you need someone, if you know someone who does PR or something, ask them, "How do I do this?"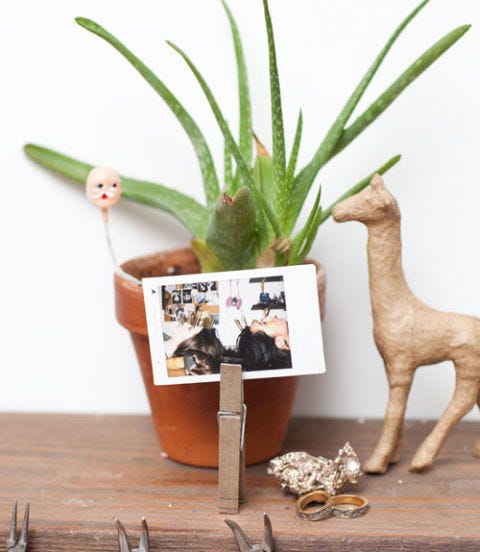 Lady Grey
Marie Claire: Is there something you wish you'd known about the industry before starting your own brand?
Jill & Sabine: We were always so shy when we started. We didn't want to ask anyone for help or ask questions because we just felt intimidated that we didn't know much about business. We had a lot of friends in the business but we would never reach out for help. Now meeting people, they are always asking us for advice. Like our friends who started companies, we told them it was great that they asked because we never did. It wasn't until recently that we started reaching out and opening up to people. Everyone wants to help.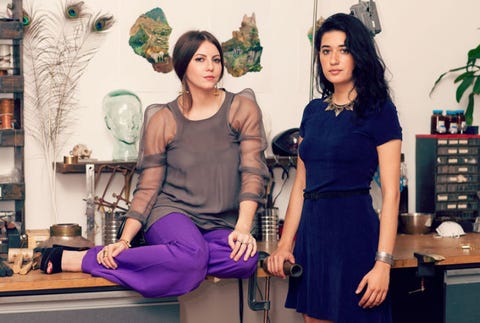 Lady Grey
The designers Jill (left) and Sabine (right) in their studio.
This content is created and maintained by a third party, and imported onto this page to help users provide their email addresses. You may be able to find more information about this and similar content at piano.io