15 Looks for Meghan Markle to Wear for Her Upcoming...Career Change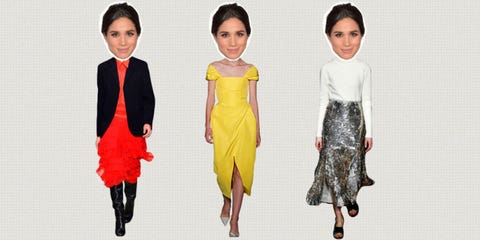 Getty, design by Sierra Piland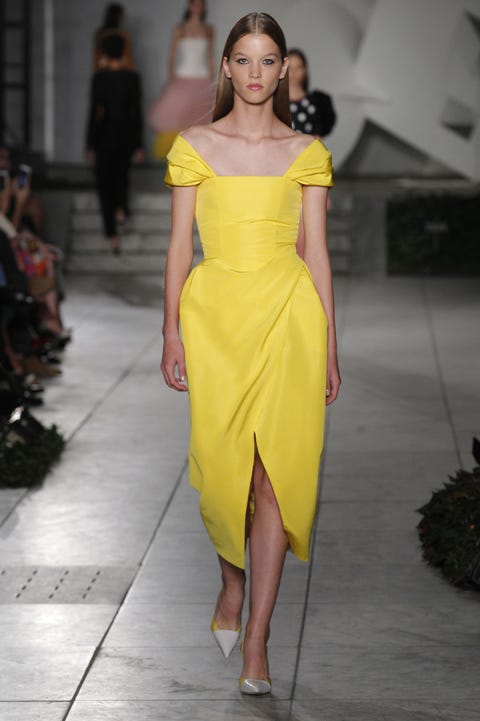 Carolina Herrera
How lovely would she look in buttercup yellow, though? A slight off-the-shoulder neckline and just-prim-enough tea-length skirt sweetens the deal.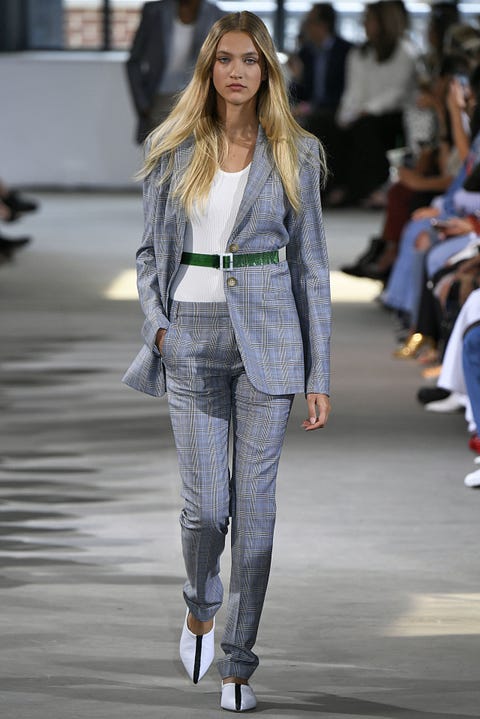 Tibi
You can just picture the Queen arching one eyebrow at the plastic belt, then gossiping about it to one of her million corgis afterward, but we can nix it, no problem. Loosen the trousers a bit, and you've got a suit even Corgi #845 would love.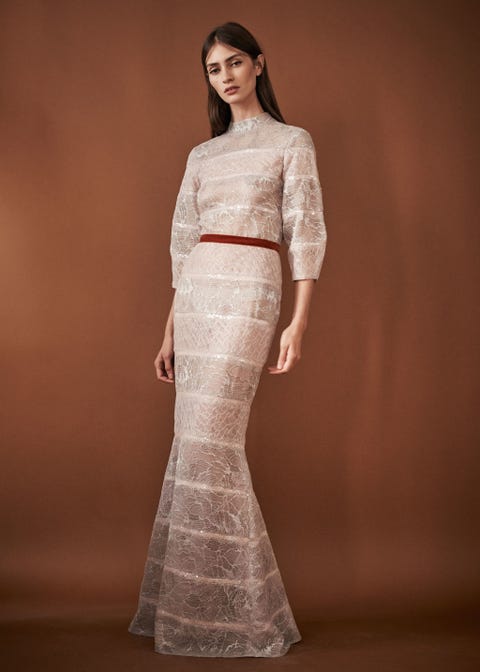 J. Mendel
Add a lining and sister-in-law Kate Middleston in something similarly (but not too similarly!) feminine and blush-colored, and boom—family portrait, done. Can't make any guarantees George won't stick his tongue out or something, but that's why we love him.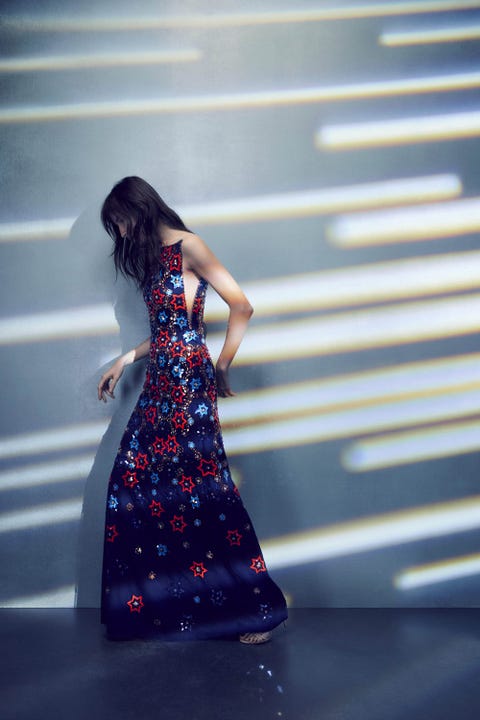 Jenny Packham
And for when she's not standing near Kate, there's this glitzy, boatneck gown from a royal fave. Might have to stitch up the sides in case of sideboob, but worth it.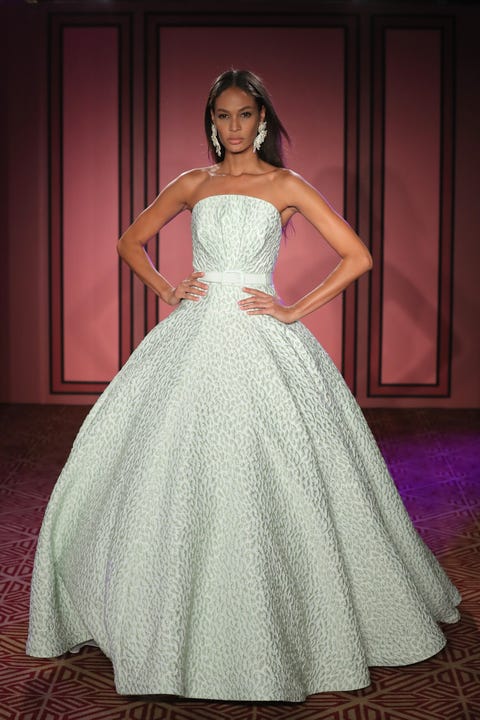 Brandon Maxwell
Call me crazy, but if you're not going to wear a teacup skirt after you've married into a royal family, WHEN EVEN ARE YOU? Our girl would do well to enlist Brandon Maxwell to do a custom gown for her, probably not in leopard, but we can dream.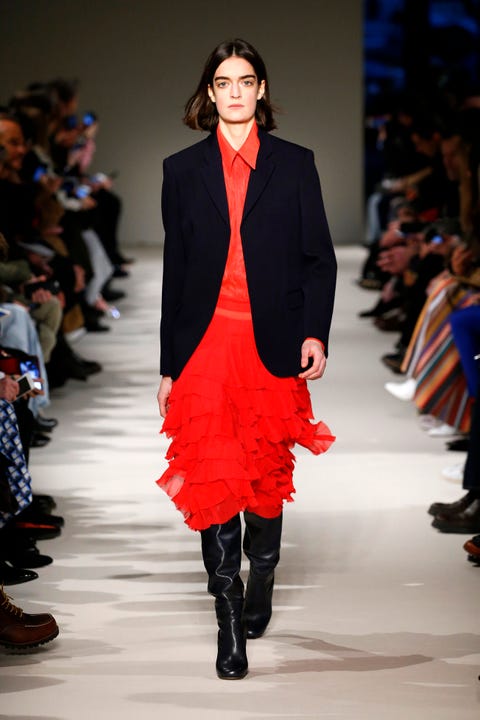 Victoria Beckham
Like her character on TV, she favors clean, business-like cuts, which definitely saves the royal stylist loads of work. But The Firm also like their women to look quite feminine, which this VB ensemble balances with ruffles and suiting.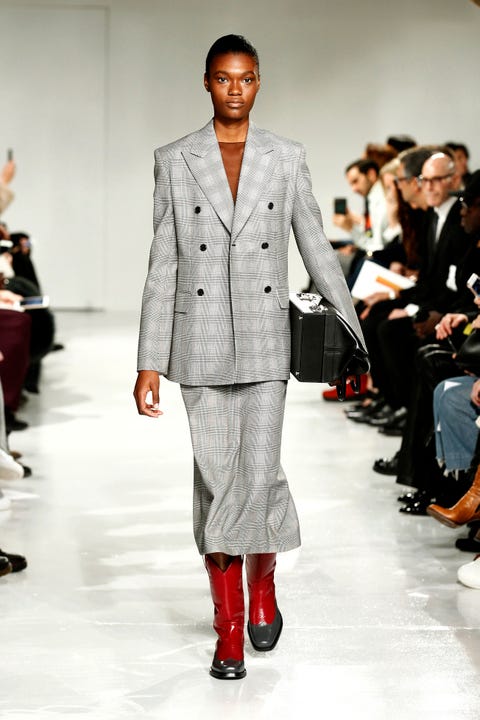 Calvin Klein
As does this Calvin Klein skirt suit—as an L.A. girl, Markle would do well to support American brands (with Belgian designers at the helm). 🇺🇸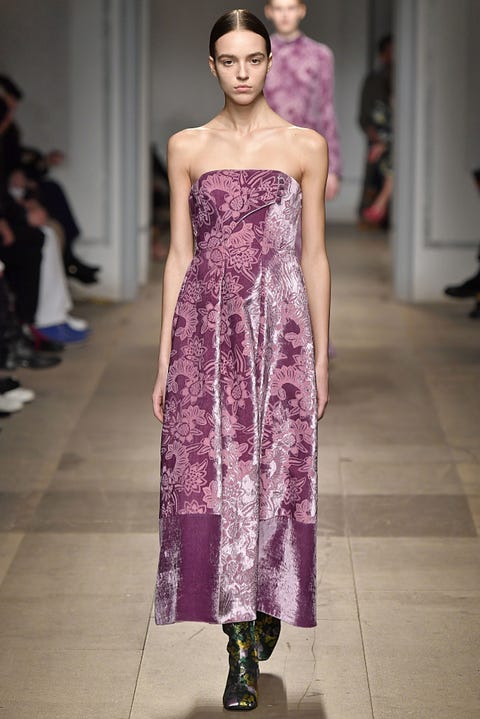 Erdem
A favorite of British It girls and Kate Middleton alike, Erdem makes historical-leaning for 21st-century women like no one else. Though his aesthetic might be a bit fussier than what our girl's used to, this simple strapless silhouette in a patterned velvet would suit her nicely.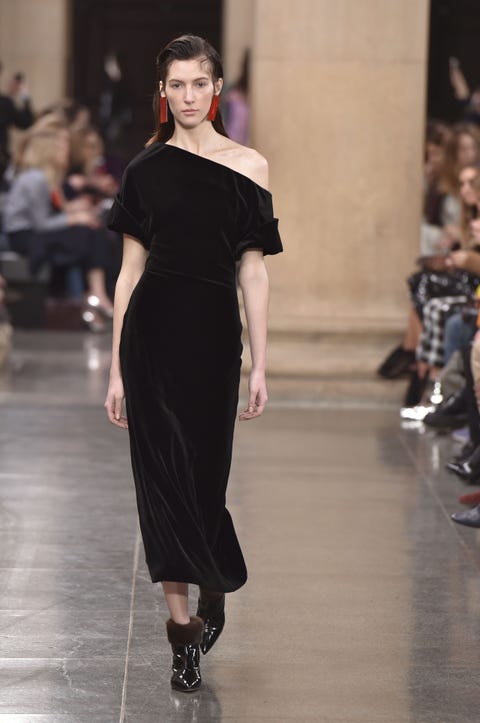 Christopher Kane
For assorted premieres and charity galas, MM would look smashing in this expectedly demure (just a peek of shoulder!) showing from one of the U.K.'s most exciting young designers. Who said Christopher Kane couldn't make something that wouldn't scare the stuffier aristocrats?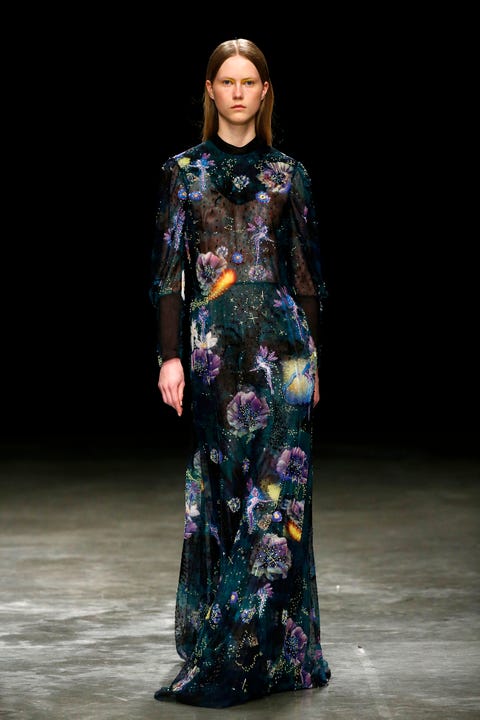 Mary Katrantzou
(But for an event at which the younger, cooler set are in attendance, like the Serpentine Summer Party, we could definitely do with this florals-in-space print. Take that, Lord Snoozypants.)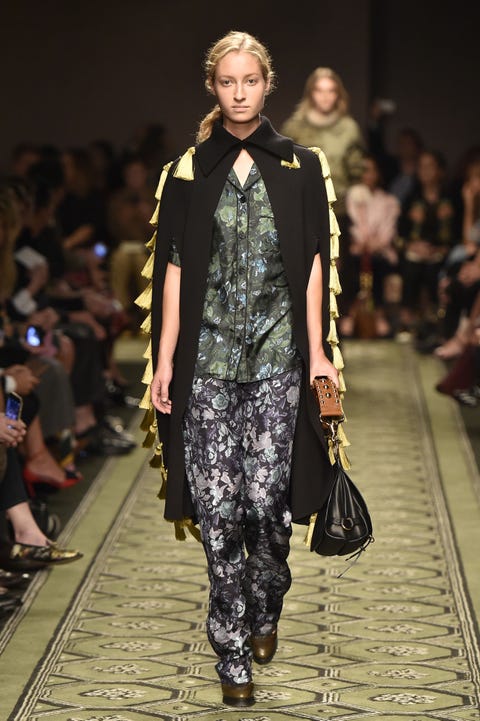 Burberry
As an aside, she will also need some killer outerwear for dedications and such. Nothing's more British than Burberry, except, you know—the monarchy. (Also, one of the advantages of being American and everybody knowing it is that you can wear tassels on your cape, and they'd just be like, "Yeah, look at the American." We wouldn't mind.)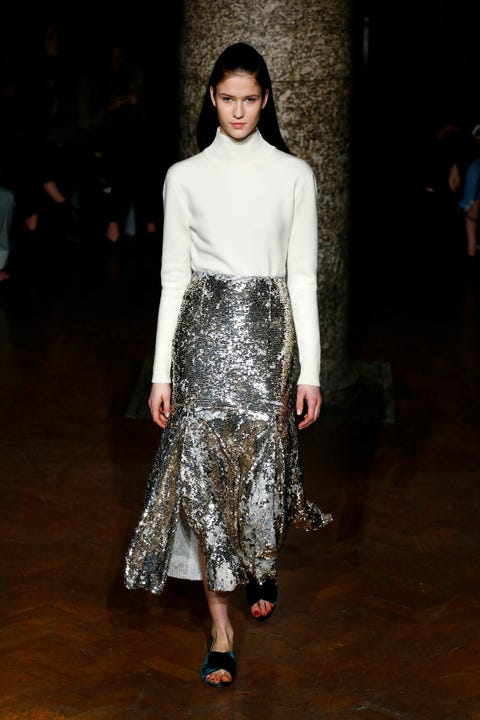 Emilia Wickstead
Another part of MM embracing her American Hollywood-ness could involve sequins—buckets and buckets of sequins, tempered with a white sweater. The designer is known for outfitting some of Britain's most elegant women, however, so the haters can shove it.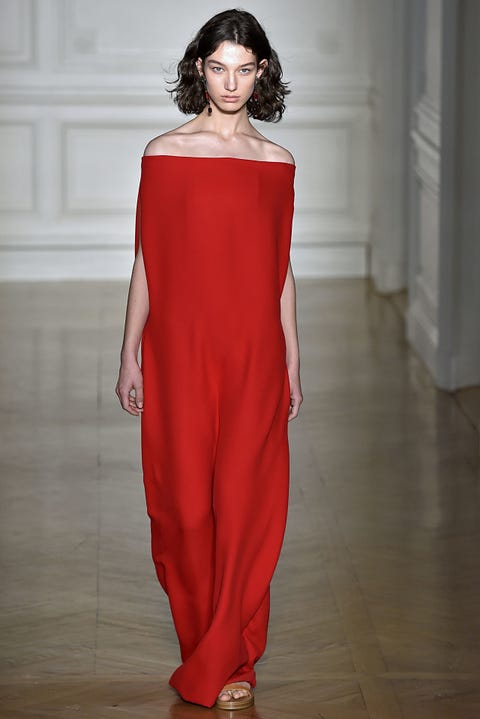 Valentino Couture
What can we say? Girl looks great in red. We'd have loved to put her in Prada's fluted-skirt number, but better to play it a bit safer in this chic off-the-shoulder Valentino.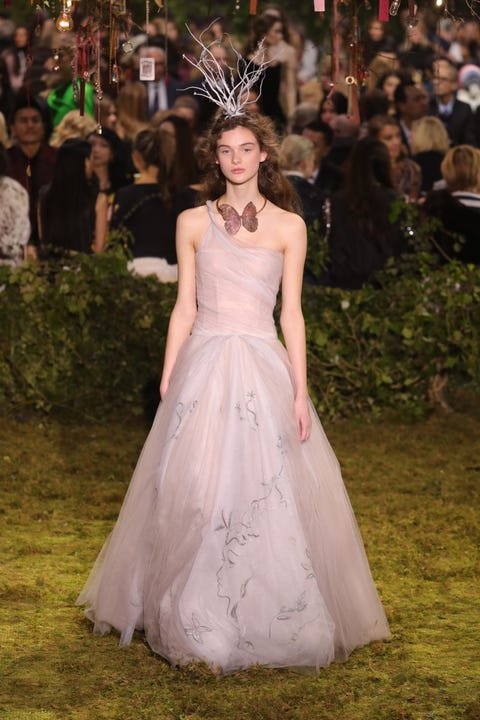 Dior Couture
For a really big event, like some jubilee or whatever, nothing less than Dior will do. (It's cool—her sister-in-law recently wore Chanel.) Dare her to wear the headdress too, LOL.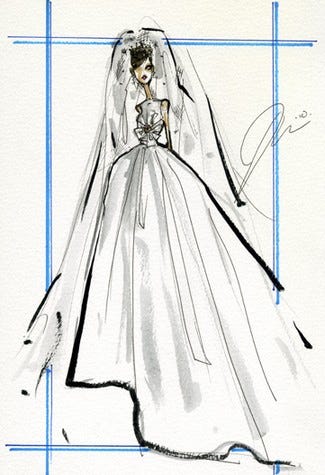 Jason Wu
And...curveball! McQueen, though historic and incandescent and painfully ::inappropriate groaning noise::, just isn't her. Instead, we see her as more of a Jason Wu woman, or even Oscar de la Renta. This sketch was meant for Kate Middleton, but something similarly modern would be lovely—and true to her personality.
This content is created and maintained by a third party, and imported onto this page to help users provide their email addresses. You may be able to find more information about this and similar content at piano.io