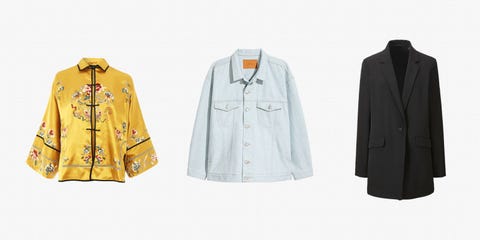 This just in: Office thermostats are inherently sexist because they were calibrated in the olden days when dudes wore wool suits all year round (real smart). But what's one more item to add to the #resist list? Here, shop 12 instruments of the opposition to keep at your desk/on your arm ICI (in case of inhospitality).
Actually, do not leave this one at work—not saying your coworkers are capable of pinching really good embossed denim, but not *not* saying that either.
Alyssa Less, $660; alyssa-less.com.
Over the little summer frocks you come traipsing in—only to realize, @#$%, it's chilly in here—a red track jacket is Chloé.
Aritzia, $78; aritzia.com.
Back buttons take the standard gray flannel blazer up a notch.
Front Row Shop, $94; frontrowshop.com.
And here's a basic but elongated so you can cover your bum if you ever sit in a puddle of jam.
Uniqlo, $50; uniqlo.com.
Eureka! I think I found the Platonic ideal of the boxy, workman's jacket.
The Great, $228; shopsuperstreet.com.
Unisex, so you can offer its warmth to other segments of the population under attack.
H&M, $50; hm.com.
Made for men, but it's about time we take a few things away from them.
Wallace & Barnes, $148; jcrew.com.
Resembling Roseanne's couch is very in right now, thanks to Miu Miu. But this is not very mumsy at all, and would also be great as a swim coverup.
Mango, $100; shop.mango.com.
Double four-leaf clovers, for we need all the luck we can get.
& Other Stories, $125; stories.com.
Because everybody should feel like Diana Vreeland.
Topshop, $130; topshop.com.
Kimo-no, this wasn't a hand-me-down from my chic pioneer grandma.
Zara, $50; zara.com.