6 Things Restaurant Chefs Say You Should Never Order
Beware the Kobe beef burger.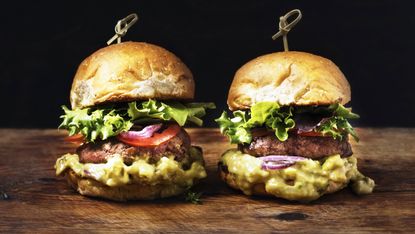 (Image credit: Getty Images)
1. Never order fish on Monday.
According to Anthony Bourdain, every week most restaurants order fresh fish on Thursday or Friday to stock up for the busy weekend. By the time Monday rolls around, it may not be so nice—fresh fish only keeps for three days. On Tuesday the leftovers are likely tossed and another order is placed. If all else fails, ask your server where the seafood came from and when it was caught and delivered.
2. Skip the Kobe beef.
Legit wagyu and kobe beef are very rare. Because of that, they're served in tiny portions at extremely expensive price tags. To turn that into a burger would be a complete and utter waste. And honestly, if a restaurant says the burger is kobe beef, it's probably lying. Move on to something else.
3. Forget about the chicken dish.
Many chefs criticize chicken entrees because they tend to be overpriced and less creative than other items on the menu. And there's another downside to these dishes: they're often served as double( or even triple!) portions and customers overeat because of that, nutritionists have noted. Stick to something else and get a better bang for your buck—and your belly.
4. Quit ordering steak well done.
One chef recently posted a lengthy argument against well-done steaks on Reddit, which then went viral. In it, he lists a multitude of reasons, but most important is about quality. By ordering a well-done steak, you're essentially ruining the quality of the cut that both cattle farmers and butchers work so hard for. "The care and dedication to a craft has been thrown out the window ," he added. Plus, why shell out good money for a steak that'll taste the same as your run-of-the-mill, cooked-at-home grocery version?
5. Figure out the restaurant's strong suit.
According to Michael Armstrong, the executive chef at New York's Dream Downtown (Bodega Negra, Bodega Negra Café) you should identity what the restaurant's specialty is and stick to that lane. "Stay away from pasta at the pizza place, fish at the steakhouse, chicken teriyaki at the sushi spot, and so on," he said.
6. Stop making substitutions.
"Unless you are allergic to something, never sub-out one ingredient for another on a composed dish. In a trusted restaurant, the chef knows what he is doing and a great marriage has been pre-arranged," advises Christopher Faulkner, the chef at Solomon & Kuff. What's more, as Todd Mitgang of Crave Fishbar points out, chefs choose ingredients to highlight or balance flavors, so each one has a purpose. "Don't stray from the menu," he said. "Trust the chef and experience what they have curated."
Follow Marie Claire on Facebook for the latest celeb news, beauty tips, fascinating reads, livestream video, and more.
Celebrity news, beauty, fashion advice, and fascinating features, delivered straight to your inbox!