How to Pull a Party Together in Under 30 Minutes
Three key rules to memorize.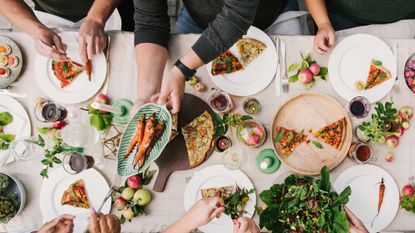 (Image credit: Getty Images)
Hosting is a double-edged sword. You get to be in control of when guests come and go, but it's also tricky to please everyone when it comes to food, drinks, and decor—especially when you're operating on short notice.
Summer is the season of last-minute patio parties, backyard bonfires, and impromptu cocktail hours, and "your pantry is your arsenal," according to Samantha Freeman, a professional event planner based in Washington, D.C.
Here, her best hacks for throwing together an Insta-worthy event at the drop of a dime.
Whether you're hosting a daytime BBQ or an alfresco brunch, your guests are expecting to wet their whistle with something refreshing.
"You probably already have seltzer and flavored vodka on your bar cart, so why not put it to use?" says Freeman. "Lately, I've been mixing two ounces of Smirnoff Zero Sugar Infusions—the watermelon and mint flavor—with watermelon seltzer water. Just add a watermelon wedge to the rim and you've got a Pinterest-worthy party cocktail. It looks like you planned ahead, but it only takes five minutes."
2. Opt for a clean look over tons of decorations
According to Freeman, the two key components of last minute decor come down to the two Cs: cleanliness and candles.

"People are more likely to notice a messy space than they are to notice a lack of decor, so be sure to clean key areas—sweep the patio, wipe down any pollen-covered surfaces, and make sure the bathroom is clean and stocked."
With outdoor parties, Freeman also recommends grabbing a 50 pack of tea lights from your closest convenience store. "Tea lights are so cheap, but pack a big decor punch. Line the perimeter of your deck or patio, place them along your stairs, and light up any tables in your yard where you'd like guests to gather."
3. Don't overcomplicate the food
The key to last minute party food is to undersell and overdeliver. "Call it a cocktail party so guests aren't expecting any sort of substantial food," suggests Freeman. "Most grocery stores deliver these days via InstaCart, so have five or so charcuterie, fruit, and veggie platters delivered to you so you can clean in the meantime."
Of note, Freeman says to be sure to include a vegetarian option and avoid dessert trays at outdoor parties (they'll attract mosquitoes).
The Smirnoff Co., Norwalk, CT.
*Per 1.5 fl. oz.-Average Analysis: Calories-72; Carbohydrates-0 g; Sugar – 0 g; Protein-0g; Fat-0g.
Please sip responsibly.
Celebrity news, beauty, fashion advice, and fascinating features, delivered straight to your inbox!