The 15 Best Responses to Trump Changing His Twitter Header to Include One of His Tweets
He deleted it soon after.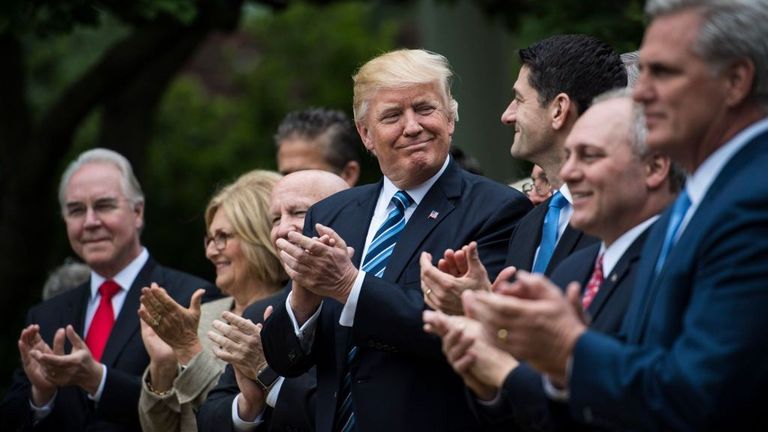 (Image credit: Getty Images)
In response to Sally Yates' testimony before the Senate Judiciary Committee's Subcommittee on Crime and Terrorism on Monday, President Donald Trump took to Twitter with a flurry of tweets complaining about the hearing and the prevalence of "fake news."
Amongst his tweets, Trump claimed "Director Clapper reiterated what everybody, including the fake media already knows—there is 'no evidence' of collusion w/ Russia and Trump," something many sources were quick to point out was an inaccurate interpretation of what Clapper had said during the hearing. Nonetheless, the president was so confident in the tweet that he decided to make it a part of his new Twitter banner.
"If I photoshop my tweet into my banner will they believe me then?!?!?!"Ladies and gents, I give you the President of the United States. pic.twitter.com/Z9myjriWNWMay 9, 2017
See more
Before long, many were quick to tear him apart for his decision to add the tweet to his banner, and it was promptly removed shortly after. But on the internet, everything lives forever, so here are just a few of the best responses to Trump's decision to add his tweet to his banner.
1.
Usually, when I'm secure about a problem, I make a Twitter banner clumsily refuting it with pics of a bunch of dudes giving a thumbs up.May 9, 2017
See more
2.
"People have got to know whether or not their president is a crook. Well, I'm not a crook." -Richard M Nixon's Twitter banner, Nov. 17, 1973May 9, 2017
See more
3.
I dunno. Trump's new header seems pretty messed up. pic.twitter.com/jrh0bLBEmAMay 9, 2017
See more
4.
5.
Trump: "You see that last tweet, make it my header."Staffer: "Like a screenshot?"Trump: "No, put the text on a pic of 40 white men."May 9, 2017
See more
6.
That header pic is very "what has 100 tiny thumbs & is becoming more panicky and delusional by the day? THIS ADMINISTRATION!"May 9, 2017
See more
7.
The longer I stare at this the more Perd Hapley I become. "The story of this header, is that it is the President's tweet, on Twitter." pic.twitter.com/ZQxfxiewnUMay 9, 2017
See more
8.
The second half of this banner photo is somehow sadder than the second half of Manchester by the Sea pic.twitter.com/YV8ZwPq1NmMay 9, 2017
See more
Follow Marie Claire on Facebook for the latest celeb news, beauty tips, fascinating reads, livestream video, and more.