Everything Trump Has Done a 180 on Since Becoming President
Syria, Russia, China, NATO...what's left?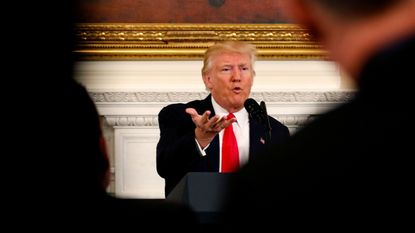 (Image credit: Archives)
It's been nearly three months since Donald Trump was sworn in as president, and those months have apparently had a serious impact on how Trump views many key issues. In the last 85 days, Trump has changed his long-held tune on everything from NATO to North Korea. Here are some examples of this flip-flops:
China
On the campaign trail, Trump regularly went after China, labeling the country a "currency manipulator" (one that tries to unfairly influence the exchange rate) and promising to have the State Department designate them as one on his first day in office.
That hasn't happened. After a recent meeting with Chinese President Xi Jinping, Trump went full reversal, telling the Wall Street Journal on Wednesday that the country is actually not a currency manipulator and opting to leave their status alone.
Reports suggest Trump has chosen to back down from his attacks on China in order to keep talks about North Korea going smoothly.
Which leads us to our next flip-flop...
North Korea
The president also has a developing perspective on North Korea. Trump told the Wall Street Journal that prior to his meeting with the Chinese president, he thought China could simply tell North Korea to stop their aggressive military tests. "After listening for 10 minutes, I realized that it's not so easy," Mr. Trump said. "You know, I felt pretty strongly that they had a tremendous power over" North Korea, he added. "But it's not what you would think."
On Thursday, the Trump administration announced that they were considering a pre-emptive strike after North Korea signaled it may be preparing to test nuclear weapons.
NATO
One of Trump's biggest flips to date is his stance on NATO. As recently as late March, Trump was calling it "obsolete." In an interview with ABC News just two and a half weeks ago, Trump said, "I think NATO's obsolete. NATO was done at a time you had the Soviet Union, which was obviously larger, much larger than Russia is today. I'm not saying Russia's not a threat. But we have other threats."
That has changed seemingly overnight. In remarks at the White House on Wednesday, Trump said he had a productive discussion with the secretary general "about what more NATO can do in the fight against terrorism. I complained about that a long time ago, and they made a change, and now they do fight terrorism. I said it was obsolete; it's no longer obsolete."
Syria
Trump campaigned in large part on his policy of withdrawing from the Middle East, saying he wanted to be president of America, not the world. Since 2013, Trump issued at least 14 tweets expressing that the United States should not attack Syria. Less than a month ago, Trump officials said that removal of Bashar al-Assad was not a priority for the United States.
Then, shortly after, photos and videos of a vicious chemical attack that killed more than 80 Syrians surfaced. Trump was said to be deeply disturbed by the images, particularly of dead children, and ordered a retaliatory strike against the Syrian airbase where the chemicals were thought to have been launched. His changing stance has prompted even longtime supporters such as Ann Coulter to criticize him.
Russia
Trump hasn't gone full-reversal on Russia, but his sudden change of heart is surprising. Trump has refused to outright criticize Russia President Vladimir Putin throughout his campaign and his time in office. Even going so far as to defend Putin when Bill O'Reilly called him a killer. POTUS' response: "There are a lot of killers. Do you think our country is so innocent?"
But for the first time, Trump seems to be acknowledging that Russia's and the United States' interests may not align. Trump has criticized Russia for its alliance with Syrian leader Bashar al-Assad, who the Trump administration took military action against last week. In his remarks with the NATO secretary general earlier this week, Trump said "It would be wonderful, as we were discussing just a little while ago, if NATO and our country could get along with Russia. Right now, we're not getting along with Russia at all. We may be at an all-time low in terms of a relationship with Russia."
Still, Trump tweeted this on Wednesday:
We're nominated for a Webby Award—but we need your vote to win! Vote for the Women and Guns project here.