I Got a Sugar Daddy to Pay for Grad School. I Never Expected to Fall for Him.
I wasn't supposed to care, but I did.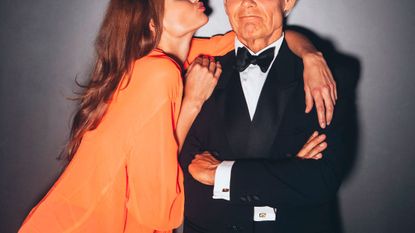 (Image credit: Getty Images)
"Hey, baby," said Bill*, as I got out of the taxi in front of the hotel. "So excited you could make it." He greeted me with a kiss. Blue-eyed and tall with an Irish complexion, Bill was dressed in a seersucker button-down and Nantucket reds. He looked good for 55—the same age as my dad. After seeing each other for two months in New York, Bill had invited me for a weekend in Las Vegas.

I met Bill on SeekingArrangement.com, a dating website for "mutually beneficial relationships," where young women—sugar babies—meet wealthy older men who provide financial support in exchange for companionship. Feeling aimless my senior year of college and wanting to fund my post-grad education, I made a profile. I spent the rest of the spring semester dating a handful of different daddies, ranging from ages 42 to 75. After I got paid $5,000 for a luxurious week with a sugar daddy in New Orleans, I was sold.
Guys my age had always scared me. In junior high, they made fun of me for having hairy arms. When I was 18, I'd lost my virginity to a football player from a local boys' school and then he never spoke to me again. College brought a series of similar disappointments. Quiet and awkward, I'd gotten used to being on my own but I was still desperate to fit in—or feel special.
I found the daddy demographic charming and appreciative. At 5-foot-9, flat-chested, with a strong nose, I didn't feel all that attractive—as my dad once told me, "You're smarter than you are pretty." But these men saw my youth as a novelty and it made me feel dazzling. I felt confident around them.
On our first date, Bill took me out for sushi. "It's brave of you to come out and see me," he said. "A complete stranger."
"You too," I replied, wondering if I seemed nervous. My usual social anxiety seemed to diminish in the presence of the daddies. I felt calm around them—not awkward at all. Maybe I was an old soul. I'd worked in several nursing homes and seemed to fit in.
"No, really," Bill continued. "Showing up takes guts. Here." He slid an envelope across the table. I peeked at its contents: several hundred dollar bills. "For showing up. You don't know how many girls from the site have flaked or stood me up or canceled last minute. And don't get me started on the ones who do show up but look nothing like their photos."
"Oh, were mine at least semi-accurate?" I asked, genuinely curious.
"No," he answered. "You're more gorgeous in person."
I blushed. "You too," I told him.
Bill handed me another envelope containing the monthly allowance we'd agreed upon. That evening, he texted to say he'd removed his profile. "I've hit the jackpot with you," he wrote, followed by a heart.
I remembered the time I'd accepted a check that bounced, or prior daddies who tried negotiating how little they could pay and how much I would do for them. With these men, unlike younger guys, the money ensured I wouldn't feel used or hurt. I could have easily taken Bill's cash and run, but I reciprocated his trust.
For the rest of the summer, we saw each other regularly and became "exclusive," and I stopped seeing my other daddies. I deleted my profile too and felt my affection for Bill grow.
When it came to planning activities, Bill got creative: wine cruises on the Hudson, orchestra seats for the Broadway show Hamilton. Noticing I wore a lot of rompers, he took me shopping for designer ones—I cherished my Forever 21 and Target fashions, but BCBG and Max Mara were welcome upgrades.
I was flattered by the gifts and compliments, but our connection went beyond the superficial. Bill admired my quirkiness and laughed at my stories. I'd opened up to him about how lost I'd felt in the past, how I'd been a good student when I was younger but now felt like a huge failure. He told me about his own struggle with depression.
"I've never really revealed that to anyone," he confessed. "You'll make an excellent therapist." I was hopeful about starting graduate school in the fall—a psychology program—and glad he supported my ambitions.
The final weekend in August before my classes began, Bill planned a luxurious getaway for the two of us.
As I unpacked my suitcase in our Vegas suite, I wondered why I'd felt nervous before my flight. Usually around the daddies, I was playing a role—it was just for the money, and nothing was at stake. But with Bill it was different somehow. I actually cared.
That evening, he took me out for seafood, since he knew it was my favorite. I dined on swordfish while we played footsie under the table. After dinner, Bill and I moved on to the casino. At the blackjack table, he ordered me vodka cranberries. He drank scotch. I looked to him when my turn rolled around, following his instructions to either tap the table with my hand or wave it like a dead fish. I won a $1,000 chip.
"Keep it," Bill said. I slipped it in my purse, planning to put it in the bank for grad school.
Back in our room, Bill lifted me up and carried me to the king-size bed. I wrapped my arms around his neck, kicking off my heels, then performed a little striptease on the bed.
"How'd I get so lucky?" Bill asked me as we cuddled.
"I'm the lucky one," I replied, glad to feel adored. I fell asleep in his arms.
[pullquote align='center']He was so kind and thoughtful. I wondered if I should go down on him before the spa.[/pullquote]
The next morning, I awoke to a room service meal of granola, french toast, mixed berries, and a soy latte.
"Not to rush you," said Bill, freshly showered. "But you've got a busy morning ahead."
"I do?" I asked, licking foam off my latte.
Bill put on his glasses and read to me from a brochure: "Manicure and pedicure in an hour, then a hot stone massage, and after that, an aromatic facial."
He was so kind and thoughtful. I wondered if I should go down on him before the spa.
When I got home from Vegas, I checked my bank account. Bill had made a direct deposit of $8,000. I was surprised—this was twice my usual monthly allowance. Minutes later, an email from him popped up in my inbox. The subject heading was a frown. "I have some bad news," his letter began. I leaned in closer to my laptop screen, worried. "As I've mentioned, two years ago I was diagnosed with prostate cancer. I found out yesterday it's back."
Oh my god, I thought. Poor Bill. My eyes welled with tears. I remembered when he told me about his illness. It had sounded like it was in the past. The message continued: "My only option now is surgery. I'll have to deal with some ugly side effects—without going into detail, they're humiliating for a guy. Because of this, I need to end things with you. I feel terrible. I'm sorry. I've loved our times together. Thanks for making them so memorable. I transferred you an extra month's payment. Much love, Bill."
I stopped myself to grab a tissue. On top of my savings—and recent blackjack winnings—I had almost enough to get me through graduate school. Classes started that week, and I'd be busy with assignments and friends. Besides, I wasn't supposed to care. The nature of sugar is that both parties' intentions are clear from the start. Youth for money—a fair exchange, no strings attached. Or so I thought.
Heartbroken, a few months went by before I reactivated my Seeking Arrangement profile to check my messages. I read through a few of them but I lacked the enthusiasm I'd once had. I wasn't interested in meeting anyone new. After Bill, no one else seemed worth it.
Some weeks later, a different type of notification popped up on my phone. A friend had persuaded me to download Tinder the day before and I'd just landed my first match. He was a 27-year-old law student, someone who was potentially worth pursuing. I knew it was time to move on from Sugaring, but this time, I'd be approaching relationships with guys my age differently.

Bill set the bar for how I wanted to be treated in future relationships and I'd remember that going forward. Not just the gifts, but the understanding and compassion. Despite my past history of feeling like an outsider with guys, Bill taught me there are some good people out there, even if you meet them in unexpected places.
*Name has been changed for privacy
S.K. is writing a memoir about her life as a Sugar Baby.
Celebrity news, beauty, fashion advice, and fascinating features, delivered straight to your inbox!