Why I Became a Sexologist
Did your college offer a course in "how to have sex"? Probably not.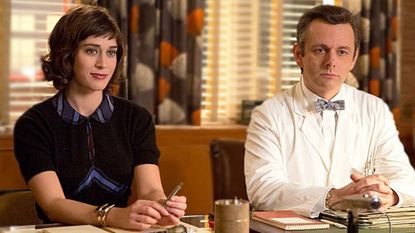 (Image credit: Facebook/Masters of Sex)
You could say I had a rocky start. I never knew my mother, but I met my father when he took me from an orphanage in Hungary to live in England with him and his new young bride…to be their maid. I cleaned the house and helped raise their three babies while I was just 10 years old. It felt like I was Cinderella in real life.
While attending Catholic school, I dreamed of becoming a nun because I knew I would get a roof over my head and at least one meal a day. I just wanted to get away from home, so the nunnery was extremely appealing. I would probably be Mother Superior by now if they hadn't tried so hard to convince me that sex was dirty and evil or that I should be ashamed of my body.
When Sister Mary said that a baby would pop out of my mouth if I ever kissed a boy, I knew it was time I hightailed it out of there. But, needless to say, I was scared to death of touching myself—and of kissing!
My first real job was as a model. Many of my gigs involved nudity, but I was able to pay my way for the first time in my life and that made me happy. And when photographers told me that I had a beautiful body, I finally felt comfortable enough to masturbate when I was alone without feeling shameful or guilty. By the time I was 21, I worked with a cosmetic contract, magazine covers, and TV appearances in London.
Over time I moved to the States, had a slew of cliché bimbo roles on '80s TV shows like The Love Boat, and eventually got my own show on the Playboy Channel called Pillow Previews, where I received tons of letters asking for sex advice.
I felt compelled to respond but didn't feel like I had enough expertise to really offer proper sexual insight. That's when I started voraciously reading books about relationships and sex, most memorably First Love and A Guide to Good Sex by Ruth Westheimer, The Joy of Sex by Alex Comfort, and still one of my favorites, Men Are from Mars, Women Are from Venus by John Gray.
In the process of writing my own book, I found the Institute for Advanced Study of Human Sexuality in San Francisco, known as the "Harvard of Sexology," and that's where I became a certified sex educator and then a clinical sexologist. As an educator, I can teach various aspects of sexuality in classrooms, workshops, and seminars; a sexologist can offer private counseling for people who are seeking help with their relationship or sexual issues.
A typical day for me begins by waking up early to connect with an East Coast publication or media outlet to talk about the latest trending topic in sex. Then I move on to client meetings in my private practice where I help with issues ranging from sexual boundaries, infidelity, mismatched sex drives, and sexual compulsion. I love to work with couples on the verge of breaking up—helping them forgive each other and move past all the hurt. I also work with a number of confused women raised with guilt and shame—like myself. My go-to line? "God would not have given you a clitoris with its 8,000 nerve fibers if she didn't want you to play with it, since it has no function other than pleasure."
My afternoons are for moving forward on my writing and creative projects like an upcoming seminar presentation on "Passion, Tantra, and Intimacy," and in the evenings I wind down with Kundalini yoga and meditation.
I need to build up my stamina to test out the latest sex toys that manufacturers send me. Some of my favorites have been the famous Rabbit vibrator, BenWa Balls, We-Vibe, Lipstick Vibe (I take it when I travel), and I Rub My Duckie in the bathtub. It's no wonder I go to bed and wake up with sex on the brain!
I love my career so much, and could not have dreamed of being able to help people improve the quality of their lives by finding love and maintaining passion. Isn't that kind of what it's all about, anyway?
Ava Cadell (opens in new tab) is a Ph.D., an AASECT certied sex counselor, and president of the American College of Sexologists International. In January 2015, she was presented with the Sexpert of the year award at the Sexual Health Expo. She's also the author of NeuroLoveology, the Power to Mindful Love and Sex (opens in new tab).
You should also check out:
4 Reasons Porn Is Actually Really, Really Good for Women (opens in new tab)
10 Reasons Sex Hurts (opens in new tab)
9 Things That Happen to Everyone During Sex (but Nobody Talks About) (opens in new tab)