How My Husband and I Went from Staunch Conservatives to Die-Hard Feminists
A faith journey of a different kind.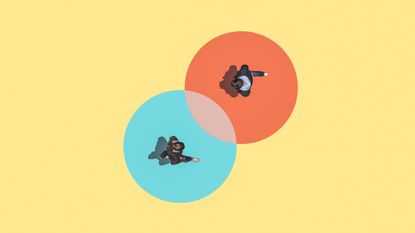 (Image credit: Getty Images)
Marie Claire Newsletter
Celebrity news, beauty, fashion advice, and fascinating features, delivered straight to your inbox!
Thank you for signing up to Marie Claire. You will receive a verification email shortly.
There was a problem. Please refresh the page and try again.
We met on a mission trip in 2005. I was a 23-year-old freshly sober single mom. Jermaine was a pastor's kid, intrigued by my wild past. We made a long-distance relationship work with emails and phone calls that stretched into the night.
We shared our first kiss on a park bench at Union Station, more than three months after we met. I'd never dated a Christian guy and I was enchanted: I didn't know what to do with a man who wasn't constantly trying to get in my pants.
But it wasn't necessarily because he was fluent in feminist politics.
In fact, when I first became a Christian, a year before I met Jermaine, my church introduced me to the idea that men were the spiritual leaders. Women needed to be protected, they said—from themselves and from the evils of the world. I was surprised—had the '70s not happened here?—but I needed the stability of church more than I wanted a vague sense of their approval. So I dutifully drank whatever non-alcoholic beverage everyone else seemed to be enjoying.
A couple of months after we got married, Jermaine and I started going to a new church. It was a "progressive" church, filled with people from all walks of life—many of them recovering from a previous church experience. This new church proposed that the litany of things you weren't allowed to be as a Christian (feminist, Democrat, gay, atheist, etc.) was simply not true. They talked about how loving people was more important. They proposed that men and women were equals. And they let you bring coffee into the sanctuary.
I started taking a class on the sociology of gender, where I learned about gender as a social construct—meaning that we, as a society, made the whole thing up. I realized that my very girlie 8-year-old daughter had likely been taught to be that way.
I didn't have to learn about the gruesome realities of sexual assault, having experienced it firsthand—but I began to see how our culture shames and blames women for "putting themselves at risk" by drinking or going out late or wearing revealing clothing. I bought a mini skirt in protest.
Not content to stop there, I took a class on the sociology of race, too. I learned that my black husband's name made him less likely to be chosen for a job interview than someone with a "Caucasian-sounding" name. I learned that real estate agents often steer black families toward predominantly black neighborhoods because if they were to move into a mostly white neighborhood, property values would go down. Come on, seriously? Why weren't more Christians talking about this?
I thought becoming a "flaming liberal" would erase my faith, but instead, I felt it deepen. I became involved with a group of mostly Christian female writers who were on the cusp of understanding the oppression that the church had placed on us. Many of them were married to husbands who might be called "unsupportive."
My husband, on the other hand, was on this journey with me. Together we recognized the racist, sexist culture that had raised us. We discussed the similarities and differences between his blackness and my womanhood. We processed. I drank. We laughed it off when we could. Systemic inequality shows itself to be quite ludicrous when you see it in the light of day.
We still go to that progressive church we found after marrying. We mentor the high school group. We talk to our students about racism and sexism. My little girl shaved her head and became an atheist. She's a fierce fighter for LGBT rights.
Healthy faith evolves. It has to adapt to survive. And I'm so glad I found the grace on the other side.
Follow Marie Claire on Facebook for the latest celeb news, beauty tips, fascinating reads, livestream video, and more.
Celebrity news, beauty, fashion advice, and fascinating features, delivered straight to your inbox!