Digital Age: Unsafe Sext
I'm swearing off text sex. You know, phone-to-phone, text-to-text, dirty rotten vowel-free sex.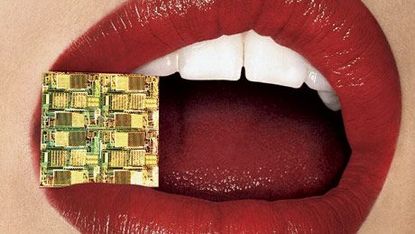 (Image credit: T. Schierlitz)
I'm swearing off text sex. You know, phone-to-phone, text-to-text, dirty rotten vowel-free sex.
It was Dave, my boss at the record store where I worked, who first introduced me. Dave was a scary man, an ex-convict with a volatile temper and a rap sheet to match. He was jailhouse-bald with a smoker's smile, muddy tattoos, and pants three sizes too big.
Our "affair" began innocently enough. I was ringing up bargain-bin CDs when - bzzz - my phone began to vibrate. It was Dave, texting me from across the store.
"Thos jeans ur wearing tday make yr ass look hot. I want 2 fuk it."
I wasn't sure whether to blush, laugh, or call the cops. This was my boss, after all. A guy who, up until now, had demonstrated zero interest in my ass, let alone any wish to defile it.
I contemplated my next move. What was the harm in playing along? They were just words (mostly) - erasable ones. "Tell me more," I wrote, and hit send.
The onslaught began - bzzz, bzzz - each message dirtier than the next. Dave's lack of inhibition was unnerving and hot. But as we neared the end of our shift, I started to panic. What if he tried to consummate something? How would I explain that my texts meant nothing and that, truthfully, I thought he was kinda ugly and creepy and had the vocabulary of a sixth-grader?
Luckily, it never came to that. On Sunday, Dave called in sick. On Monday, he quit.
I forgot about the incident until recently, when a guy texted me some boozy, suggestive messages about the kinky things he wanted to do with me. Yikes. Was text sex becoming America's preferred way to drunk-dial?
To be sure, sexting has its upsides, with its anytime-anywhere accessibility. But still, it's not without pitfalls.
Take my friend Meredith, 25, a fashion writer who used to text her man from the office with notes like, "I'm at work - let's do it on my desk!" and, "I'm gonna bite your ass!" After a few too many drinks one night, she accidentally sent a smutty note to her best friend. The pal wouldn't drop the faux pas for months. "You want me to do what?!" she'd crow, and burst out laughing.
Lesson learned. Maybe there's something to be said for the good old-fashioned phone call. After all, what if texting is just another way for my generation to continue disengaging from a real search for connection? Or worse, what if it causes us to lower our standards? I'd never sleep with Dave the Ex-Convict if I met him on the street, so why do it via text? The whole thing made me feel kind of dirty - and not in the good way.
Ashlea Halpern is the senior editor at Time Out New York. She lives in Brooklyn.
Celebrity news, beauty, fashion advice, and fascinating features, delivered straight to your inbox!