Editors handpick every product that we feature. We may earn commission from the links on this page.
11 Great, Body-Safe Sex Toys Under $100
This summer, why not build up your collection?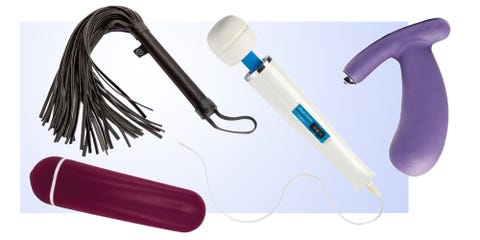 Courtesy. Design by Bridget Burns.
When it comes to, uh, coming, sex toys are an OMG-great way to figure out what you like—or just give yourself what you like when a partner's not around. If you're looking for ways to tickle your own fancy without breaking the bank, you've come to the right place. But because these items are used in intimate areas, price can't be the only decision-making factor.
Cheap sex toys and body-safe sex toys can seem like two different things. It makes sense: If the emphasis is on affordability, a manufacturer might use a cheaper material, which could mean something porous that can trap bacteria and potentially cause health problems. But there are a ton of companies making body-safe, amazing-feeling, and bank account–friendly pleasure products. Below, our picks for the best cheap sex toys available (that's cheap in price, never cheap in quality)—because you should be able to afford a sex toy collection.
This content is created and maintained by a third party, and imported onto this page to help users provide their email addresses. You may be able to find more information about this and similar content at piano.io