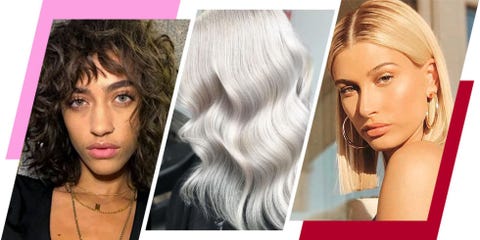 We hate to break it to you, but Madonna is a liar. Time does not go by so slowly (slowly), because it is almost 2018, and we're pretty sure it was just 2007 yesterday. Which means all of this year's best beauty trends, like eye-of-the-tiger hair, icy-blonde hues, and crimping—yes, crimping—are about to disappear into ether of beauty trends past.
Unless, of course, you try them out today. So to get you started on your major hair transformation, we choose the nine prettiest, coolest hair trends of 2017 for you to copy right now. Get inspired, ahead.
1
Platinum-Blonde Buzz Cuts
Surprisingly, the most "daring" of haircuts—the cropped, textured buzz—has also been the most popular of 2017, with Zoë Kravitz, Kristen Stewart, Katy Perry, Taraji, and Cara Delevingne going in for the crop. You know why? Because it looks completely badass.
2
The Super-Sleek Middle Part
In case you've missed it, the '90s are hardcore back, starting with the same stick-straight, flat-ironed hair you wore in 8th grade. Pair it with a perfectly even center part, à la Hailey Baldwin (and Nicki Minaj, and Selena Gomez, and Kylie Jenner...), and feel your inner 13-year-old cry with happiness. 
3
Curls on Curls on Curls
Whether you've got kinky-coily curls, or naturally full, fuzzy ringlets, or you spend an hour every morning twisting your straight hair around a tiny curling iron, you know that curls are *here*. The more definition and volume, the better, so let 'em run free.
We know, we know—you've sworn off crimping since your Claire's days. But thanks to runway trends (and this year's obsession with the '90s), crimped hair is slowly creeping back into style. You can ease into the look by adding a few crinkled sections to a ponytail or bun for just a touch of trend.
For natural blondes and bleach blondes alike, 2017 has been the year of major hair white outs. And the easiest shade to wear in the blonde family is icy white-blonde, which not only looks gorgeous on its own, but also with pastel undertones, like blue or lavender. 
6
Teeny Tiny Hair Accesories
Over the past year, Janelle Monáe has singlehandedly become the queen of hair accessories. She's adorned her hair with paper clips, gold wire, pearls, and even googly eyes, making her the ultimate inspiration for literally anyone with hair. 
The '70s (and '80s, and '90s, and maybe just history in general) meets 2017, and the modernized shag is born anew. Find a stylist who knows how to wield a razor to give you the softest, most feathered, and face-framing fringe. The messier the better.
The YOLO of cutting-edge dye jobs, "sponging" is a highlighting technique created by U.K. salon The Chapel in collaboration with Redken. Kind of like the sponge painting we did as a children, colorists blot dye into the hair to create cool, colorful shapes and prints.
Brunettes, this one's for you: Inspired by the tiger-eye stone, with its silky mix of golden and brown stripes, this hair trend involves painting caramel highlights over a warm or dark chocolate base. We're gonna go ahead and call this a universally flattering look.