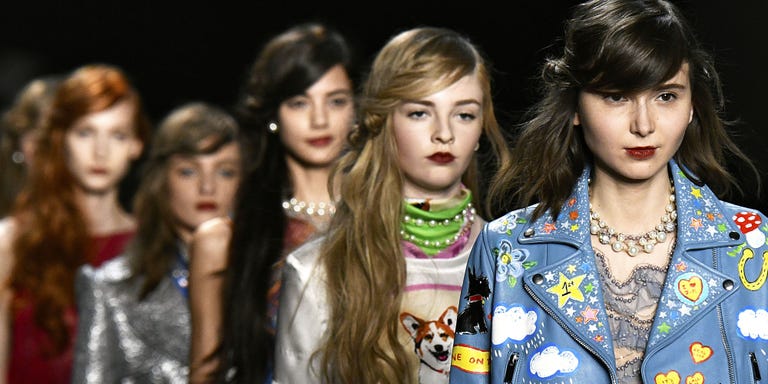 Nothing's wrong with a glassy chignon—especially not when the collection is Louis Quatorze-at-the-disco inspired—but we'll never turn down a fun, inventive hair idea. Straight from the Fall 2017 shows, seven styles worth giving a go.
1
Sandy Liang's Margot Tenenbaum Slide
Think of it as a do-over of high school with nicer clothes and a much better attitude. But don't think of wearing a pink clip (angled toward the arch of the eyebrow) with a monogrammed sweater or anything remotely preppy this time around—you're aiming for an uptown-downtown vibe. Side note: After all those years of natural texture, isn't it kind of weird to think how some of us used to do a daily flatiron?
2
Rosie Assoulin's Wrapped Loop
1) Gives you such a pretty profile. 2) Is still clean against voluminous, print-happy clothes. Make your regular half-pulled-out ponytail, then take a section from the bottom to wrap around the base. Pin, lipstick, party.
3
Altuzarra's Hillary Headband
With some top notes of Vermeer. A large contingent of commenters ran screaming from the '80s-ness of it all, but we think with the right, smart outfit, and those earrings, a pearl headband could be really elegant.
Not lifting your ends out from your turtleneck has been A Thing for ages now, but you've probably not tried stuffing them down your shirt *front.* You will of course need to find a top that's got a cutout to stick said hair through, but this could also be done with one of those chokers with ambitions to become a neck brace.
5
Tory Burch's Grown-Up Ribbon
A little bit "Christmas at the White House," a lot good for the planet if you recycle some packaging. Like the aforementioned pinned-back and headband styles, doesn't it feel cool to make an effort again?
6
Jenny Packham's Updated Side Braid
Swoop-ier than The Young Justin Bieber, yet fit for a princess (dress designer). Carve out a deep side part, shove hair over one shoulder, and make a low twist across the forehead.
7
Alexander Wang's Boy Cut
"WILL SHE DO IT?" —all of us, to ourselves, after witnessing Cat McNeil's transformation into Linda Evangelista Jr.