Get Greener Grooming: Eco-Friendly Beauty Products
Planning your Earth Day celebration? Start with our cheat sheet for for greener grooming.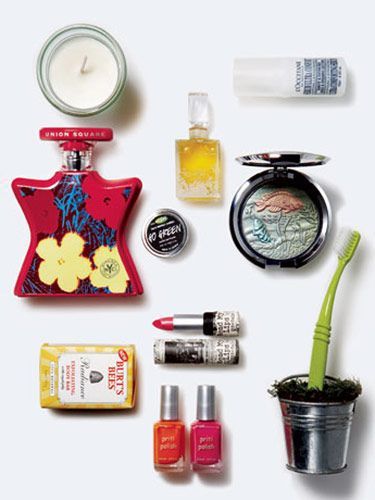 (Image credit: Jeff Westbrook/Studio D)
Clockwise from top right
SOOTHE OPERATOR
Organically harvested shea butter from Burkina Faso soothes skin. L'Occitane Shea & Organic Cotton Ultra Comforting Serum, $38.
SAVE NEMO
Illuminate eyes and help pre-serve fisheries. Chantecaille Protected Para-dise Eyes, $90.
BEST IN BRISTLE
Dentist-designed, Earth-approved. Recycline Preserve Toothbrush, $4.
GLAZE OF GLORY
Sans carcinogens. Priti Polish in Fireglow and Hula Girl Rose, $12.50.
LEAF-LET
In a tube made from regrown forests. The Balm Read My Lips in Gossip, $16.
CLEAN BEE
Exfoliates with buzzworthy royal jelly. Burt's Bees Radiance Body Bar, $4.
SWEET TOUCH
Vegan cocoa butter is good for the nose and the conscience. LUSH Go Green Solid Perfume, $12.
FACTORY GIRL
Even icons laud recycling. Bond No. 9 Andy Warhol Union Square, $195.
FLEUR VERT
A citrus bouquet of organic flowers, bark, and leaves. Red Flower Organic Perfume in Guiac, $186.
SUPPORT BEAM
All proceeds go to clean-water charities. Aveda Light the Way Candle, $10.
Celebrity news, beauty, fashion advice, and fascinating features, delivered straight to your inbox!