This Woman Uses Glitter to Turn Stretch Marks Into Beautiful Art
Stunning.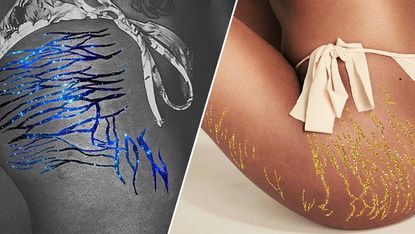 (Image credit: @sarashakeel / katie buckleitner)
Instagram collage artist Sara Shakeel has become known for her spectacular images, where she often superimposes different photos together to create beautiful alternate realities.
But recently, she's used her artistic abilities to transform stretch marks in a powerful series she posted on her Instagram. The dentist-turned-artist added images of gold glitter, a blue galaxy, and shiny crystal to photos of actual stretch marks. The results are stunning.
The series has received an incredible response from her followers because Sara takes what society perceives as "imperfections" as showcases them actual, flawless art.

She taught herself how to use Photoshop after failing her last year of dental school, and from her "sadness and depression," she used her collages as a creative outlet.
"I still remember that feeling of making those glitter stretch marks, and I was quite scared of uploading it," she says. "I am a Pakistani-based artist and talking about stretch marks or even making art out of it is not something you talk about on a regular basis."
Sara says the goal for these images was to really bring cellulite, stretch marks, and body empowerment into the limelight, and she hopes to add more to the series.
"Stretch marks are something I relate to on a very personal basis," Sara says. Sudden weight gain left her with some "stripes," and the idea behind these images is that she wanted to "fill them up with something pretty." And she totally succeeded.