Why 2017 Was a Breakthrough Beauty Year For Women of Color
The industry is finally wising up.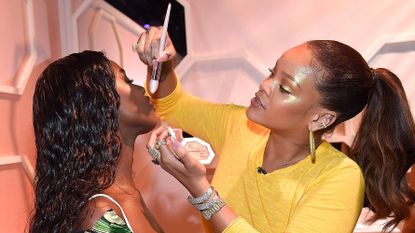 (Image credit: Getty)
It's no secret that women of color often get the short end of the foundation stick. For years, products that work for darker skin tones have been either nonexistent or have left women looking hella ashy — which is disappointing, considering that black women will spend $2.25 billion on beauty products by 2021, according to market research firm Mintel.
But now, the industry is finally wising up and launching more inclusive products. Although there's always room for improvement, these companies made me jump up and down for #blackgirlmagic joy this year, thanks to everything from more diverse spokesmodels to new, innovative items perfect for brown-skinned beauties everywhere.
Fenty Beauty
Rihanna hit a home run (opens in new tab) with the debut of her namesake cosmetics collection, Fenty Beauty (opens in new tab), which launched in Sephora in September. People instantly loved the line — which includes everything from Invisimatte Blotting Powder (opens in new tab) to a Gloss Bomb Universal Lip Luminizer (opens in new tab) — but it was the 40 shades of the Pro Filt'r Soft Matte Longwear Foundation (opens in new tab) that women of color really loved. Photos of empty slot displays, where the darker foundation shades once sat, went viral on Instagram (opens in new tab).
Women of color often have a hard time finding the right foundation shades (opens in new tab), but many beauty brands have either ignored medium to dark skin tones by leaving them out of their range, or by using the outdated "wait and see" approach (opens in new tab) and adding them later. Fenty's inclusivity set the bar high for other companies — shortly after, Kylie Cosmetics revealed (opens in new tab) 30 liquid concealers with shades from fair to deep dark.
Pat McGrath Labs
Even if you don't know who makeup artist Pat McGrath is, there's a good chance her products are in your purse — in addition to her years of creating looks for the world's top fashion designers (think Versace, Prada, and Gucci), she's also served as Procter & Gamble's Global Beauty Creative Design Director, which means she worked on brands like CoverGirl, Max Factor, and Dolce & Gabbana Makeup. This year McGrath, a black woman at the forefront of what's hot in the beauty world, finally launched (opens in new tab) her own permanent cosmetics collection, Pat McGrath Labs (opens in new tab), featuring luxe lipsticks and velvety smooth eye shadow palettes that look amazing on all skin tones.
CoverGirl
In 2017, CoverGirl brought in new, diverse talent ranging from food personality Ayesha Curry to my #WCW all day, every day, actress Issa Rae (opens in new tab). It's a pretty big deal for a company that — outside of Queen Latifah, Janelle Monáe, and a smattering of America's Next Top Model winners — hasn't always showcased a ton of black women in its advertising. Queen Latifah, whose campaign launched in 2006, is perhaps the most noticeable because she also created a makeup collection specifically for women of color.
Jay Manuel Beauty
Best known for his stint as a judge for America's Next Top Model, Jay Manuel launched his eponymous beauty line — which is partly owned by supermodel Iman, who also has a stellar cosmetics company (opens in new tab) for women of all skin tones — three years ago. Sold online and through HSN (opens in new tab), you'd be hard-pressed to find something in his collection that isn't great for dark skin tones — including these magical 3D Illuminators (opens in new tab) released earlier this year. Next up, his products will be available for purchase IRL (opens in new tab) at Simon malls by the end of next year, making it even easier to get your hands on his items.
Maybelline
Although I've always used the other products in Maybelline's collections (love me some Baby Lips (opens in new tab)!), the drugstore beauty brand hasn't offered the widest foundation range for all black women — that is, until earlier this year. It finally added 16 new shades to its Fit Me! Matte + Poreless (opens in new tab) foundation line, increasing the portfolio from "Fair Porcelain" to "Espresso." Here's hoping it continues to update its shades with even more #blackgirlfriendly colors.
MAC
MAC has always been a leader in creating products that work for all skin tones thanks to its credo of "all ages, all races, all genders." It was my go-to brand when I first started wearing foundation, and it continues to deliver for black girls everywhere when it comes to providing the best shades for our undertones. This year, MAC teamed up with Empire star Taraji P. Henson to launch a Viva Glam collection (opens in new tab), which includes a perfect bronzy, gold lipstick and LipGlass that look great on all dark skin.
Mented Cosmetics
For women of color, the struggle to find the perfect nude lip color can be real. Similar to foundation shades, some brands claim their hues will look flawless on every black woman, but they often end up making your lips look like a pile of ash. Not cool! Cue Mented Cosmetics' co-founders, KJ Miller and Amanda E. Johnson, who in January created the best-looking line of neutral lip colors for brown-skinned beauties. The collection includes lipsticks and lip glosses — plus, the website features models of all skin tones, making it easy to find your best match.
Laura Mercier
This luxury beauty brand has always featured a decent array of foundation shades, but this year, I noticed the company upped its game by adding deeper hues to its cult classic Translucent Loose Setting Powder (opens in new tab). Laura Mercier also launched its Flawless Fusion Ultra-Longwear Foundation (opens in new tab), which features darker shades like Nutmeg and Truffle.