19 Safe At-Home Keratin Treatments for Frizz-Free Hair
Shiny, silky, satiny.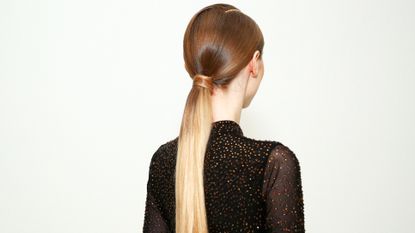 (Image credit: Astrid Stawiarz/Getty Images)
Marie Claire newsletter
Celebrity news, beauty, fashion advice, and fascinating features, delivered straight to your inbox!
Thank you for signing up to . You will receive a verification email shortly.
There was a problem. Please refresh the page and try again.
Yes, going to the salon every three to six months for a keratin treatment (opens in new tab) may cut your styling time in half, and will certainly leave you with smooth, shiny, and manageable strands. But it's a very time-consuming and expensive hair treatment: A one-time keratin treatment at the salon can cost up to $300 or more, and you're looking to spend anywhere from two to six hours sitting in a salon chair, depending on the thickness and length of your hair. An at-home keratin treatment, meanwhile, boasts the smoothing properties of a professional treatment—minus the harsh chemicals typically found in salon keratin services, such as formaldehyde.
Can I do a keratin treatment at home?
Yes. As the appetite for efficacious at-home treatments grows, so too does the technology rise to meet that challenge. Which is all to say that even five years ago, at-home keratin treatments weren't common (or that great). And quite simply: Now they are. Keratin has become a mainstay in a range of great hair products, from creams and serums to masks and sprays. But experts warn to do your research before settling on one that you want to use at home. Some treatments even require you to use additional hot tools for best results.
"Not every keratin treatment is the same," says Dr. Penny James, salon trichologist. "For example, some do not require you to use a flat iron, others do. If you want frizz-free hair for a few months, you will need to use a "keratin" treatment that requires a flat iron."
How is a keratin treatment at home different?
It's important to note that an at-home keratin treatment will not last as long as an in-salon treatment, but it will get the job done without putting a strain on your wallet. Always follow instructions to the letter, and apply products in a well-ventilated area. Once you're done, you can finally get back to the finer things in life instead of wrestling with your hair every morning.
How do keratin treatments work?
When discussing exactly how keratin treatments make our hair so smooth, it's important to break down what our hair is comprised of. "Our hair is a complex group of fibers and 95 percent of our hair is protein," says James. "There are normally three layers in a hair shaft. The middle is the medulla, then the bulk of the hair is the cortex then the outer layer is called the cuticle. The cuticle is what takes the most amount of abuse. Frizzy hair is often caused by broken, flared cuticles."
According to Dr. James,:"Keratin treatments used to get rid of frizz have a small percent of formaldehyde—this is glue .Once applied to the hair shaft, you need to seal the product onto the cuticle. To glue, the cuticle shut. The only way to glue the cuticle together is by using a flat iron at a temperature of 450."
What should you do before an at-home keratin treatment?
Just as important as the treatment itself is what you do before it even begins. "The pre-treatment will be shampooing your hair with a sulfate-free shampoo and getting the hair shaft prepped for the treatment," says Dr. James.
What should you do after an at-home keratin treatment?
After you finish your at-home treatment, there are a few key things to avoid, like getting your hair wet or direct sun exposure. "Even keratin treatments that claim you can wash your hair immediately benefit from waiting at least 24 hours" Says Alexandra Efstratiou, a New York-based stylist. "It just gives the hair and product time to settle in together."
How can you maintain the results of a keratin treatment?
Just like keeping a new dye job looking fresh, Efstratiou says that "the longevity of a keratin is primarily based on your frequency of washing so the less often you can do the better." Another little-known fact about keratin treatments is that their longevity can actually be affected by your hair color. "Keratins are compatible with hair color and bleach, but most keratins fade color so you'll want to do your keratin then wait at least two weeks before coloring," says Efstratiou.
Better yet, stylists also recommend using hair styling products that have keratin in them to keep your treatment looking fresh. "I like to recommend using keratin-infused products on days you do wash and style your hair," says Alon Shalom, owner of Alon Shalom Salon in West Hollywood, California. "Extra doses of keratin help to refresh the treatment results."
Keep reading to shop the best at-home keratin treatments on the market for 2022. Hint: Some of these come recommended by the stylists that use them the most.
1/19
GK Hair Smoothing Keratin Treatment
The Best Softening At-Home Keratin Treatment
Clear your schedule, then get ready for one of the most effective at-home treatments available. Start clean hair, then use the included application brush to (rather painstakingly) smooth the cream from root to tip on 1/2" sections of hair. Wait up to an hour, depending on your hair texture; dry; and flat-iron. Then, do nothing. You don't have to. The proprietary juvexin, a keratin-based protein blend, will keep your hair smooth for three to five months.
2/19
K18 4 Minute Leave-In Molecular Repair Hair Mask
The Game-Changing At-Home Keratin Treatment
The second I asked Instagram about leave-in keratin treatments, this one from K18 was one of the most popular responses—and it's not hard to see why. Creating hair "that feels like new" is one of its key claims.
3/19
Davines Nourishing Keratin Sealer
The Best Oil At-Home Keratin Treatment
This top-rated oil seals your hair cuticles to give you fuller. softer hair while making your hair stronger from the outside in and preventing split ends.
4/19
Keratin Research Complex Brazilian Keratin Hair Blowout Treatment
The Best Express At-Home Keratin Treatment
Think of this duo as an express two-step keratin treatment. They promise the results of a straight and shiny texture for up to four months—minus the money and wait time.
5/19
Nutree Amazonliss Keratin Smoothing Treatment
The Best 3-Step At-Home Keratin Treatment
If you're determined to hold on to frizz-free hair for up to four months, try this 3-step system. This treatment is comprised of strengthening ingredients like acai, cocoa extracts, and shea butter for added hydration and shine.
6/19
Keratin Complex Keratin Replenisher
The Best At-Home Keratin Treatment for Frizz Repair
Hydrolyzed keratin is the second ingredient in this effective leave-in cream that also contains strengthening proteins (soy, wheat) and really will minimize the amount of time you spend wielding a hair dryer—and extend the number of days before you need to do it again.
7/19
RUSK Deepshine Smooth Keratin Care Deep-Penetrating Treatment
The Best Classic At-Home Keratin Treatment
Hair that's super shiny and smooth? Sign me up, please! This treatment literally has "deep-penetrating" in the name, so you know it's good. It's designed for chemically and color-treated hair.
8/19
HASK Smoothing Deep Conditioner Treatment
The Best Single-Use At-Home Keratin Treatment
If you're dealing with dryness or breakage, condition your hair with this protein treatment, which prevents breakage and moisturizes even the most dry and brittle hair. It's the perfect treatment for chemically processed hair.
9/19
It's a 10 Haircare Miracle Leave-In Plus Keratin
The Best At-Home Keratin Treatment That's A Leave-In Spray
If the mere thought of detangling gives you anxiety, relieve yourself by reaching for this miracle worker of a styling spray. The brand is best known for its strengthening products to make your hair feel more manageable. Afterwards, you'll be able to easily glide your wide tooth comb through your hair without the stress of that strenuous arm workout.
10/19
Chi Keratin Silk Infusion
The Best Silk-Based At-Home Keratin Treatment
The name says it all: Keratin and silk work together in this product to strengthen damaged hair cuticles from the inside out, resulting in long-lasting glossy strands.
11/19
Moroccan Keratin Brazilian Keratin Hair Treatment
The Best Long-Lasting At-Home Keratin Treatment
This is a life-saver on so many levels. For one, this treatment comes packaged with a Moroccan keratin treatment, clarifying shampoo, and a sulfate-free shampoo and conditioner. There aren't any harsh chemicals either, just ultra-hydrating oils, like Moroccan oil to protect the hair from heat styling. Plus, the end result can last up to three to seven months.
12/19
TRESemmé Keratin Smooth Heat Activated Treatment
The Best At-Home Keratin Treatment to Use With Hot Tools
Once heat is applied to your hair, this smoothing treatment works like a keratin treatment in a bottle. Yes, your hair can be sleek and shiny in seconds with a touch of your flat iron.
13/19
Paul Mitchell Awapuhi Wild Ginger Keratin Intensive Treatment
The Best At-Home Keratin Treatment for Quick Repair
This intensive treatment is formulated with KeraTriplex and awapuhi extract to restore damage, leaving you with your most moisturized, soft and shiny hair yet. Plus, you'll be addicted to the invigorating scent of ginger tea and florals.
14/19
L'anza Keratin Healing Oil Intensive Hair Masque
The Best Hydrating At-Home Keratin Treatment That's Also a Hair Mask
Sometimes, our hair is in need of just a solid reboot due to climate change and heavy-duty styling, which is where this healing hair mask comes in. The keratin works as a building block for the hair bond and the antioxidant, resveratrol, has restorative powers that brings dry and brittle strands back to life.
15/19
Hers Rapid Repair Hair Mask
The Best Conditioning At-Home Keratin Treatment
Give your hair a boost with this deep conditioning hair mask. The keratin will go to work smoothing your strands while ingredients like coconut oil, shea butter, and jojoba seed oil will condition, so you'll be left with a frizz-free, shiny mane.
16/19
Matrix Biolage Advanced Keratindose Pro-Keratin Renewal Spray
The Best Nourishing Spray-Style At-Home Keratin Treatment
Spritz your way to silky hair with this nourishing leave-in sprayable lotion. Apply it to wet hair, and it'll protect and condition to turn those dry, brittle strands into smooth and soft locks.
17/19
OGX Anti-Breakage + Keratin Oil Fortifying Anti-Frizz Conditioner
The Best At-Home Keratin Treatment for In-The-Shower Conditioning
Welcome this conditioner into your regime, and you can wave goodbye to frizz, split ends, and fragile strands. Keratin and argan oil come together to repair and strengthen your hair.
18/19
Keranique Lift and Repair Treatment Spray
The Best Volumizing At-Home Keratin Treatment
This spray's keratin amino complex nourishes, strengthens, and protects your strands while adding volume. I'll give your hair a lift and make it thicker and fuller.
19/19
Gussi Hair At-Home Keratin Treatment Kit
The Best Non-Toxic At-Home Keratin Treatment
Shalom is obsessed with Gussi's results. "One of my long-time clients recently came in for her balayage and I was blown away by the restored health of her hair – it was so much stronger and shinier than usual," he says. "I was totally shocked when she told me this was all from Gussi's At-home Keratin (opens in new tab)Treatment! After checking out Gussi, I'm even more impressed that this is a clean, non-toxic formula delivering these impressive results."
Julia Marzovilla is an E-Commerce Writer at Marie Claire covering all things fashion, beauty, and entertainment. Offline, she's most likely browsing the web for another pair of black boots or listening to music too loudly—often at the same time.
With contributions from