18 Safe At-Home Keratin Treatments for Frizz-Free Hair
Shiny, silky, satiny.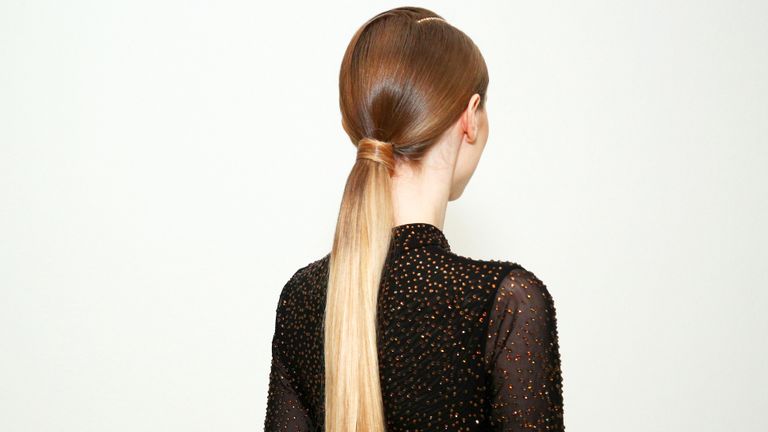 (Image credit: Astrid Stawiarz/Getty Images)
By Chelsea Hall published
Yes, going to the salon every three to six months for a keratin treatment may cut your styling time in half, and will certainly leave you with smooth, shiny, and manageable strands. But it's a very time-consuming and expensive hair treatment: A one-time service can cost up to $300 or more, and you're looking to spend anywhere from two to six hours sitting in a salon chair, depending on the thickness and length of your hair. Nevermind the fact that we are also in a pandemic, and salon trips —especially lengthy ones—aren't a well-advised option for everyone.
Can I do a keratin treatment at home?
Enter the DIY alternative: an at-home keratin treatment, which has the smoothing properties of a professional treatment minus the harsh chemicals often found in salon keratin services, such as formaldehyde. And as the appetite for efficacious at-home treatments grows, so too does the technology rise to meet that challenge. Which is all to say that even five years ago, at-home keratin treatments weren't common (or that great). And quite simply: Now they are.
How is a keratin treatment at home different?
It's important to note that an at-home keratin treatment will not last as long as an in-salon treatment, but it will get the job done without putting a strain on your wallet. Always follow instructions to the letter, and apply products in a well-ventilated area. Now you can finally get back to the finer things in life instead of wrestling with your hair every morning. Ahead, we've rounded up the best and easiest at-home keratin treatments to give you salon-worthy hair for a fraction of the cost.
1/18
GK Hair Smoothing Keratin Treatment
The Softening Treatment
Clear your schedule, then get ready for one of the most effective at-home treatments available. Start clean hair, then use the included application brush to (rather painstakingly) smooth the cream from root to tip on 1/2" sections of hair. Wait up to an hour depending on your hair texture, dry, and flat-iron. Then, do nothing. The proprietary juvexin, a keratin-based protein blend, will then keep your hair smooth for three to five months.
2/18
K18 4 Minute Leave-In Molecular Repair Hair Mask
The Game-Changer
The second I asked Instagram about leave-in keratin treatments, this one from K18 was one of the most popular responses—and it's not hard to see why. Creating hair "that feels like new" is one of its main claims.
3/18
Davines Nourishing Keratin Sealer
The Hair Oil
This top-rated oil seals your hair cuticles to give you fuller. softer hair while making your hair stronger from the outside in and preventing split ends.
4/18
Keratin Research Complex Brazilian Keratin Hair Blowout Treatment
The Express Treatment
Think of this duo as an express two-step keratin treatment. This promises the results of a straight and shiny texture for up to four months—minus the money and wait time!
5/18
Nutree Amazonliss Keratin Smoothing Treatment
The 3-Step Solution
If you're determined to hold on to frizz-free hair for up to four months, try this 3-step system. This treatment is comprised of strengthening ingredients like acai, cocoa extracts, and shea butter for added hydration and shine.
6/18
Virtue Recovery Shampoo
The Shampoo
Good hair starts in the shower! This Recovery Shampoo from Virtue nourishes depleted hair. A.k.a.—your hair is set up from the get-go. Hair is smoother and softer to begin with, so styling is a breeze.
7/18
Keratin Complex Keratin Replenisher
The Frizz Repair Treatment
Hydrolyzed keratin is the second ingredient in this effective leave-in cream that also contains strengthening proteins (soy, wheat) and really will minimize the amount of time you spend wielding a hair dryer—and extend the number of days before you need to do it again.
8/18
RUSK Deepshine Smooth Keratin Care Deep-Penetrating Treatment
The Treatment
Hair that's super shiny and smooth? Sign me up, please! This treatment literally has "deep-penetrating" in the name, so you know it's good. It's designed for chemically and color-treated hair.
9/18
Nexxus Keraphix for Damaged Hair Gel Treatment
The Under $15 Option
This treatment from Nexxus contains rice, which has been the secret to seriously healthy hair for years. It also contains glutamic Acid, a key amino acid that hair actually loses when it gets damaged.
10/18
Kérastase Ciment Thermique Blow Dry Primer
The Heat Protectant
It's no secret that excessive use of heat will weaken your hair in the long-run. To cure your craving for silky-straight hair, add a primer into your wash day. This one is perfect for shielding the hair from heat damage while prepping your hair for a smooth and shiny texture before a hot tool.
11/18
Olaplex No 6 Bond Smoother
The Styling Cream
You'll be able to cut your blow-dry styling time in half with this leave-in cream. It doubles as a restorative treatment for brittle hair and will also be your new go-to for erasing any remnants of frizz for a super sleek finish.
12/18
HASK Smoothing Deep Conditioner Treatment
The Single-Use Option
If you're dealing with dryness or breakage, condition your hair with this protein treatment, which prevents breakage and moisturizes even the most dry and brittle hair. This is the perfect treatment for chemically processed hair.
13/18
It's a 10 Haircare Miracle Leave-In Plus Keratin
The Leave-In Spray
If the mere thought of detangling gives you anxiety, relieve yourself by reaching for this miracle worker of a styling spray. The brand is best known for its strengthening products to make your hair feel more manageable. Afterwards, you'll be able to easily glide your wide tooth comb through your hair without the stress of that strenuous arm workout.
14/18
Chi Keratin Silk Infusion
The Silk-Based Treatment
The name says it all: Keratin and silk work together in this product to strengthen damaged hair cuticles from the inside out, resulting in long-lasting glossy strands.
15/18
Moroccan Keratin Brazilian Keratin Hair Treatment
The Long-Lasting Treatment
This is a life-saver on so many levels. For one, this treatment comes packaged with a Moroccan keratin treatment, clarifying shampoo, and a sulfate-free shampoo and conditioner. There aren't any harsh chemicals either, just ultra-hydrating oils, like Moroccan oil to protect the hair from heat styling. Plus, the end result can last up to three to seven months.
16/18
TRESemmé Keratin Smooth Heat Activated Treatment
Once heat is applied to your hair, this smoothing treatment works like a keratin treatment in a bottle. Yes, your hair can be sleek and shiny in seconds with a touch of your flat iron.
17/18
Paul Mitchell Awapuhi Wild Ginger Keratin Intensive Treatment
The Quick Repair Treatment
This intensive treatment is formulated with KeraTriplex and awapuhi extract to restore damage, leaving you with your most moisturized, soft and shiny hair yet. Plus, you'll be addicted to the invigorating scent of ginger tea and florals.
18/18
L'anza Keratin Healing Oil Intensive Hair Masque
The Hydrating Hair Mask
Sometimes, our hair is in need of just a solid reboot due to climate change and heavy-duty styling, which is where this healing hair mask comes in. The keratin works as a building block for the hair bond and the antioxidant, resveratrol, has restorative powers that brings dry and brittle strands back to life.
Chelsea Hall is the Assistant Fashion and Beauty Editor at Marie Claire, where she covers celebrity style, fashion trends, skincare, makeup and anything else tied into the world of fashion and beauty