Hair How-To: Create a Highlighting Spray
Create natural highlights at home.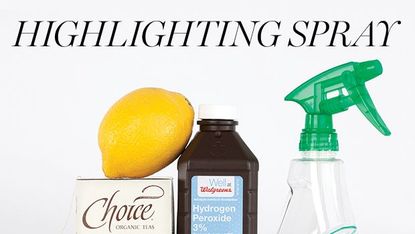 (Image credit: Kathryn Wirsing)
Create an easy, at-home highlighting solution that you can easily pack to take with you to the beach.
What You'll Need:

1 spray bottle

1 lemon

1 chamomile tea bag (not loose leaf)

1/4 cup hydrogren peroxide

About 3/4 cup of water (1/2 cup for the tea and 1/4 to fill)
Here's How to Make It:

Step 1: First, make a cup of chamomile tea and let it cool. Then add that to the spray bottle.
Step 2: Next, add the juice from a freshly squeezed lemon.
Step 3: Add the hydrogen peroxide.
Step 4: Finally, fill the rest of the spray bottle with room temperature water.
Here's How to Use It:
Step 1: Spray on damp hair either all over or in concentrated sections (like the tips for an ombré effect).

Step 2: Leave on for an hour and then rinse thoroughly.

Step 3: If you want your hair lightened a lot, leave on and reapply every two hours while sitting at the pool or beach.
More Hair Hacks:
Bobby Pins (opens in new tab)
French Twist (opens in new tab)
Sock Bun (opens in new tab)
Waterfall Braid (opens in new tab)
Faux Bob (opens in new tab)