Lady Gaga's Whirlwind Wig Tour of Paris
Our Lady of Recently Shorn Locks mixed things up with some new (temporary) hair this weekend.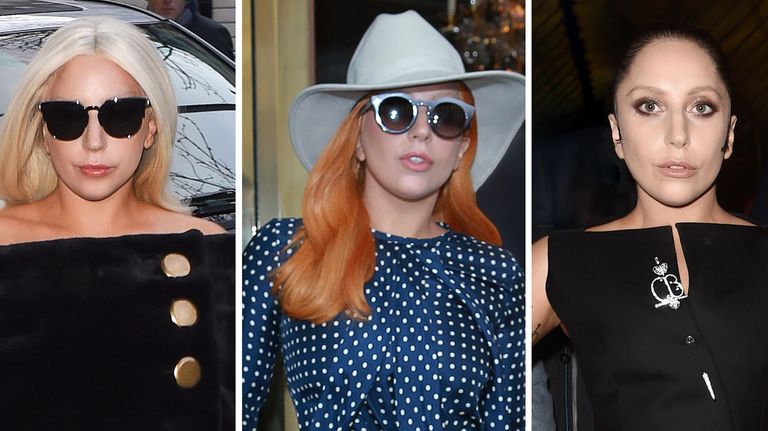 (Image credit: Archives)
As far as real estate goes, celebrities notoriously have rooms to spare. So we can only imagine that Lady Gaga has an entire space dedicated to her vast, harlequin wig collection. Seriously! Over the course of 72 hours during Paris Fashion Week, the singer donned three different shades in the hair color spectrum: blonde, brunette, and red. Admittedly, we're not entirely sure what hue is Gaga's current "natural" shade, but we're looking at how she made each one work nonetheless.
1) The Long, Platinum Blonde
While strolling around the streets of the City of Light, Gaga is Barbie's doppelgänger—donning a super-long platinum wig with an open shoulder black top featuring big gold buttons.
2) The Super-Dark Brunette
To complement her understated, black-on-black look at the Balenciaga show, Gaga styled her coif in a glossy, Roaring Twenties-esque updo. It looked decidedly sophisticated with her chic LBD and leather arm gloves.
3) The Just-Past-the-Shoulders Ginger
Gaga channeled a '70s knockout while traipsing around Paris draped in this navy and white polka-dot jumpsuit from Martin Grant's Sprint 2015 collection. She finished off the look with the best accessory to contrast against her bright 'do—a light grey fedora.
You should also check out:
Julianna Marguiles's 'Good Wife' Hair Is a Wig/Full of Secrets
Tracking Kim Kardashian's Total Hair Overhaul