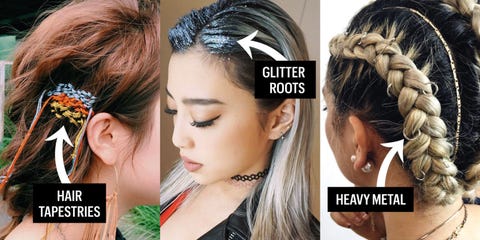 Design by American Artist
Before you le sigh at yet another music festival hair story, trust us when we tell you, we're as over flower crowns as you are. In the spirit of not looking like a hopeless Coachella newbie, we've kept our eyes peeled for fresh 'do embellishments that embody the cool-girl-at-the-festival vibe without making someone want to punch you in the face. (Uh, we mean,✌️ and love, you guys.)
1
Heavy Metal Accessories
There's so much to covet about this braided, metallic-accessories-adorned look created by Mane Addict's Justine Marjan we don't know where to start. No matter what kind of plaits you're sporting, you can amp them up by securing tiny silver hoops or safety pins inside them. You can also embellish your part (because this is a trend in and of itself) with a strand of jewelry, like the gold chain you see here.
We first spotted this loom-happy technique over the summer as it made waves across the pond (it's the brainchild of U.K. salon Bleach London). If your needlepoint skills are on point, weaving colorful thread into sections of your hair is a modern-boho way to add flavor to your 'do. And as you can see here, it doesn't have to be perfect. Loose threads = chic.
Let go of the Lizzie McGuire associations—we promise that crimping is officially cool again (apparently it's on a ten-year trend cycle?). If Gigi Hadid donning the look like the bombshell she is isn't enough of an indication, look no further than Gucci's '70s-inspired fall runway where there were soft, single crimped sections.
$21, amazon.com
Flash tattoos had their moment on the body, so we implore you to make them feel fresh again by pressing them on to your strands à la Kylie. All you have to do is slick down/straighten your texture, place the tat on your hair, then press a damp cloth over it. FWIW, we think less is more when it comes to these statement embellishments.
$14, asos.com
By now you've definitely caught wind of the glitter roots trend, be it on Instagram or on the runway (Marc Jacobs gave his girls sparkly finger waves for fall). It's not for the faint of heart, which makes a music festival the perfect excuse to cover up your regrowth in the shimmery stuff, as seen on J-Pop star Miliyah Kato.
$15, nordstrom.com