Kim Cattrall Says She Was "Never Friends" with Sarah Jessica Parker and Her Other 'SATC' Costars
"And I thought to myself: The plot thickens."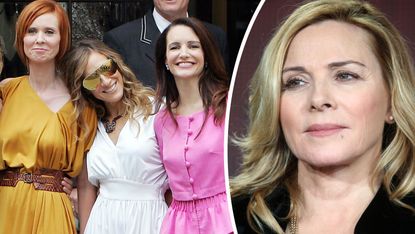 (Image credit: Getty Images)
In case you didn't know, the long-awaited Sex and the City 3 film has been officially canceled.
RELATED STORY
And now, Kim Cattrall has revealed on Piers Morgan's Life Stories that she was "never friends" with any of her costars on the franchise.
Speaking of Sarah Jessica Parker, Kristin Davis, and Cynthia Nixon, the 61-year-old actress said: "We've never been friends. We've been colleagues, and in some ways it's a very healthy place to be."
It comes after reports that Kim Cattrall was the reason that the third film was derailed, due to her "outrageous demands."
RELATED STORY
While Cattrall tweeted out a response to the claims at the time (along with retweeting a few tweets that supported her decision), she told Piers that Sarah Jessica Parker "could have been nicer" about turning down the third Sex and the City movie.
Woke 2 a @MailOnline 💩storm! The only 'DEMAND' I ever made was that I didn't want to do a 3rd film....& that was back in 2016September 29, 2017
See more
Disappointed for all crew holding on for negotiations to conclude for their jobs, and of course, for the fans. Leave it at that. #TruthSeptember 29, 2017
See more
Cattrall hit out at being portrayed as a "diva," saying: "And now, now at this very moment it's quite extraordinary to get any kind of negative press about something that I've been saying for almost a year of 'no' that I'm demanding or a diva."
"I never asked for any money, I never asked for any projects—to be thought of as some kind of diva is absolutely ridiculous."