Taylor Swift Reveals Who Is *Actually* Responsible for Setting Her Up With Calvin Harris
Apparently it's not Ellie Goulding.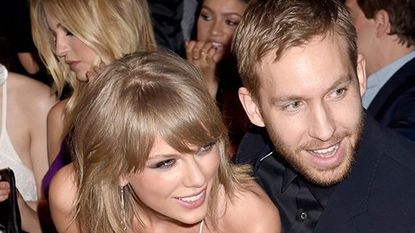 (Image credit: Getty Images)
Marie Claire newsletter
Celebrity news, beauty, fashion advice, and fascinating features, delivered straight to your inbox!
Thank you for signing up to . You will receive a verification email shortly.
There was a problem. Please refresh the page and try again.
Despite Ellie Goulding's claims (opens in new tab) that she played matchmaker for Taylor Swift and Calvin Harris, it turns out that's not 100 percent factual. (Though the logic she offered for the pairing was totally sound: "They're both really tall, they'll be brilliant together!" *Nods head. So true.*)
On Saturday morning Taylor Swift posted a tweet that suggests it was actually Lady Gaga who she credits for sparking her absolutely fantastic (opens in new tab) relationship. In response to a fan's lovelorn lament, Swift referenced an earlier exchange she'd had with Lady Gaga, telling her fan to "Go read Gaga's tweet that she sent me a few months ago. It's good love luck. Because it's not a tweet. It's a magical spell."
The tweet in question was shared by Lady Gaga back in March in reply to a thoughtful note Swift had posted upon news of Gaga's engagement—and coincidentally, just before Taylor and Calvin became Talvin. Interesting timing, no?
@taylorswift13 wow you're a sweetheart! Life is friends, family, and love! We all see that in you, your prince charming will come! ❤️💋March 2, 2015
See more
As far as Swift's concerned, Gaga's good wishes in finding her prince charming were more than just sweet, they were straight up enchanting. Lady Gaga soon responded to the pop superstar's tweet from this weekend, playfully adding, "I only cast happy spells! Unless there's bad blood."
.@taylorswift13 I only cast happy spells! Unless there's bad blood. I have a separate cauldron for that. Happy for u💋 pic.twitter.com/SZNHZ1g1sKJuly 18, 2015
See more
Sigh... to be Taylor Swift.
I am an experienced editor, writer, and creative strategist, specializing in fashion, beauty, and lifestyle content for digital media outlets, as well as video and social platforms. While I currently operate as a freelance contributor/consultant, with such clients as The Zoe Report, my 10+-year background in the industry was cultivated at the dot-coms of elite publications, including Harper's BAZAAR, ELLE, and Marie Claire.