People Are Spamming Karlie Kloss with Rat Emojis for Hanging Out with Katy Perry
Oof.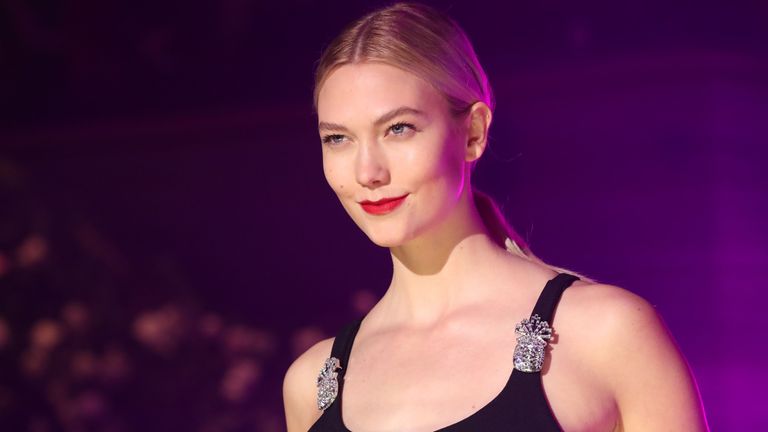 (Image credit: Getty Images)
By Peggy Truong published
If anyone's seen Karlie Kloss' membership card for Taylor Swift's squad, please return it to its owner immediately. Or, maybe keep it as a souvenir. Based on Karlie's recent activity, it seems like she might not even be looking for her card.

On Wednesday, Karlie was spotted grabbing sushi in Los Angeles with a group of friends that included Katy Perry, who's had her fair share of headlines involving Taylor Swift and their long-rumoured feud. While the photo, which you can see on TMZ, shows nothing dramatic, it looks like Taylor fans have wasted no time in swarming Karlie's social media with rat emojis. Some have also used the snake, while others have come to Karlie's defense via hearts and roses.
Karlie raised eyebrows earlier this year when she captioned an Instagram video with "Swish Swish," which is also the same name of Katy's song that's definitely, maybe about Taylor.
The backlash prompted Karlie to change the caption to "Nothing but net" (It was a basketball video for LOVE magazine), but the Twitter post still shows the original text:
Swish swish 🏀❤️ Love Advent '17 thank you @THELOVEMAGAZINE @kegrand pic.twitter.com/MNIwz5aczqJanuary 1, 2018
See more
In July 2017, Swifties also called Karlie out for missing Taylor's annual Fourth of July party (which didn't even happen that year). Instead of going down the giant Taymerica slide or doing anything with her (former) BFF, Karlie posed for photos with Kendall Jenner during Paris Fashion Week. The d-r-a-m-a.
DELETE THIS NOW KARLIE. https://t.co/EurrgPhp3nJuly 5, 2017
See more
Karlie should be posting photos with Taylor right now, not KendelJuly 5, 2017
See more
As the world waits for anyone from Wednesday's sushi outing to clear the air on exactly why they were hanging out (or maybe for once, we can just let stars have their sushi in peace?) here's what Karlie shared on Twitter the following day:
Stumbled upon this and love it:You'll never win the game if you leave half the team on the bench.February 8, 2018
See more
I'll just let this classic Taylor GIF take it from here:
Everything Taylor Swift's squad members have said about each other
Peggy is Cosmopolitan.com's entertainment writer, specializing in Leonardo DiCaprio, This Is Us, and the royals. She's also a proud Canadian and pug lover. When Peggy's not obsessing over Leo's latest lover or gut size, she can be found watching old episodes of Friends or Gilmore Girls. Her dream is to one day live on a pug farm and write children's books, with illustrations by her very talented husband Greg.