People Are Spamming Karlie Kloss with Rat Emojis for Hanging Out with Katy Perry
Oof.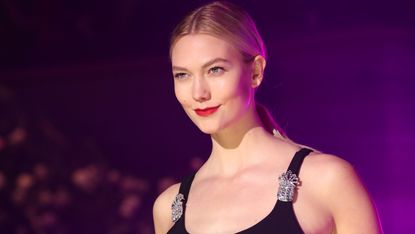 (Image credit: Getty Images)
Marie Claire newsletter
Celebrity news, beauty, fashion advice, and fascinating features, delivered straight to your inbox!
Thank you for signing up to . You will receive a verification email shortly.
There was a problem. Please refresh the page and try again.
If anyone's seen Karlie Kloss' membership card for Taylor Swift's squad, please return it to its owner immediately. Or, maybe keep it as a souvenir. Based on Karlie's recent activity, it seems like she might not even be looking for her card.

On Wednesday, Karlie was spotted grabbing sushi in Los Angeles with a group of friends that included Katy Perry, who's had her fair share of headlines involving Taylor Swift and their long-rumoured feud (opens in new tab). While the photo, which you can see on TMZ, shows nothing dramatic, it looks like Taylor fans have wasted no time in swarming Karlie's social media with rat emojis. Some have also used the snake, while others have come to Karlie's defense via hearts and roses.
Karlie raised eyebrows earlier this year when she captioned an Instagram video with "Swish Swish," which is also the same name of Katy's song that's definitely, maybe about Taylor.
The backlash prompted Karlie to change the caption (opens in new tab) to "Nothing but net" (It was a basketball video for LOVE magazine), but the Twitter post still shows the original text:
Swish swish 🏀❤️ Love Advent '17 thank you @THELOVEMAGAZINE @kegrand pic.twitter.com/MNIwz5aczqJanuary 1, 2018
See more
In July 2017, Swifties also called Karlie out for missing Taylor's annual Fourth of July party (which didn't even happen that year). Instead of going down the giant Taymerica slide or doing anything with her (former) BFF, Karlie posed for photos with Kendall Jenner during Paris Fashion Week. The d-r-a-m-a.
DELETE THIS NOW KARLIE. https://t.co/EurrgPhp3nJuly 5, 2017
See more
Karlie should be posting photos with Taylor right now, not KendelJuly 5, 2017
See more
As the world waits for anyone from Wednesday's sushi outing to clear the air on exactly why they were hanging out (or maybe for once, we can just let stars have their sushi in peace?) here's what Karlie shared on Twitter the following day:
Stumbled upon this and love it:You'll never win the game if you leave half the team on the bench.February 8, 2018
See more
I'll just let this classic Taylor GIF take it from here:
Everything Taylor Swift's squad members have said about each other
Image 1 of 10
Lorde
After an&#xA0;<a href="http://www.marieclaire.com/celebrity/a28115/lorde-taylor-swift-squad/" target="_blank">interview</a>&#xA0;made it seem like she had denounced Taylor and the squad,&#xA0;<a href="https://www.cosmopolitan.com/uk/entertainment/a10273496/lorde-taylor-swift-squad/" target="_blank">Lorde took to Twitter</a>&#xA0;to set the record straight, saying she still loves Taylor, but she&apos;s not a huge fan of the squad label. &quot;I&apos;ve always found people&apos;s perception of this &apos;squad&apos; idea frustrating in the past; it was never some exclusive club or secret society, but a wide circle of people, some of whom I know, and some I&apos;ve never met, like the most wide group of friends,&quot; she wrote. &quot;Forgive me for the mild eye roll I popped when it was brought up as if we&apos;re all blood members of a secret cult.&quot;
Lily Aldridge
&quot;We are a really nice group of women who support each other and really, genuinely have each others&apos; back and it&apos;s awesome,&quot; Lily told&#xA0;<a href="http://www.eonline.com/news/802880/lily-aldridge-defends-taylor-swift-s-squad-we-are-a-really-nice-group-of-women-who-support-each-other" target="_blank">E! Online</a>&#xA0;in 2016. &quot;That&apos;s something to be about.&quot;
Lena Dunham
&quot;I&apos;m more of a one-on-one hanger,&quot; Lena said of the squad during an interview with&#xA0;<a href="https://www.howardstern.com/show/2017/2/6/lena-dunham-malia-obama-became-intern-girls-more-secrets/" target="_blank">Howard Stern</a>. &quot;A big group hang is not my specialty.&quot;
Ruby Rose
&quot;Yeah, you get this whole hazing thing, you have to do initiation, it was pretty intense &#x2013; it was much more training than I&apos;ve ever had to do with any of my films. Axe-throwing, you name it, I had to do it to be in Tay&apos;s squad,&quot; Ruby joked to&#xA0;<a href="http://www.news.com.au/entertainment/movies/upcoming-movies/ruby-rose-reveals-what-her-girl-squad-thinks-of-new-girlfriend-jess-origliasso/news-story/30737001576aa1a4824e101d42b1a864" target="_blank">news.com.au</a>&#xA0;about a Taylor Swift crew initiation. She added: &quot;I don&apos;t even think that she calls it that, I think it&apos;s just something the media started and ran with, because it sounds kind of interesting.&quot;
Karlie Kloss
&quot;Having a support group is everything,&quot; Karlie said in a 2016&#xA0;<a href="http://people.com/bodies/karlie-kloss-relies-on-her-workouts-to-beat-the-pre-runway-stress/" target="_blank"><em>Women&apos;s Health</em></a>&#xA0;interview, speaking generally about friendship and not&#xA0;<em>specifically</em>&#xA0;about the squad. &quot;It&apos;s so important to have friends that you can rely on, that you can lean on no matter what you&apos;re going through&#x2014;good times and bad.... I feel really lucky I&apos;ve met a lot of amazing, amazing women along the way and I hope that they&apos;ll be in my life forever.&quot;
Ed Sheeran
&quot;Taylor&apos;s world is celebrity. I was this 22-year-old awkward British kid going on tour with the biggest artist in America, who has all these famous mates,&quot; Ed told&#xA0;<a href="http://www.rollingstone.com/music/features/ed-sheeran-on-hard-drinking-nights-taylor-swift-true-love-w470599" target="_blank"><em>Rolling Stone</em></a>&#xA0;of touring with Taylor in 2011. &quot;It was very easy. [&#x2026;.] I would often find myself in situations just kind of waking up and looking over and being like, &apos;How the f-ck did that happen?&apos;&quot;
Hailee Steinfeld
&quot;I think people think we spend a lot more time together than we actually do!&quot; Hailee told&#xA0;<a href="http://www.seventeen.com/celebrity/a42053/hailee-steinfeld-seventeen-september-2016-cover/" target="_blank"><em>Seventeen</em></a><em>.&#xA0;</em>&quot;She&apos;s amazing though.&quot;
Ellie Goulding
&quot;I love surrounding myself with these women who are incredibly strong and incredibly passionate about what they do,&quot; Goulding told&#xA0;<a href="http://www.refinery29.com/2015/07/90060/ellie-goulding-taylor-swift-squad" target="_blank">Refinery29</a>&#xA0;in 2015. &quot;I think in life you should surround yourself with really incredible people....I&apos;m sure we&apos;ve referred to it as a &apos;squad.&apos;&quot;
Gigi Hadid
&quot;It&apos;s a conversation we often have. We want to be the generation and the group of friends known for supporting each other,&quot; Gigi said in a 2015 interview with&#xA0;<a href="http://www.billboard.com/articles/columns/pop-shop/6715466/gigi-hadid-taylor-swift-squadgoals-cattiness-feminism"><em>Elle Canada</em></a>. &quot;&apos;Squad Goals&apos; is a big social-media thing right now, and that&apos;s what we want to inspire in other groups of friends&#x2014;to be proud of the power you all have when you&apos;re together, which can be amplified so much by each person. That&apos;s what has been cool about everyone&apos;s willingness to be there for each other.&quot;
Zendaya
In 2015, Zendaya talked about the famous squad with&#xA0;<a href="http://www.complex.com/pop-culture/zendaya-interview-2015-cover-story" target="_blank"><em>Complex</em></a><em>.&#xA0;</em>&quot;My squad! What is my squad? I don&apos;t really have a squad, I just have friends.&quot;
Peggy is Cosmopolitan.com's entertainment writer, specializing in Leonardo DiCaprio, This Is Us, and the royals. She's also a proud Canadian and pug lover. When Peggy's not obsessing over Leo's latest lover or gut size, she can be found watching old episodes of Friends or Gilmore Girls. Her dream is to one day live on a pug farm and write children's books, with illustrations by her very talented husband Greg.