Rihanna and Leonardo DiCaprio Spotted Getting Close at Coachella
Look who's hanging out again.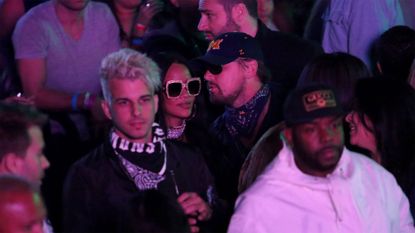 (Image credit: Getty Images)
Well, well, well, it seems like our favorite would-be couple was spotted together again. Rihanna and Leonardo DiCaprio were hanging out on Saturday night at Coachella's (opens in new tab) Neon Carnival.
Seems like DiCaprio was trying to keep a low profile with a baseball hat and dark shades (cool bandana, Leo!) while Rihanna played it as low-key as Rihanna possibly can, which is to say not at all. The singer wore oversized sparkly sunglasses and an even shinier choker.
The 41-year-old Oscar-winner could be seen leaning in close to Riri while she smiled. There's no way to know if he was whispering sweet nothings or just trying to find the next spot to cut loose, you know, club-wise. (opens in new tab) But we hope this party-loving power couple stays together.