Kylie Jenner Just Mysteriously Deleted Every Photo of Stormi
"I'm not sharing photos of my girl right now."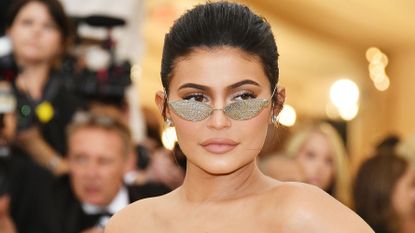 (Image credit: Getty Images)
As of yesterday, Kylie Jenner says she will no longer be sharing photos of her daughter, Stormi. The news comes after Jenner uploaded a selfie that uncharacteristically cropped out Stormi's face: "i spy with my little eye...," the 20-year-old captioned the photo, which is flooded with comments questioning Jenner's decision to show just a sliver of her daughter's face.
Thanks to some A1 sleuthing by Instagram account @CommentsByCelebs, it appears that Jenner responded to a follower to set the record straight (well, kind of):
"[Y]eah I cut my baby out. I'm not sharing photos of my girl right now," Jenner explained.
It looks like Jenner is serious about her decision—shortly after the selfie was uploaded, fans noticed that Jenner had cleaned her Instagram feed of any photos showing Stormi's face. Other than a few very-concealed pics, Stormi's presence on Jenner's Instagram is officially minimal.
Considering Jenner was somewhat lax when it came to posing with Stormi (especially when compared to Khloé Kardashian, who hides her newborn's face with Snapchat filters), the news comes as a surprise. Time will tell if this decision sticks—here's hoping Jenner doesn't slip back into uber-private mode (#tbt to concealing all 9 months of her pregnancy).
RELATED STORIES
Ruby was the beauty editor at Cosmopolitan, where she covered beauty across print and digital. Her work has appeared on The Zoe Report, Fashionista, and StyleCaster. Follow her on Instagram.