Selena Gomez Just Reemerged for the First Time in Over a Month and Fans Couldn't Contain Their Joy
#SelenaIsBackParty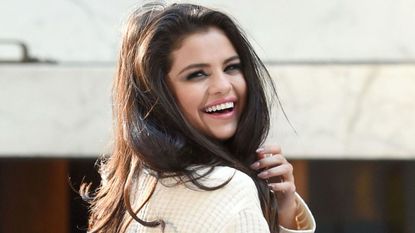 (Image credit: Getty Images)
In August, Selena Gomez announced her decision to put her Revival Tour on hold and take some personal time away from the spotlight in order to focus on her physical and mental health. She released the news in a statement to People, saying, "As many of you know, around a year ago I revealed that I have lupus, an illness that can affect people in different ways. I've discovered that anxiety, panic attacks, and depression can be side effects of lupus, which can present their own challenges. I want to be proactive and focus on maintaining my health and happiness and have decided that the best way forward is to take some time off."
Since then, the "Kill 'Em With Kindness" singer has laid low and stayed out of the public eye. So you can imagine her fans' surprise when a few of them spotted her grabbing lunch at a Texas Roadhouse in Tennessee on Saturday afternoon.
Gracious as always, Gomez greeted her fans warmly and took the time to say hi to the eager crowd and snap a few selfies.
Okay, make that several selfies. (We hope she wasn't too hungry, because there's no way she had time to actually eat her lunch during all this.)
I WILL NEVER BE THIS HAPPY AGAIN I LOVE YOU SELENA 💞💞 @selenagomez pic.twitter.com/qoeIM5pzdROctober 9, 2016
See more
Once the photos and videos started popping up on social media, #SelenaIsBackParty started trending on Twitter as fans gushed over how happy and healthy she looked.
Gets a #1 trending topic by doing nothing but going out for dinner. Wow. #SelenaIsBackParty pic.twitter.com/rt9sEQQRa2October 8, 2016
See more
SHE LOOKS HEALTHY OMG MY HEART IS SO HAPPY #SelenaIsBackParty pic.twitter.com/bM10TvwqDPOctober 8, 2016
See more
The selfies continued on Sunday as additional Tennessee fans were lucky enough to encounter the pop star:
Clearly, you've been missed, Selena.
Follow Marie Claire on Facebook for the latest celeb news, beauty tips, fascinating reads, livestream video, and more.
I am an experienced editor, writer, and creative strategist, specializing in fashion, beauty, and lifestyle content for digital media outlets, as well as video and social platforms. While I currently operate as a freelance contributor/consultant, with such clients as The Zoe Report, my 10+-year background in the industry was cultivated at the dot-coms of elite publications, including Harper's BAZAAR, ELLE, and Marie Claire.