Sarah Jessica Parker Stops to Instagram Her Shoes, Is All of Us
Do it for the 'gram.
Marie Claire Newsletter
Celebrity news, beauty, fashion advice, and fascinating features, delivered straight to your inbox!
Thank you for signing up to Marie Claire. You will receive a verification email shortly.
There was a problem. Please refresh the page and try again.
We've all gone to great, sometimes inconvenient, often embarrassing lengths to get that perfect Instagram photo: forbidding friends to eat their food at brunch until you've captured their avocado toast at its Sunday morning best, obsessively arranging your accessories in an artful vignette, enduring the most awkward of glances as passersby notice (and silently judge) you for taking a (million) selfie(s) in search of your best lighting and angle.
But fear not, you aren't alone. Even seemingly effortless style icons like Sarah Jessica Parker understand the struggle of capturing ~The One~.
The Divorce actress spent her Saturday afternoon sitting on the stoop of her New York City brownstone, snapping away at various angles in pursuit of the perfect shot of her sparkly silver Mary-Jane shoes. Turns out, her method is pretty much the same as yours and mine.
Here, you'll see, she starts out with her iPhone low—probably trying to be discreet—but every Instagram expert knows, if you want to get the good 'gram, you gotta get high.
Still, something's missing… It needs a prop, and Parker has just the thing: an autumn-appropriate black hat.
Take 2: Still holding her phone at a low angle, she looks around. (Don't feel awkward, SJP, we all do it.)
Ah, there we go. Up high, with the hat casually placed beside her feet—this is the stuff of Instagram gold.
Parker later posted the final photo on Instagram with the caption "'Well my bags are packed and I'm ready to go' x, sj" It's received over 39,600 likes at this point—that's what we call a successful afternoon.
Follow Marie Claire on Facebook for the latest celeb news, beauty tips, fascinating reads, livestream video, and more.
Celebrity news, beauty, fashion advice, and fascinating features, delivered straight to your inbox!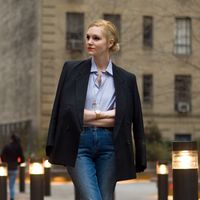 I am an experienced editor, writer, and creative strategist, specializing in fashion, beauty, and lifestyle content for digital media outlets, as well as video and social platforms. While I currently operate as a freelance contributor/consultant, with such clients as The Zoe Report, my 10+-year background in the industry was cultivated at the dot-coms of elite publications, including Harper's BAZAAR, ELLE, and Marie Claire.