George Clooney Hints His and Amal's Twins Are Coming Soon
"If my wife had twins while I was there, I could never come home."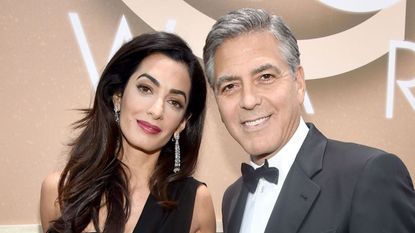 (Image credit: Getty Images)
George Clooney has admitted that lawyer wife Amal would never forgive him if she welcomed their twins early while he attended his "humanitarian Oscars" in Armenia.
The 56-year-old actor co-founded the Aurora Prize at the annual Awakening Humanity ceremony, but revealed he had to skip the event in a video message he taped for the audience.
"I really would have been [in Yerevan] but if I came there and my wife had twins while I was there, I could never come home," he joked in the clip, according to People.
Last year, the star had been in attendance to present an award at the inaugural ceremony, which honored survivors of the Armenian genocide. This year's award went to Dr. Tom Catena, the lone doctor who continues to treats half a million people in a war-ravaged area of Sudan.
Meanwhile, Clooney has revealed that he and Amal haven't chosen any baby names yet, saying, "No, we haven't picked out any names and I'll tell you why. Because I've had friends pick out names around their parents and then it becomes...Whatever name you pick they're like, 'Oh, I don't like that. That guy's a prime minister.' 'Can't name her Susan. You remember your Aunt Susan?'"
Human rights barrister Amal has been representing a Yazidi refugee named Nadia Murad as she urges world leaders to hold the Islamic State accountable for "the worst crimes of our generation." She is aiming to bring charges against captured and fugitive ISIS soldiers and commanders following the massacre, rape, and slavery of Yazidi people.
The couple are expecting fraternal twins in June, their first children together.
Follow Marie Claire on Facebook for the latest celeb news, beauty tips, fascinating reads, livestream video, and more.
Naomi Gordon is news writer mainly covering entertainment news with a focus on celebrity interviews and television.