Here's a *Very* In-Depth Timeline of the Beyoncé and Jay-Z Cheating Rumors
Sit back, relax, and get ready for this to get loooonnnnnnggggg and complicated.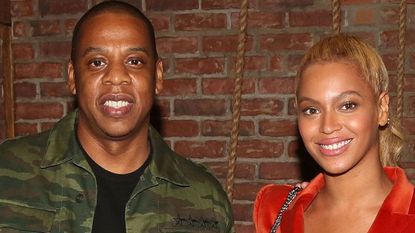 (Image credit: Archives)
Marie Claire Newsletter
Celebrity news, beauty, fashion advice, and fascinating features, delivered straight to your inbox!
Thank you for signing up to Marie Claire. You will receive a verification email shortly.
There was a problem. Please refresh the page and try again.
Anyone else massively confused by all this Beyoncé/Jay Z/Lemonade/Rachel Roy/Rita Ora stuff? Yeah, we thought as much. So here's an in-depth timeline of the Beyonce and Jay Z cheating rumors for you.
Let's start from the beginning, shall we?
2002. Beyoncé and Jay Z start dating after collaborating on 03 Bonnie & Clyde. Everything's going great for the couple until…
2005. Beyoncé and Jay Z secretly split after rumors start making the rounds that Jay Z and one of his protégés, Rihanna, are hooking up. But last year, biographer J. Randy Taraborrelli claimed that these rumors were faked in order to drum up interest in Rihanna.
September 2006. Beyoncé releases her second solo album, B'Day, which features two songs about cheating: "Resentment" and "Ring the Alarm," which is allegedly about Rih.
Before this though, in August 2006, Matthew Knowles, Beyoncé's dad and then-manager, releases a statement saying "Ring The Alarm" is NOT about Rihanna.
April 2008. Beyoncé and Jay Z get married. How lovely.
January 2012. Beyoncé and Jay Z welcome their first child, a daughter named Blue Ivy. Also lovely.
Everything is awesome for one whole year until January 2013, when we hear rumblings of an affair between Jay Z and his new Roc Nation artist Rita Ora.
February 2013. Beyoncé releases her much-anticipated documentary Life Is but a Dream on HBO. Nothing major happens in that, but there is plenty of footage of her looking very much in love with her husband. Doth the lady protest too much?
April 2013. Bey and Jay celebrate their fifth wedding anniversary.
June 2013. Jay Z teases the lyrics to his upcoming single Holy Grail, which features a reference to someone cheating on him: "Keep cheating on me /What I do / I took her back / Fool me twice / That's my bad / I can't even blame her for that."
But is he talking about Beyoncé?
Two months later in August 2013, rapper and model LIV claims that Jay Z came onto her, and even asked for her number. She refuses to give it to him out of respect for Beyoncé, apparently.
November 2013. There are a number of reports of Jay Z partying with a Belgian hottie called Claudia Scheelan. She soon takes to Twitter to deny that anything inappropriate happened. But rumours still start to circulate that Bey and Jay are close to divorce and are even planning on going on a trial separation.
But ignore all that, because December 2013 rolls by, and the couple couldn't be happier, if Beyoncé's Instagram is anything to go by. She posts a bunch of lovey-dovey photos of them celebrating New Year's Eve in Miami.
April 2014. Rita appears on The Breakfast Club and shuts down the hosts when they bring up the affair rumors, saying: "Don't disrespect Beyoncé."
Remember that infamous footage of Bey's sister Solange attacking Jay Z at the Met Gala in May 2014? Of course you do. Well, apparently that was all over Jay Z's apparent affair with Rachel Roy–the ex-wife of his ex-business partner and best friend, Dame Dash. Crumbs.
Two days later, Beyoncé, Jay Z and Solange release a statement that doesn't really explain anything…
"As a result of the public release of the elevator security footage from Monday, May 5th, there has been a great deal of speculation about what triggered the unfortunate incident. But the most important thing is that our family has worked through it. Jay and Solange each assume their share of responsibility for what has occurred. They both acknowledge their role in this private matter that has played out in the public. They both have apologized to each other and we have moved forward as a united family.
"The reports of Solange being intoxicated or displaying erratic behavior throughout that evening are simply false. At the end of the day families have problems and we're no different. We love each other and above all we are family. We've put this behind us and hope everyone else will do the same."
June 2014. As the couple's joint tour, On The Run, kicks off, so do the rumors. Apparently they're fighting constantly backstage, and are definitely heading for divorce. Oh, and reports claim that Jay Z has cheated again–this time with TV star, Casey Cohen. Casey denies this.
July 2014. Rumors of divorce are going ten to the dozen, and things aren't helped when Beyoncé performs Resentment and changes the lyrics, "Been ridin' with you for six years", to say "12 years," which just so happens to be the length of her relationship with Jay Z. Interesting. Very interesting.
August 2014. LIV (the rapper Jay Z apparently had an affair with a year ago) releases a track called, Sorry Ms Carter. Beyoncé's surname is Carter, remember?
In February 2015, Beyoncé is spotted yelling at Jay Z over dinner at a sushi restaurant in L/A. Then in March 2015, they're arguing in public again.
May 2015. The couple attend the Met Gala together—the very same place where Solange kicked off a year earlier.
Things seem all right for a bit—bar a few divorce rumors rearing their ugly heads up here or there —until April 2016, when Beyonce releases her sixth album Lemonade, which features a number of lyrics that seem to be about Jay Z's infidelity.
That's when we start hearing from Rachel Roy (remember her from May 2014?). People start speculating that the lyrics, "He better call Becky with the good hair, are about Rachel.
Rachel hits back by tweeting: "I respect love, marriages, families, and strength. What shouldn't be tolerated by anyone, no matter what, is bullying, of any kind." She also cancels a work event due to a "personal emergency."
But forget about Rachel now. Apparently Becky is actually Rita. Was the singer dropping a hint when she posed in a bra with lemons on it just days before Lemonade's release, and wore a necklace with the letter 'J' on it (er, Jay Z)?
RELATED STORY
She didn't help matters by taking to Instagram today to post a poster for the 1973 film, Ash Wednesday, which just so happens to be about a wealthy woman whose husband couldn't care less about her. Interesting timing there, Rita…
June 2017. Jaz Z releases his new album 4:44, which features a collaboration with Bey called "Family Feud," which features lyrics that seem to prove that he did indeed cheat on her. "Yeah, I'll fuck up a good thing if you let me / Let me alone, Becky." Becky? With the good hair?
So there you have it. Now excuse us, we're off for a lie-down and a nice, cold glass of lemonade. On second thought, think we'll have a Coke…
Follow Marie Claire on Facebook for the latest celeb news, beauty tips, fascinating reads, livestream video, and more.
Celebrity news, beauty, fashion advice, and fascinating features, delivered straight to your inbox!
Anna Lewis is the News Editor at Delish UK, which means she's always either writing about food, cooking food or eating food. Anna is in charge of Delish UK's epic food news output, ensuring you're always up-to-date with the latest product launches, food trends, and restaurant news. She specialises in Slimming World recipes, but she'll eat just about anything – ideally gherkins or ice-cream sandwiches (but not together).