Taylor Swift's Response to the "Ready for It" Nude Bodysuit Controversy Is the Best
And she has receipts.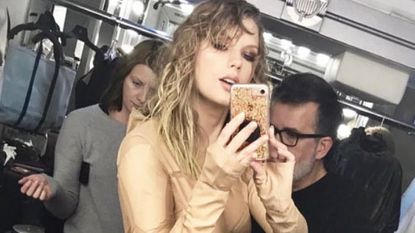 (Image credit: Instagram/Taylor Swift)
Taylor Swift dropped the "Ready for It" video on Friday at midnight, and the entire internet exploded with opinions. One of the recurring ones? That Taylor appears to be naked in the video.
But Taylor just set everyone straight on Instagram—with photos of the naked bodysuit she was wearing. In two photos on Instagram Stories, the singer posted a classic Taylor response.
"It truly warms my heart that ppl had so much to say about this bodysuit," she captioned one pic, adding a tears of joy emoji.
In another, she gave fans a full look at her uncanny valley-esque costume.
So there you have it. Taylor isn't naked in her new video, she's just wearing a creepy flesh-colored bodysuit.
I write on Fox's THE GREAT NORTH. Before that, I wrote and edited for Cosmopolitan magazine and the Jezebel blog. My writing has also appeared in the New York Times, The New Yorker, Esquire, VICE, Marie Claire, McSweeney's, California Sunday, BUST, Elle, Village Voice, Harper's Bazaar, LA Weekly, Eater, Fast Company, Mic, Atlas Obscura, and more. I co-host/co-produce a comedy/storytelling show on the first Friday of every month at Stories in LA. I have a degree in Film and TV from NYU's Tisch School of the Arts.