Miley Cyrus and Madonna Are Twins! (PHOTO)
The two women who have set this earth on fire with their boobs, tongues, and tunes.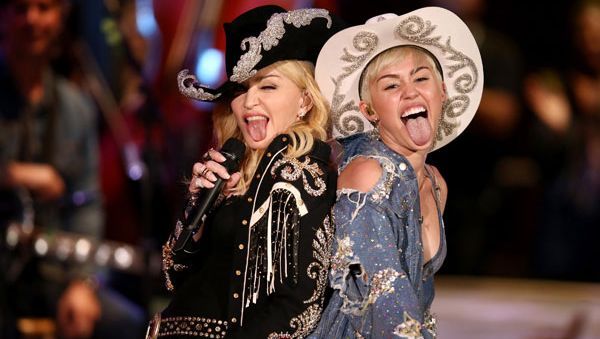 (Image credit: Archives)
Fresh off Madonna's ground-breaking performance (and mass marriage ceremony) at the Grammys, the Queen on Pop strapped on her cowboy hat and stuck out her tongue for a very exciting collab with her controversial successor.
Set to air Wednesday night on MTV, the performance is rumored to be a salute to Miley's Southern roots and Madge's Material Girl swagger. There is no doubt that the night will be totally legendary. Especially because we're all still talking about her Brit kiss heard 'round the world circa the 2003 VMAs. In anticipation, Madonna posted this epic image to her Instagram:
Related Stories:

We Can't Wait for the Oscars 2014!


Female Hosts DOMINATE Award Show Season


The Best and Worst Red Carpet Moments of 2013

Follow Hallie Gould on Twitter.