The Music Video for Nicki Minaj and Beyoncé's "Feeling Myself" Just Dropped and You Need to Brace Yourselves for Perfection
It's so good.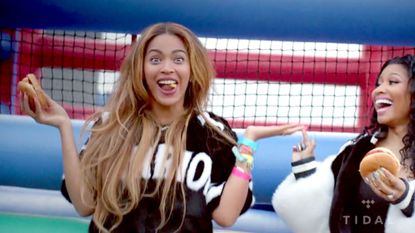 (Image credit: Tidal)
Here's something to brighten your Monday—the queens Nicki Minaj and Beyoncé just released a music video for "Feeling Myself" and we are *feeling* it. (Sorry.)
In the video, the ladies eat cheeseburgers and jump around on bounce houses. They also sit on big, inflatable pool toys and pop bottles on stage and in the water, share bubblicious gum, and dance at a house party. In sum: It's perfect.
While you can watch the full video only on Tidal (opens in new tab) (we see you, Jay), Bey also dropped a teaser on her Facebook. (But we think this is reason enough to drop the $10 on a subscription—or at least sign up for the 30 day free trial, wink wink.)
Nicki Minaj x Beyoncé "Feeling Myself" Watch the full video exclusively on TIDAL tidal.com/video/45323542 (opens in new tab)
Simedar Jackson is an esthetician, content creator, and lover of sci-fi fiction living in Brooklyn, New York. She is passionate about creating space for Black and Brown people in the beauty and wellness industries by providing access to culturally nuanced education and services that meet their needs. You can find them doing their skincare routine, reminding friends to reapply SPF, and watching reruns of Love Island.