Here Are All the Hashtags You Should Use During the Emmy Awards
According to host Andy Samberg.
Update, 8/29: You never know what will happen during an awards show—and what will subsequently start trending like crazy all over social media. (Remember #OscarsSelfie?) So what will be the trending hashtags during this years Emmy Awards? Host Andy Samberg shares his top predictions in the latest Emmys promo. Our favorite of the bunch: #CranstonStreaks. Watch the clip below:
Original Post, 8/23: Comedian and host of the 67th Emmy Awards, Andy Samberg is feeling the pressure to deliver the laughs and bring in the younger audience—like the Oscars attempted to do with James Franco and Anne Hathaway, but hopefully with more success. The former SNL cast member is known for his dirty humor (remember 'dick in a box'?), so to prep for the censors of live TV on FOX Samberg is practicing all the "acceptable" dirty words he can get away with on the air. Watch him list off his favorite limiting-pushing lingo in the new Emmys promo clip.
Celebrity news, beauty, fashion advice, and fascinating features, delivered straight to your inbox!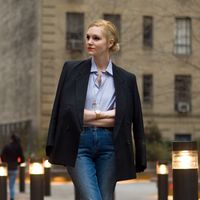 I am an experienced editor, writer, and creative strategist, specializing in fashion, beauty, and lifestyle content for digital media outlets, as well as video and social platforms. While I currently operate as a freelance contributor/consultant, with such clients as The Zoe Report, my 10+-year background in the industry was cultivated at the dot-coms of elite publications, including Harper's BAZAAR, ELLE, and Marie Claire.