The Royal Family Has Arrived in Canada!
Princess Charlotte has grown SO much.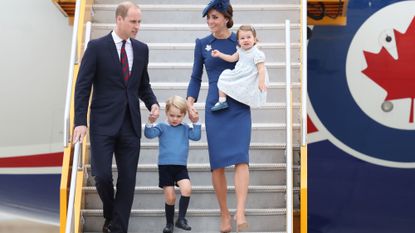 (Image credit: Getty Images)
Let #RoyalTourCanada commence!
The Duke and Duchess of Cambridge just touched down in Canada for their highly anticipated official tour, which extends through October 1.
Thank you to the @RCAF_ARC who flew the family safely to Victoria. pic.twitter.com/2wEhjaqNCdSeptember 24, 2016
See more
Kate Middleton looks elegant and poised as ever in a sleek blue shift dress and matching fascinator.
The Duke and Duchess with Prince George and Princess Charlotte have arrived in Canada to a warm welcome! pic.twitter.com/YW8YaeKh6ZSeptember 24, 2016
See more
And obviously, Prince George is 100% adorbs, per usual.
Here he is waving at Prime Minister Justin Trudeau:
But what we can't get over is how much Princess Charlotte has grown! It's been a while since we've seen her—not since the Trooping of the Colour ceremony in June—and it's amazing how much she's changed in just three months.
Here's a photo from Trooping of the Colour, for comparison:
There are sure to be more super-chic outfits and painfully cute Prince George moments as the Royal Tour continues this week. Stay tuned!
Follow Marie Claire on Facebook for the latest celeb news, beauty tips, fascinating reads, livestream video, and more.
I am an experienced editor, writer, and creative strategist, specializing in fashion, beauty, and lifestyle content for digital media outlets, as well as video and social platforms. While I currently operate as a freelance contributor/consultant, with such clients as The Zoe Report, my 10+-year background in the industry was cultivated at the dot-coms of elite publications, including Harper's BAZAAR, ELLE, and Marie Claire.