Kardashian Fans Not Totally OK With Kendall Jenner's Nipples
Kendall walked in the Marc Jacobs fashion show last night, wearing a totally sheer blouse.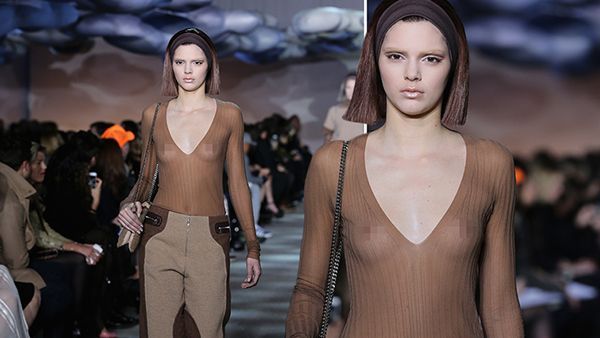 (Image credit: Neilson Barnard / Getty Images)
Kendall Jenner's modeling career got a huge boost last night: she walked the Marc Jacobs runway (opens in new tab), widely considered the biggest/bestest job at New York Fashion Week. Backstage, she described the show (opens in new tab) as a "big kick-off to start and grow my career." She wore a Cleopatra-style sharp bob wig, brown capri pants and a sheer, deep v-neck blouse that exposed both her nipples. Twitter wasn't too sure about that last part though:
Omg am affronted at Kendall Jenner with the nips out on the runway at New York fashion week 😳 she looks horrendousFebruary 14, 2014
See more
sorry but what was kendall jenner doing walking for marc jacobs? was she lost?February 14, 2014
See more
Big sister Khloé later stepped in and slapped down the critics, calling them "basic bitches (opens in new tab)" and arguing that big-deal model Kendall is now "2 dope for you to understand. (opens in new tab)" Khloé also explained that the breast-bearing top wouldn't necessarily have been Kendall's choice, as models have to wear what they're told. That's their job — and though in some circumstances a supermodel (or her agent) can negotiate, even Kris Jenner wouldn't dare argue with Marc Jacobs.
P.S. Here's a fun before/after image (opens in new tab) of Kendall's transformation backstage, and a little GIF of her catwalk moment in motion:
Follow Alex on Twitter (opens in new tab).
Photo credit: Neilson Barnard / Getty Images
.
I'm the news director here at Cosmopolitan.com, and I could really use a cup of tea right now. When I say I'm a lady on the street but a freak in the sheets, I mean that I'm eating mint chocolate cheesecake in bed. (Also, I'm a guy.)