15 Halloween Movies on Netflix to Watch for a Proper Fright Fest
All you need is a bowl of popcorn.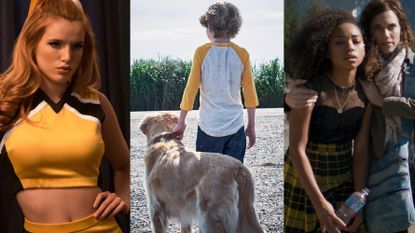 (Image credit: Netflix)
Whether you thrive on a good scare or prefer to celebrate the holiday in a lighthearted fashion, a fright-filled film fest (opens in new tab) is a classic tradition when it comes to celebrating All Hallow's Eve. And if you have a Netflix account (and, honestly, at this point in time, who doesn't?), you have plenty of amazing options (opens in new tab) to choose from when it comes to planning said fright fest film fest. Like, seriously so many options. Because, really, does anything say (or scream) "Halloween" more than a scary movie marathon, a big bowl of popcorn, an even bigger bowl of bite size candy bars, and a human you like nearby to grab onto during the jumpiest moments? Answer: We think not.
The streaming giant is home to a whole range of scary (and not-so-scary but still Halloween-themed) flicks that you'll want to watch to celebrate the spookiest of seasons. There are legit horror genre classics, like The Evil Dead and Poltergeist. There are Netflix original offerings like The Babysitter and Hush. And there are even more family-friendly options, like The Witches and Monster Family. The point is: Whatever level of scare you're into, Netflix has a perfect movie (or two or three or...you know, dozens) to fit your needs.

From thrillers that will have you on the edge of your seat to spooky supernatural stories to full-on slasher to horror comedies, cue up one of these flicks when you want to ring in Halloween with the most perfect movie marathon.
This isn't just a zombie movie. It's the zombie movie. The cult classic follows a group of college students who find a mysterious old book at a cabin in the woods and unleash an army of, well, evil dead.
WATCH IT (opens in new tab)
2. Poltergeist
You know that awkward moment when you realize your home is built on an ancient burial ground and the ghosts of the dead you disrupted to build said house are haunting your appliances and terrorizing your creepy/adorable daughter? That's basically what Poltergeist is all about.
WATCH IT (opens in new tab)
3. Hush
If home invasion scarers like The Strangers hit the note you're looking for, try Hush, about a deaf writer who is terrorized by a masked intruder in her home in—where else—the woods.
WATCH IT (opens in new tab)
4. Sleepy Hollow
Johnny Depp and Christina Ricci star in this creep-tastic, Tim Burton-ized take on the classically creepy Legend of Sleepy Hollow tale. Complete with a razor-toothed Christopher Walken as the Headless Horseman who will haunt your dreams.
WATCH IT (opens in new tab)
5. The Witches
Based on the wonderfully creepy Roald Dahl book of the same name, The Witches is as scary as a kids' movie can be without crossing the line into "no longer a kids' movie."
WATCH IT (opens in new tab)
6. The Babysitter
If you like your horror movies to keep their tongue firmly in their cheek without sacrificing scares or gore, then The Babysitter, about a kid who accidentally stumbles on his babysitter's demonic cult meeting, is it.
WATCH IT (opens in new tab)
7. Insidious
A family realizes that they're the victims of evil spirit mojo when their son falls into an endless sleep—and things just get scarier from there.
WATCH IT (opens in new tab)
8. Monster Family
This family-friendly, animated flick is about a family of famous monsters, just trying to get through life (after life?).
WATCH IT (opens in new tab)
9. Underworld
If you like vampire movies that run high on mythology and world-building, you won't get much better than the Underworld franchise. The first film is a classic and it's streaming on Netflix.
WATCH IT (opens in new tab)
10. The Perfection
Don't let anyone spoiler this twisty (and twisted) horror movie for you. All we can say is the Black Swan vibes run high and it will keep you guessing.
WATCH IT (opens in new tab)
11. Circle
This one isn't a traditional horror movie, but the psychologically mind f*ck will leave you thinking about its scary implications for days.
WATCH IT (opens in new tab)
12. In the Tall Grass
In this supernatural horror movie, unsuspecting people are drawn to the titular tall grass by mysterious cries for help, only to find out they're the ones truly in danger.
WATCH IT (opens in new tab)
13. Killer Klowns from Outer Space
If you prefer not to take your horror too seriously, this cult classic is for you.
WATCH IT (opens in new tab)
14. Child's Play
Everyone knows Chucky—the murderous serial killer doll—right? This is his original introduction and it's a classic you must see if you consider yourself a horror fan.
WATCH IT (opens in new tab)
15. Paranormal Activity
This movie reinvigorated the found footage sub-genre of horror and once you see it, you'll understand why.
WATCH IT (opens in new tab)
RELATED STORY
Kayleigh Roberts is a freelance writer and editor with more than 10 years of professional experience. Her byline has appeared in Marie Claire, Cosmopolitan, ELLE, Harper's Bazaar, The Atlantic, Allure, Entertainment Weekly, MTV, Bustle, Refinery29, Girls' Life Magazine, Just Jared, and Tiger Beat, among other publications. She's a graduate of the Medill School of Journalism at Northwestern University.