Taylor Swift's Most Savage 'Reputation' Lyrics About *All* Her Feuds
Kimye, Calvin Harris, Tom Hiddleston...everyone takes a hit here.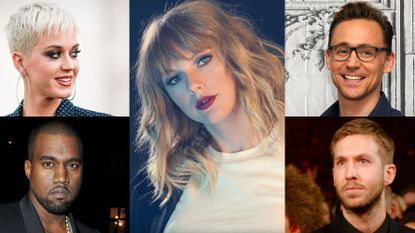 (Image credit: YouTube)
Taylor Swift's Reputation, her first real statement on all the feuds and drama that erupted in 2015 and 2016, is finally here—and there is a LOT packed in these lyrics. Kanye West and Calvin Harris seem to have their own songs dedicated to them; Swift's current boyfriend Joe Alwyn has seven+ love songs about him; and even Kim Kardashian and Katy Perry get subtle callouts in Swift's songs.
RELATED STORY
As overt as some references seem, Swift forewarns in her Reputation magazine introduction to understand that these don't say everything. "We think we know someone, but the truth is that we only know the version of them they have chosen to show us."
So with that in mind, here, a compilation of the most savage-seeming lyrics on the album. (Lyrics via Genius)
Lyrics That May Be About Kanye West (and Kim Kardashian)
Swift's reputation took its greatest hit after Kim Kardashian's release of Snapchats featuring a conversation between her and her rival-turned-friend-turned-enemy Kanye West over his song "Famous" and its Taylor Swift line. This is Swift's way of publicly discussing the impact Kimye's move had on her.
"Ah, and you heard about me/Oh, I got some big enemies (yeah)/Big reputation, big reputation." [West is the biggest Swift enemy of all, but Perry and Kardashian can also be included in this list (along with these other stars Swift has had beef with).] —"End Game"

"I don't like your little games/Don't like your tilted stage/The role you made me play/Of the fool, no, I don't like you." [West used a tilted stage in his Life of Saint Pablo concerts] —"Look What You Made Me Do"
"I don't like your perfect crime/How you laugh when you lie/You said the gun was mine/Isn't cool, no, I don't like you (oh)." —"Look What You Made Me Do"
"Honey, I rose up from the dead, I do it all the time/I've got a list of names and yours is in red, underlined/I check it once, then I check it twice, oh!" —"Look What You Made Me Do"
"This is why we can't have nice things, darling/Because you break them/I had to take them away." [The nice thing was West and Swift's friendship] —"This Is Why We Can't Have Nice Things"
"It was so nice being friends again/There I was, giving you a second chance/But then you stabbed my back while shaking my hand/And therein lies the issue/Friends don't try to trick you/Get you on the phone and mind-twist you/And so I took an axe to a mended fence." [The phone line is a reference to the recorded phone conversation between Swift and West about his song "Famous".] —"This Is Why We Can't Have Nice Things"
"But I'm not the only friend you've lost lately/If only you weren't so shady." [A reference to West's strained friendship with Jay-Z.] —"This Is Why We Can't Have Nice Things"
"And here's to you/'Cause forgiveness is a nice thing to do/Haha, I can't even say it with a straight face." —"This Is Why We Can't Have Nice Things"

"All the drama queens taking swings/All the jokers dressing up as kings/They fade to nothing when I look at him." [Drama queen is likely a reference to West's wife Kardashian (and perhaps Katy Perry, who talked publicly about her feud with Swift and generated a lot of headlines about it this summer; joker is a reference to West and maybe Calvin Harris.] —"Call It What You Want To"
Lyrics That May Be About Calvin Harris
Swift and Harris dated for 15 months. Their relationship ended two weeks before she went public with new boyfriend Tom Hiddleston, and things got pretty ugly, between Harris's Twitter and Instagram comment sprees about her plus the "This Is What You came For" song writer drama that erupted when it was revealed Swift cowrote the song and used a fake pseudonym during its initial release. Harris has put out two songs of his own that seem to be about Swift and a music video full of references to her.
"I never trust a narcissist/But they love me/So I play 'em like a violin/And I make it look oh-so-easy/'Cause for every lie I tell them/They tell me three/This is how the world works/Now all he thinks about is me." —"I Did Something Bad"
"If a man talks shit, then I owe him nothing/I don't regret it one bit, 'cause he had it coming." [likely in reference to Harris's post-breakup rants about Swift] —"I Did Something Bad"
"I never trust a playboy/But they love me/So I fly 'em all around the world/And I let them think they saved me/They never see it comin'/What I do next/This is how the world works/You gotta leave before you get left." —"I Did Something Bad"
"He says, "Don't throw away a good thing"/But if he drops my name, then I owe him nothin'/And if he spends my change, then he had it comin'" [Change is likely a reference to their shared song royalties on "This Is What You Came For"] —"I Did Something Bad"
"The ties were black, the lies were white/In shades of grey in candlelight/I wanted to leave him/I needed a reason." [the "he" Swift wanted to leave is likely Harris; the black ties is likely a reference to the Met Gala, where Swift and her next boyfriend Tom Hiddleston appeared to hit it off.] —"Getaway Car"
"All the boys and their expensive cars/With their Range Rovers and their Jaguars/Never took me quite where you do." [Fans on Genius note that Harris drove a Range Rover and Hiddleston drove a Jaguar.] —"King of My Heart"
Lyrics That May Be About Katy Perry
Perry and Swift have been frenemies for a couple years now, though Perry has made it clear recently she'd love for their feud to end if Swift would just let it.
"The world moves on, another day, another drama, drama/But not for me, not for me, all I think about is karma." [Karma was a big theme in Perry's likely Swift diss song "Swish Swish" (actual lyric include "Karma's not a liar/She keeps receipts") and part of her describing the song and the rumor it's a response to her feud with Swift.] —"Look What You Made Me Do"
Lyrics That May Be About Tom Hiddleston
Swift and Hiddleston had a pretty public summer fling after her breakup with Calvin Harris that some people believed wasn't —remember the I Heart TS tank? Hiddleston would make it clear in a GQ interview later that their relationship was very real and heartbreaking to him.
"And I got a boyfriend, he's older than us/He's in the club doing I don't know what." [Some fans think this could be a diss at Calvin Harris, who's a DJ. But the song "Gorgeous" is actually about Alwyn, Swift confirmed to fans at her Reputation Secret Sessions; Hiddleston was Swift's last boyfriend before him, and their relationship faded out (in September 2016 officially) one month before Swift was first stepped out with Alwyn in October 2016.] —"Gorgeous"
"There were sirens in the beat of your heart/I shoulda known I'd be the first to leave/Think about the place where you first met me/In a getaway car, oh-oh/No, they never get far, oh-ahh/No, nothing good starts in a getaway car." [Swift and Hiddleston started their relationship right off her breakup with Harris—and were together during the Kimye Snapchat release that damaged Swift's reputation. Reports after their breakup suggested Swift ended things with Hiddleston because he wanted to make the relationship too public.] —"Getaway Car"
"With three of us, honey, it's a sideshow/And a circus ain't a love story/And now we're both sorry (we're both sorry)." [Harris lashed out at Hiddleston and Swift with his song "Ole". His drama with Swift generated a lot of headlines during her relationship with Hiddleston] —"Getaway Car"
Generally Savage Lyrics to Exes and Critics
"Younger than my exes, but he act like such a man, so/I see nothing better, I keep him forever."[Harris (33) and Hiddleston (36) are both older than Alwyn (26).] —"...Ready For It?"

"Every love I've known in comparison is a failure/I forget their names now, I'm so very tame now/Never be the same now, now." —"...Ready For It?"
"Reputation precedes me, they told you I'm crazy/I swear I don't love the drama, it loves me." —"End Game"
"They're burning all the witches, even if you aren't one/They got their pitchforks and proof/Their receipts and reasons/They're burning all the witches, even if you aren't one/So light me up (light me up), light me up (light me up)." —"End Game"
"I've been breakin' hearts a long time, and/Toyin' with them older guys/Just playthings for me to use." —"Don't Blame Me"
"The world moves on, but one thing's for sure/Maybe I got mine, but you'll all get yours." —"Look What You Made Me Do"
"All the liars are calling me one/Nobody's heard from me for months/I'm doin' better than I ever was." —"Call It What You Want To"
Celebrity news, beauty, fashion advice, and fascinating features, delivered straight to your inbox!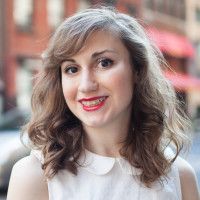 Alyssa Bailey is the news and strategy editor at ELLE.com, where she oversees coverage of celebrities and royals (particularly Meghan Markle and Kate Middleton). She previously held positions at InStyle and Cosmopolitan. When she's not working, she loves running around Central Park, making people take #ootd pics of her, and exploring New York City.