The Best Twitter Reactions to Trump's Time Magazine "Person of the Year" Cover
Some people don't even want to acknowledge Trump as a person.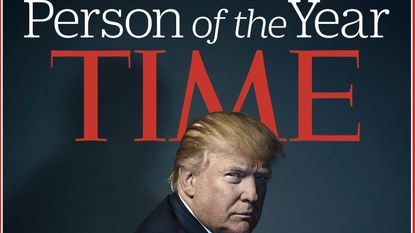 (Image credit: Time)
The most anticipated magazine cover of the year has finally been released. On Wednesday morning, Time Magazine (opens in new tab) revealed their annual Person of the Year, and after many speculations ranging from President Obama to Simone Biles, this year's 2016 subject is none other than President-Elect Donald Trump.
Time's runner-up for person of the year is also the election's runner-up, Hillary Clinton, and the rest of the short list includes The Hackers, Beyoncé, Recep Tayyip Erdoğan, and The CRISPR pioneers.
The controversial decisions have lead to an abundance of reactions on social media. Some people took the time to congratulate Trump while others decided to take a, well, different approach.
You do see that it says Divided on the cover & not United, right? It's really not a good thing. He also has devil horns!December 7, 2016
See more
They got that cover right... "Divided States" @TIME #DonaldTrump #TimeMagazine pic.twitter.com/DaKFXpYSiIDecember 7, 2016
See more
Congratulations to President-elect @realDonaldTrump. @TIME 2016 Person of the Year! pic.twitter.com/pHKhiy7ghZDecember 7, 2016
See more
Trump is Time's Person of the Year. But I'm guessing Hillary got more votes #GetIt #ThatsWhatHappenedWithTheOtherThingDecember 7, 2016
See more
"Those who do not learn history are doomed to repeat it." #Trump #TimeMagazine #personoftheyear pic.twitter.com/YDSFX5DTaHDecember 7, 2016
See more
(whispers)they make the President-Elect Time Person of the Year literally every 4 years(keeps whispering)also they gave it to Hitler onceDecember 7, 2016
See more
Follow Marie Claire on F (opens in new tab)acebook (opens in new tab) for the latest celeb news, beauty tips, fascinating reads, livestream video, and more.