Black Leggings Outfits to Live In for the Rest of Winter
We're sold on these looks.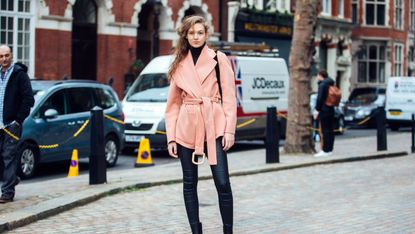 (Image credit: Melodie Jeng)
When one of my best friends texted me, "Are leggings still in fashion?" I told her yes. But I clarified that the way leggings are styled has changed since the early aughts, a.k.a. the time that tunic shirts cinched with a big wide belt, worn over leggings, reigned supreme. While I have gladly parted ways with the tunic shirts and belts, my love for leggings remains. (Personally I prefer leather or faux leather options, but fleece-lined leggings are lifesavers when I'm at the dog park for an hour in 20-degree weather.)
Leggings have become all but a staple in every fashion girl's wardrobe, as the street style stars prove below. There's no shame in wearing them, whether you're headed to the grocery store or to the office. All it takes to make these bottoms look elevated and cool are some key styling pieces, from a blazer to a statement bag. Get inspired to dress up your black leggings, ahead.
Leggings are a good basic, which means you can draw the attention away from them with the right accessories. Add in an elevated handbag and sneaker to your outfit, so your look is less "I'm going to watch Netflix all day" and more "Ready to show my face at brunch." An oversize sweater that covers the butt, plus a jacket, is perfect for layering for winter.
A great way to hide any VPLs (visible panty lines) that show up under your leggings is with a long cardigan or coat. That way, you can still step out in public without resorting to ordering seamless underwear. Complete your laid-back look with a black top and some casual sneakers.
If you're going to commit to workout leggings, you might as well wear the matching top for the complete athleisure package. (Whether or not you end up actually working out to your favorite YouTube fitness vlogger is a different story.) This outfit works for any everyday task, from shopping at your local grocery store to sitting at your desk while WFH. If you need to be on Zoom video calls with colleagues, we'd cover up the crop top portion with a cute sweater.
White button-downs can feel overly formal, which is why we're fans of brands that remix this staple. Look for the shirts that are asymmetrical or have an unusual detail on them. Then, for the ultimate stuffy meets casual-and-cool look, wear it with leather leggings.
For days when you don't want to dress up, simply throw on a turtleneck and pullover to go with your leggings. This easygoing outfit works across the board for everyone, no matter your fashion tastes, because it's simple and comfy.