An American Girl's New Year's Resolution: Be More French
Because it would be difficult to be less French at this point.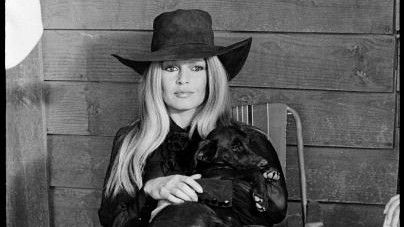 (Image credit: Marie Claire)
We're calling it: 2014 is the year we earn that Je ne sais quoi, that effortless cool-girl chic that is only possible with a French citizenship and an affinity for small fêtes and café au lait. We're taking notes from the French model and movie star who is an iconic example of the less-is-more attitude of French women: Brigitte Bardot. Behold—our plan to being more French in 2014:
1. Perfect sexy bedhead.
2. Learn to lunch alone.
3. Invest in a beret.
4. Find the most flattering shade of red lipstick.
5. Give menswear a go.
6. Prendre des vacances instead of going on vacation.
7. Wear stripe tops.
8. Drink red wine with lunch.
9. Look simultaneously aloof and perfect in a T-shirt dress.
10. Take a lover.
11. Take up photography/Learn to look good with a vintage camera.
12. Contour some serious cheekbones.
13. Acquire a partner who looks just as chic.
14. Update an ensemble with something luxe.
15. Cat eyes and thick headbands all the way.
16. Wear classic, neutral staples.
17. Bring home fresh baguettes.
18. Nap in white without nary a wrinkle.
19. Take baths in the mid-afternoon.
20. Somehow, someway learn to pose and look like this.
21. Last but not least: Learn French (it starts with the basics).
Related Stories:
How to Get Smooched on New Years

Lazy Girl's Guide to New Year's Eve Hair

The Best Street Style Looks 0f 2013

The Best and Worst Hairstyles of 2013