Letizia Ortiz @Work: The Princess' Royal Wardrobe
She knows how to dress the part.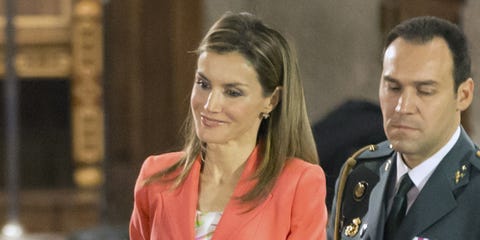 Now that her husband Prince Felipe will be taking the throne, all eyes are on Princess Letizia Ortiz, the next Queen of Spain. Ortiz, a former TV journalist, knows all about being a working woman and dressing the part. Here, we look back on some her most royally-chic looks to date. By Lauren Valenti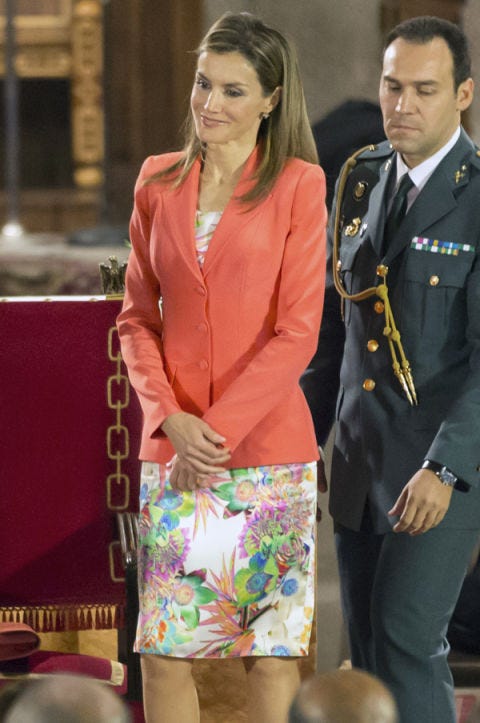 June 4, 2014
She brightens up her look for the 2014 Principe de Viana awards in a tangerine blazer and tropical print dress.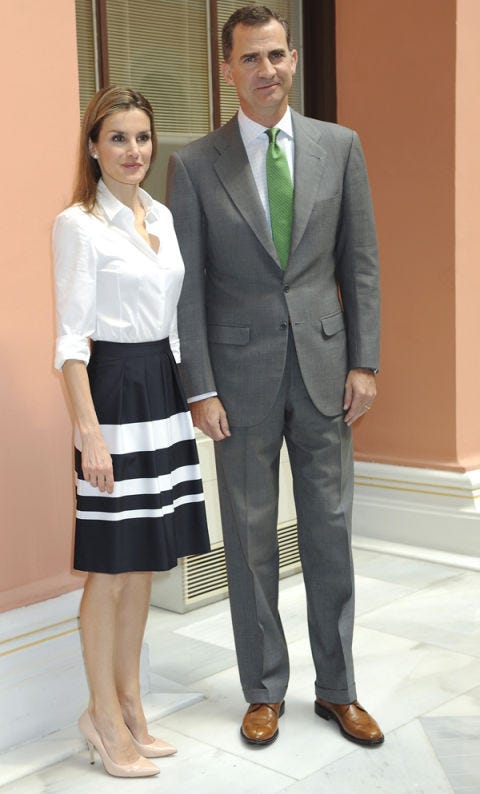 June 5, 2014
The princess attends the European Business Awards for the Environment wearing a white blouse and striped midi skirt.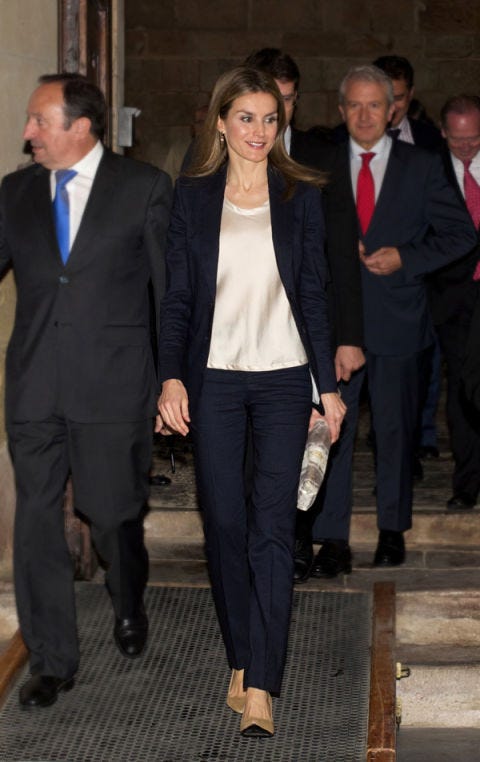 May 28, 2014
Ortiz wears a navy pantsuit and silky blouse to attend the inauguration of Internation Seminary about Language and Communication Media.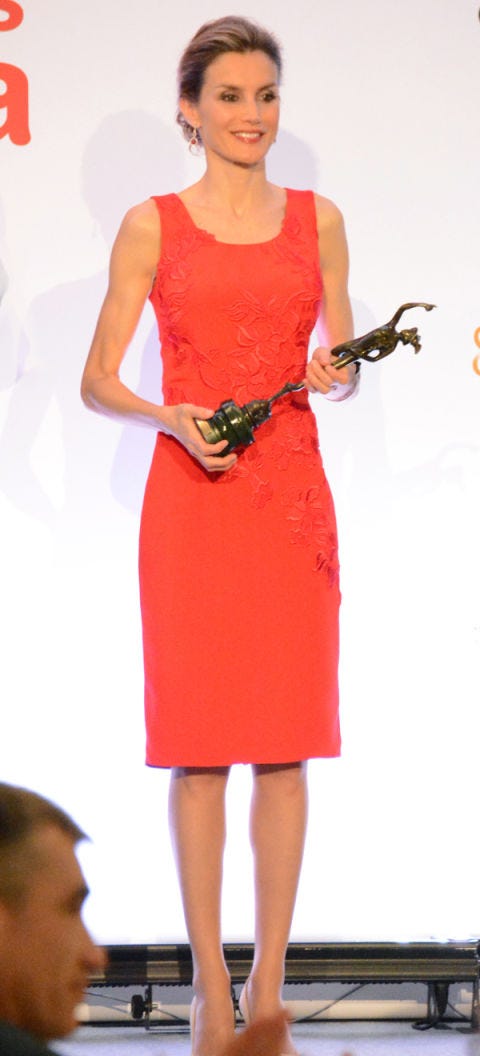 May 20, 2014
She wore a bright red embroidered shift dress while at a dinner with members of the Sevilla Businessmen Confederation.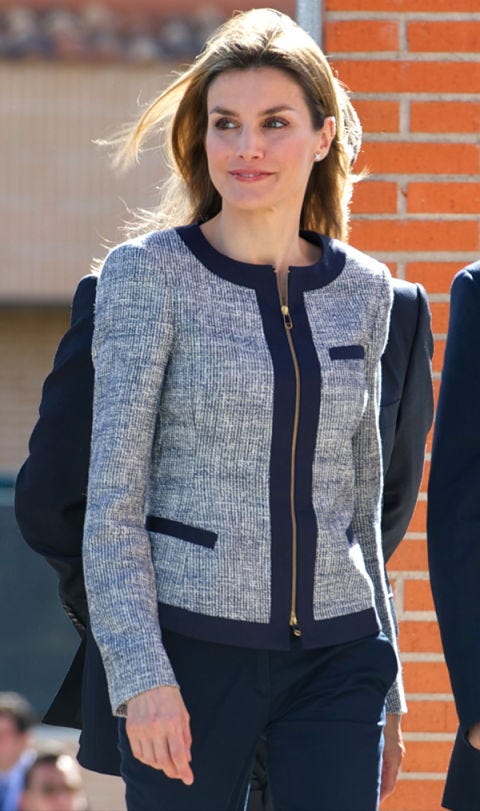 April 30, 2014
She visited the Maria Moliner school wearing a tweed jacket with roomy navy slacks.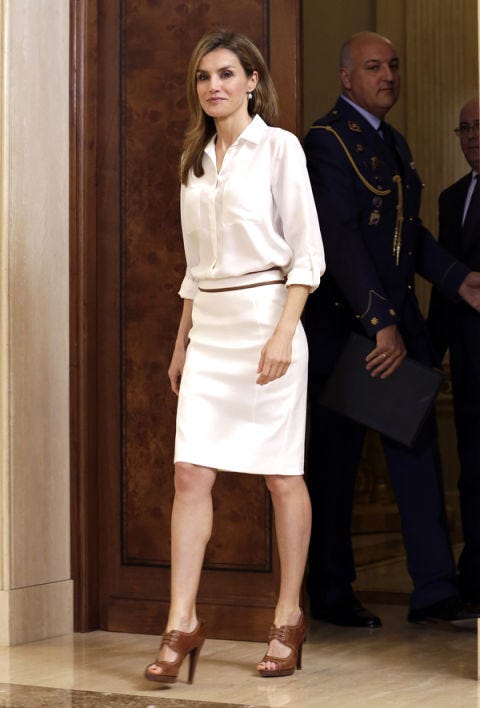 April 9, 2014
The princess looks effortlessly elegant in a white button-down top and fitted pencil skirt at Zarzuela Palace.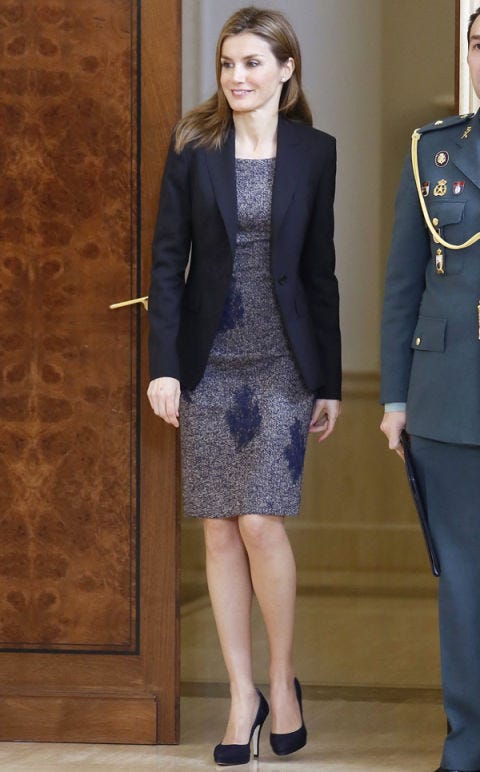 February 10, 2014
Ortiz strides through Zarzuela Palace in a navy blazer and tweed shift dress.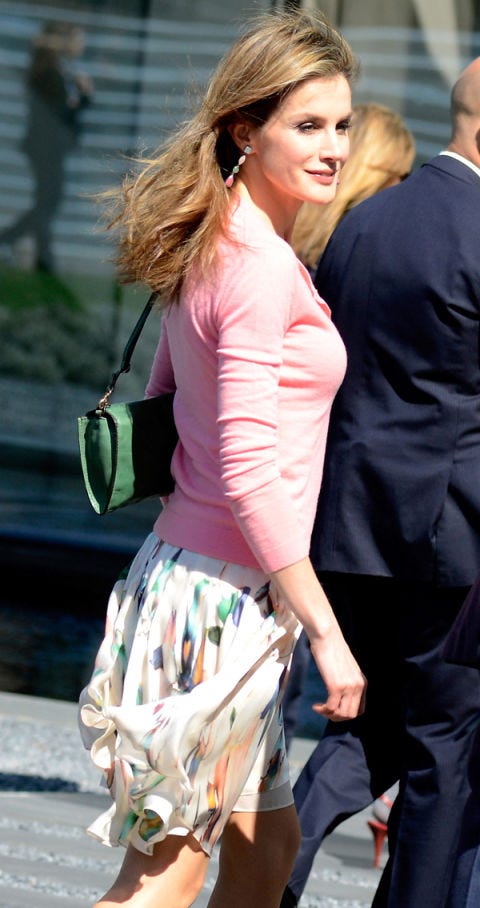 April 7, 2014
While visiting the new Puig headquarters, she wore a soft pink cardigan and painterly-print skirt.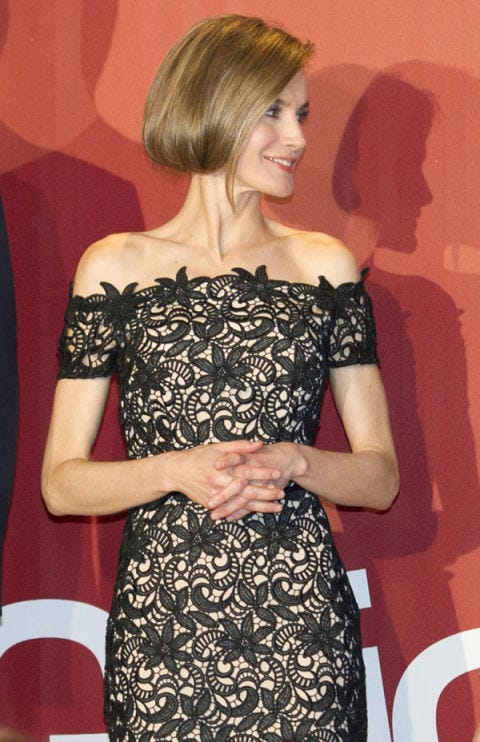 March 27, 2014
Ortiz hit the red carpet at the XIV Young Business Man Awards in a lacey, open-shoulder gown.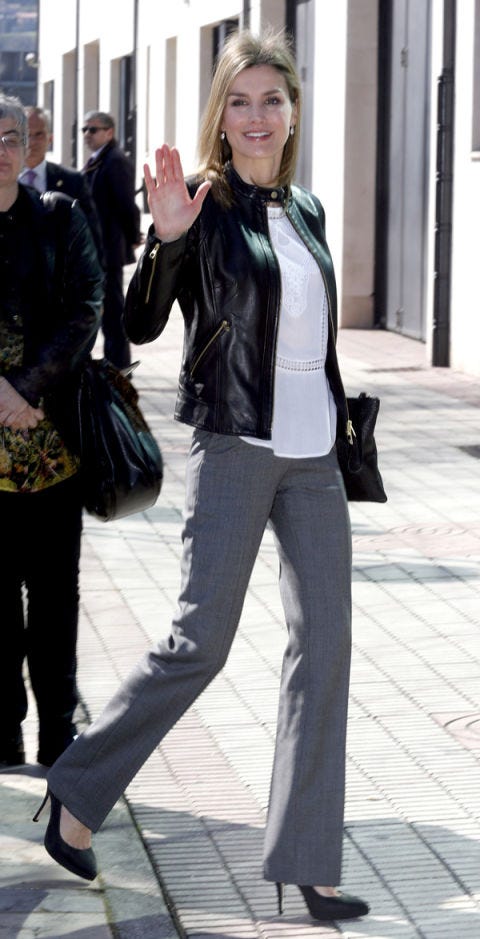 March 20, 2014
At a professional training course at the Ciudad Technologica de Valnalon, she wears a leather moto jacket, embroidered blouse, and grey trousers.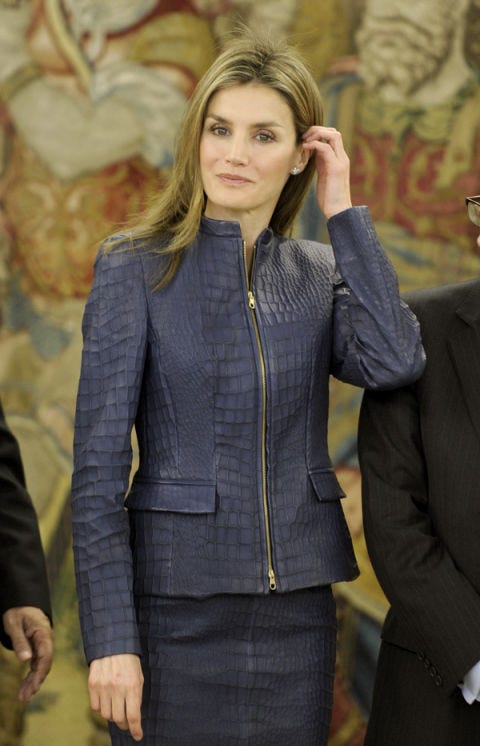 March 14, 2014
The princess wears a modern skirt suit with gold zippers and an exotic skin finish at Zarzuela Palace.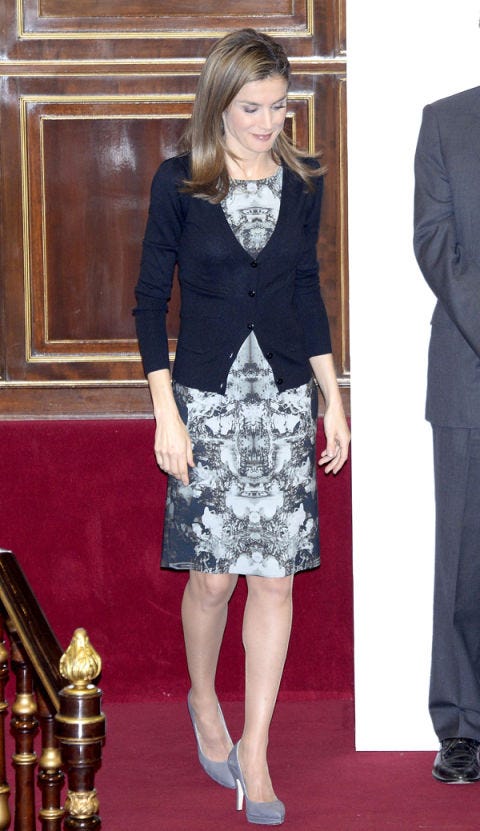 February 28, 2014
During the Rare Diseases World Day event, she covers up her kaleidoscopic print dress with a classic cardigan.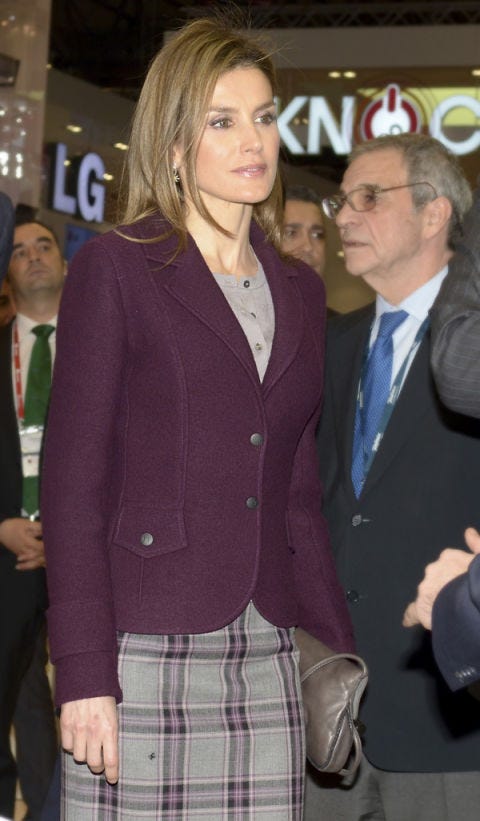 February 24, 2014
Ortiz visits the Mobile World Congress 2014 event in a red-violet blazer and matching plaid skirt.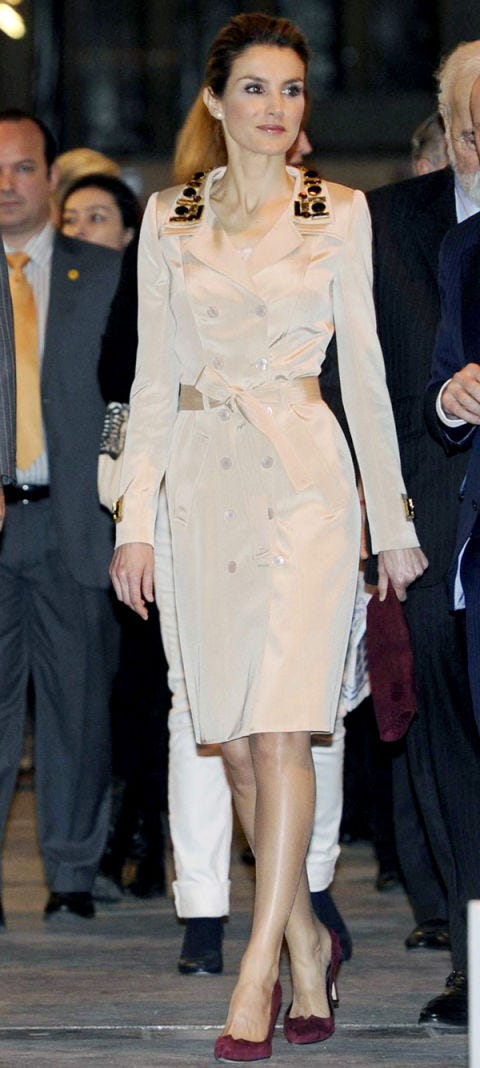 February 20, 2014
The Queen-to-be attends the opening of the International Contemporary Art fair wearing an elegant bejeweled trench coat.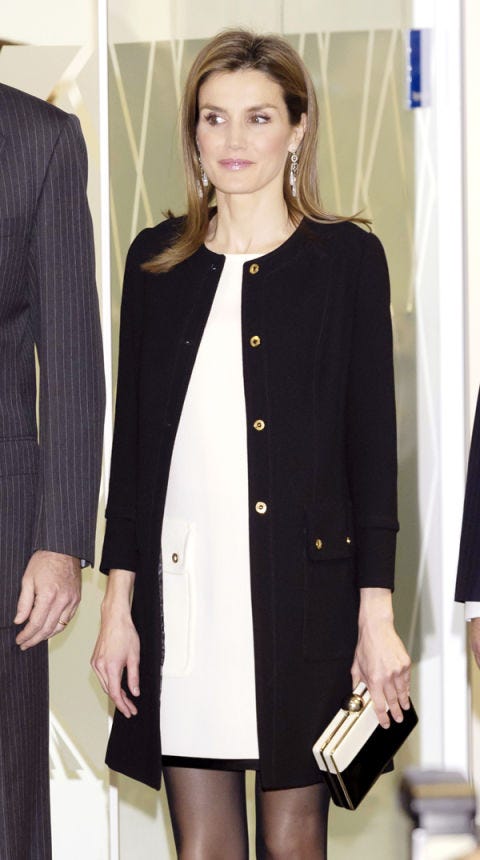 February 13, 2014
She attends the opening of the new EFE headquarters in a coordinating white shift dress and navy button coat.
This content is created and maintained by a third party, and imported onto this page to help users provide their email addresses. You may be able to find more information about this and similar content at piano.io