51 Perfect Memorial Day Weekend Outfits, Brought to You by Celebs
Get your summer style off on the right foot.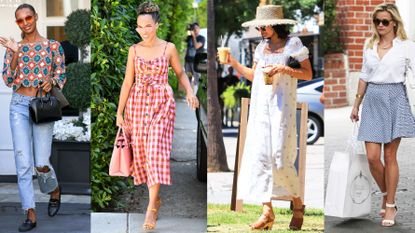 (Image credit: Getty Images)
The no-time-off stretch between the winter holidays and Memorial Day weekend can be excruciating—but you can breathe a sigh of relief, because the three-day weekend is (almost) within reach. Whatever your plans, MDW is a time for relaxation and self-care, but it's also a great time to get your summer style off on the right foot. One foolproof way to do so is by looking to celebs who always are on the cutting edge of fashion trends, yet still manage to look classic (denim never goes out of style). Here, find dozens of gorgeous, Memorial Day-approved inspired looks by celebrities, from floral maxis to Daisy Dukes, that will have you packing up your winter-wear faster than you can say "Summer Friday."
1/49
Kerry Washington
This dress is sweet, fun, and fresh—exactly what we all need to ring in the beginning of summer! Get yourself MDW ready in a picnic-esque gingham dress, sunny sandals, and a purse that's big enough to double as a picnic basket. Rosé, anyone?
2/49
Vanessa Hudgens
Vanessa's look is going to be my entire vibe, not only for Memorial Day but all summer long. A flowy prairie dress combined with clogs and double fisted iced coffee? Such a mood. This look will take you from a beach to a BBQ and everywhere in between.
3/49
Alessandra Ambrósio
The '70s are back in style with bootcut jeans, floppy hats, and much, much more! Keep the trend going all the way through summer with a bell-bottom jumpsuit. Pair it with a platform sandal, oversized aviators, and a boho bag that will show off some retro flare.
4/49
Emma Roberts
Emma's Little Miss Sunshine dress is the perfect boardroom to boardwalk. Sport a colorful sundress, denim jacket, and matching sandals to work. The second the clock strikes 5? You'll be ready to jet off to Montauk (no mid-traffic, quick change required).
5/49
Kendall Jenner
'Murica, but make it fashion. Swap out your plain black sunnies for a sophisticated red-tinted shield à la Kendall. Keep yourself on theme with a white-and-red-striped shirt, half-tucked into your Daisy Dukes. You'll be the most stylin' cousin at this year's family Memorial Day party.
6/49
Jasmine Tookes
We love a crocheted moment on everything from bikinis to ready-to-wear. And we can't argue that jeans and a white t-shirt are a not summer classic, but expand your horizons. For added flare, swap out your tee for a crochet top.
7/49
Selena Gomez
A mini dress is the perfect solution on days when you can't decide what to wear. Pull it all together with minimal effort and maximum results by pairing it with a white sneaker, red lip, and a slicked back bun.
Shop similar: Faithful The Brand, $72
8/49
Taylor Swift
Bring a little retro fun to the patio with these hot pants and a form- fitting tank top. Add a pop of color with a bright shoe, like these Carolina blue heels.
9/49
Heidi Klum
It's finally dress weather, and I don't think I've ever come across a floral maxi that I didn't need. Wear this floor-length dress with a thin belt to cinch the waist and your go-to summer sandals.
Shop similar: Free People, $168
10/49
Rosie Huntington-Whiteley
MDW comes with an extra day off work, meaning you can take some time for R&R with the girls. Make your airport arrival look like a statement with the help of an all-white ensemble. Throw on a thin sweater and slouchy pants for total comfort, while pulling it all together with a great sun hat and matching accessories. It's just as easy as sweats, but so much chicer.
11/49
Jenna Dewan
The not-too-hot, not-too-cold weather in May means you can wear a chiffon floral dress with sleeves and not succumb to heat stroke. Instead of your usual sandals, swap for a pair of transitional ankle booties.
12/49
Katie Holmes
Turn your Memorial Day denim jumpsuit in an office-appropriate outfit by throwing on a blazer and pair of heels. The outfit suddenly goes from casual to polished.
13/49
Gabrielle Union
Going for neutrals or nautical stripes? Add an unexpected element with bright colored sandals or heels.
14/49
Sophia Bush
Transitional jackets like denim or leather are obvious choices for May. Take a page from Sophia Bush's book and wear your leather jacket with a striped shirt and cropped jeans instead of your usual t-shirt and skinny jeans combo. Loafers add a polished vibe.
15/49
Jennifer Aniston
Memorial Day weekend is all about comfort, so if you plan to live in sweats or track pants all weekend, we completely understand. For cases when you do leave your apartment (to get coffee), cover up with a long beige coat. A simple necklace and pair of white kicks says "I tried."
16/49
Hailey Baldwin
When the weather's nice and you want to show off your midriff, a crop top is the best option. To avoid baring it all, opt for high-waisted pants like a cool pair of camo bottoms and an oversized fleece jacket JIC it's still chilly.
17/49
Priyanka Chopra
Stay comfortable with jeans and a plain top, but elevate your basics with pumps and a blazer. A floral-embellished bag adds necessary springtime vibes to your ensemble.
18/49
Reese Witherspoon
Planning to spend your day off outdoors? Remember to cover up with SPF and a cute little sun hat like Reese Witherspoon's. She even went the extra mile to accessorize with a trendy woven bag so her floral shirtdress and white sneakers looked street-style ready.
19/49
Elizabeth Olsen
The type of outfit you see and think, "Damn, this is effortless." So long as you have a white button-down (a boxy, oversize one works best) and a pair of non-skinny jeans, you can master this look. Remember to cuff your bottoms to show off your ankles and shoes.
20/49
Gigi Hadid
A loose-fitting shirtdress that's more caftan than business-casual is one way to feel like you're at the beach instead of in the middle of the concrete jungle.
21/49
Jessica Alba
A slouchy sweater worn off the shoulder with a floral maxi skirt is equal parts chic and pajama-level comfy.
22/49
Kendall Jenner
A flowy romper or shirt-dress is peak effortless summer dressing.
23/49
Elle Fanning
Okay, another Elle Fanning look for the books: a breezy bandeau and a high-waisted tennis skirt when it's too toasty to imagine wearing sleeves.
24/49
Taylor Hill
A cropped tee and high-waisted jeans plus the classic white sneaker is ideal for a low-key get-up.
25/49
Sienna Miller
A classic navy sheath, comfy sandals, and a red lip are the key to nailing your holiday style. It's comfortable and still pulled together.
26/49
Rihanna
If it's a piping hot day, look to a silky slip dress (worn with sneakers, for extra cool points) and a head scarf.
27/49
Bella Hadid
White high tops + crochet lace + a bikini = summer beach vibes x 1,000.
28/49
Taylor Swift
Play with cool pastels and bright accessories (and let's not forget the red lip) in one look when you're already over the color white.
29/49
Beyoncé
A denim romper is the freshest take on all-American denim. Plus, cut-outs can be an ultra-cool detail that help with ventilation. (Double duty just got so real.)
30/49
Kiernan Shipka
One of the coolest teens around schools us on the art of wearing double-denim without it looking like a straight-up Canadian tuxedo. The key? High-waisted denim and a summery halter paired with chic lace-ups.
31/49
Elle Fanning
An off-the-shoulder top plus a midi skirt is the ideal getup when you're planning to be in close proximity of a boat/incredible yacht.
32/49
Lily James
Throw on a dressy shirtdress and heels that you don't mind getting stuck in the grass.
33/49
Rita Ora
If you're of the "more is more" mentality, do as Rita Ora does and wear a graphic tee with an equally bright midi skirt.
34/49
Chanel Iman
Keep cool and cover up by throwing a print maxi skirt over your swimsuit.
35/49
Miranda Kerr
A printed maxi dress is always a breezy, tried-and-true classic that you can dress up with a trendy pair of shades and a structured tote.
36/49
Toni Garrn
The best way to wear stripes, yes or yes?
37/49
Vanessa Hudgens
A chambray skirt can be as versatile as your favorite pair of jeans, especially when paired with a bohemian crop top.
38/49
Blake Lively
Take notes from Lively, who sticks to a neutral color palette for her print sundress and tennis shoes,. Then, add a pop of color with a tangy orange purse.
39/49
Cara Delevingne
Consider toughening up a flirty romper with boyish accessories, like Delevingne's mod cap and high-top sneakers.
40/49
Dakota Fanning
Off-the-shoulder tops and dresses like Fanning's chambray number are of-the-moment. Not to mention, they balance perfectly with a cute sun hat.
41/49
Anne Hathaway
Hathaway looks totally fresh braving an all-white look. Plus, she proves a fanny pack can, in fact, be fashionable in a cool texture or print.
42/49
Kendall Jenner
PSA: Fancy skirts can be worn in the daytime, according to Kendall Jenner, who styles hers with a white eyelet crop top.
43/49
Doutzen Kroes
For a dash of sophistication, throw a white blazer over a crisp, classic striped button-up and run with it.
44/49
Zendaya
Plaid prints are a staple year-round. In the summer, look for silhouettes that breathe, like Zendaya's wrap top and billowy skirt.
45/49
Alexa Chung
Chung's tailored ivory frock is a reminder that thrifted or vintage-inspired threads are especially charming during the warmer months.
46/49
Karlie Kloss
Kloss strikes the right balance between style and function by wearing a body-hugging, knee-length black dress with a leather backpack.
47/49
Lupita Nyong'o
Nyong'o looks especially lovely swirling around in her perfectly-tailored LWD—and you will too, trust.
48/49
Sienna Miller
Your go-to black trouser can get just as much play on a summer weekend, so long as you pair them with light, neutral colors in silhouettes that breathe.
49/49
Kate Bosworth
If you're worried that overalls are lacking any sort of sex appeal, look for them in a fitted shape that shows off your form. Kate Bosworth paired hers with heels for a feminine feel.
For more stories like this, including celebrity news, beauty and fashion advice, savvy political commentary, and fascinating features, sign up for the Marie Claire newsletter (subscribe here).
Celebrity news, beauty, fashion advice, and fascinating features, delivered straight to your inbox!
Taylor Ayers is a fashion editor at Marie Claire, covering the new editorial fashion trends, looks, and contemporary styles.