Lululemon Just Restocked Its Sale Section—Here's What to Buy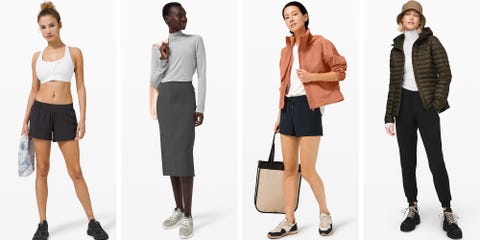 Let's be honest: Shopping for fall clothes looks very different this year. Instead of investing in cute flannels, jeans, and booties, you're stocking up on sweatpants, fuzzy socks, leggings, and more sweatpants. Fortunately, Lululemon just restocked its "We Made Too Much" section with a bunch of fall essentials. You see, when Lululemon has a surplus of pieces, the company offers drastic price cuts to incentivize its shoppers. (As if you needed an excuse to shop...)
Whether you're looking for a chunky sweater, new pair of leggings, or a winter jacket for the colder months ahead, you're bound to find something worth adding to your cart. To help, we're sharing 10 of our favorite deals, below:
Lululemon
lululemon.com
$79.00
Made with Lululemon's stretchy, buttery-soft Nulu fabric, this pair feels more like a second skin than another pair of leggings. They're the perfect thing to wear to your socially distanced yoga class or lounging around the house.
2
Stash It All Bra Medium Support
Lululemon
lululemon.com
$29.00
Since wearing anything with underwire is totally out of the question, now's the time to buy sports bras in bulk. Lululemon's Stash It All bra is supportive without being constricting.
3
Always Effortless Jacket
Lululemon
lululemon.com
$89.00
Whether you're running errands or embarking on an outdoor run, Lululemon's Always Effortless jacket will protect you from all the elements—stylishly, of course.
4
Kosaten Long Sleeve Shirt
Lululemon
lululemon.com
$39.00
This fall, layer up with Lululemon's Kosaten shirt. The turtleneck silhouette is massively cozy, but its lightweight design will keep you from overheating.
5
On the Fly Wide-Leg 7/8 Pant Woven
Lululemon
lululemon.com
$59.00
With a wide-leg silhouette and selection of versatile colors, these cozy pants are a stylish alternative to your favorite sweats.
Lululemon
lululemon.com
$19.00
On the hunt for another Zoom top to add to your growing rotation? Not only does this classic button-down look professional, but it's also made with Lululemon's anti-stink material so you can wear it a few times before putting it in the wash.
7
Easy Embrace Long Sleeve Sweater
Lululemon
lululemon.com
$99.00
Found: A ridiculously cozy (and chic!) sweater you'll live in for the next few months.
Lululemon
lululemon.com
$139.00
In the iconic words of House Stark, winter is coming. Not only will this jacket keep you warm in the colder months, but it's can also be packed down into a small pouch.
9
Let it Flourish Ankle Sock
Lululemon
lululemon.com
$9.00
Convinced you have everything you need? Think again. Now's a great time to pick up the basics, like a new pair of socks.
10
14L Cross Paths Rucksack
Lululemon
lululemon.com
$79.00
Pro tip: Buy this stylish backpack now, and you can have a brand new bag waiting for you once you're finally able to go back to your office or co-working space.
This content is created and maintained by a third party, and imported onto this page to help users provide their email addresses. You may be able to find more information about this and similar content at piano.io