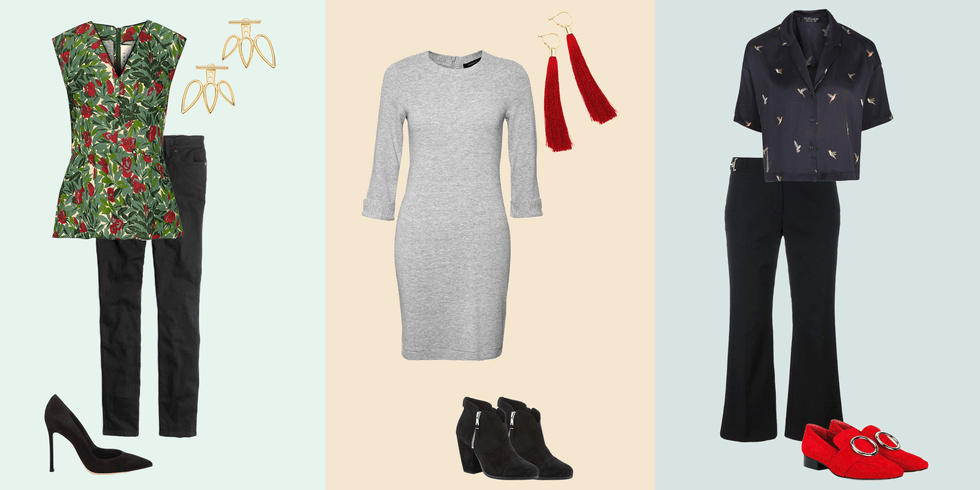 What makes a great job interview outfit? Step one: It has to fit well—no pulling buttons or skirts hiking up. Step two: It needs to be appropriate for your field. The elusive x-factor, though, comes from creating an ensemble that makes you feel like a powerhouse. And while it's tough to check all those boxes, the great news is you only have to do it a few times. Keeping a dependable, proven interview outfit is like having an up-to-date resume; you're always ready for whatever opportunity comes next.
While the Marie Claire offices are pretty casual compared to, say, a law firm, they also demand a certain sense of taste and style. (Read: Finding a look can be panic-inducing.) Here, the digital staff share the outfits that got them their jobs and where you can find the looks.
Rosa Heyman, social media editor
"My interview outfit signaled that I understood the Marie Claire brand—that I was a woman who was stylish, professional, and confident. I wore a green vegan leather mini skirt with black tights and a white blouse. "
Chic Wish faux leather skirt, $35, chicwish.com; Halston Heritage blouse, $118, theoutnet.com; Falke tights, $43, matchesfashion.com; Stuart Weitzman boots, $685, nordstrom.com

Jazmin Jones, video editor
"I wore a striped Zara pant/skirt situation. It was kind of like a skort, but longer. I paired it with a black turtleneck. Hey, if it's good enough for Steve Jobs, it's good enough for me."
H&M turtleneck, $17, hm.com; Zara striped and floral trousers, $30, zara.com; Loeffler Randall sandals, $325, bloomingdales.com
Jessica Pels, site director
"I wanted to feel confident, but also not overly done up. So I stuck with my formula: A sheath dress, really tall heels, and bright red lipstick. The bold lip is my signature—my boss remembered that about me when I came in for my interview! And really tall heels make me feel like a badass who takes no prisoners; I love that they put me on the eye level of any men I might be shaking hands with."

Gianluca Capannolo shift, $340, farfetch.com; Zara sandals, $56, zara.com; MAC lipstick, $17, maccosmetics.com
Danielle McNally, features editor
"I wore all of the textures: A sheer black blouse with dark cami underneath, black leather leggings, and a cream fur stole. My shoes were grey suede pumps."
Diane Von Furstenberg blouse, $175, net-a-porter.com; Forever 21 faux fur wrap, $7, forever21.com; H&M camisole, $6, hm.com; The Row leather leggings, $1,950, matchesfashion.com; Chinese Laundry grey suede pump, $60, chineselaundry.com
Lauren Bernstein, senior editor, branded content
"I wore a Marni graphic print top with Madewell black skinny jeans and funky ear jackets. On my feet were Sergio Rossi black suede pumps—I call them my 'interview heels.'"
Marni silk top, $260, theoutnet.com; Madewell skinny jeans, $115, madewell.com; Sergio Rossi pumps, $595, fivestoryny.com; Shashi ear jacket, $52, shopbop.com

Samantha Leal, senior editor
"It was winter, so I wore a grey shift dress that made me look like a presentable adult with black tights and boots. Oh, and really big earrings. They're kind of my thing."
French Connection dress, $118, frenchconnection.com; Forever 21 earrings, $5, forever21.com; Rag & Bone booties, $247, bergdorfgoodman.com
Chelsea Peng, assistant editor
"I go back to this formula: a boxy jacquard Topshop shirt everybody always assumes is Kenzo; whatever black trousers I most like at the moment (currently cropped and flared); and low, sturdy heels, like a pair of red suede Dorateymur loafers. It's a clean, boyish silhouette that's made subtly fashion-y with the fabrics and cut. Plus it's chill enough that you can wear it out to the bars after if you tank at the interview."
Topshop blouse, $60, topshop.com; Michael Michael Kors trousers, $92, farfetch.com; Dorateymur suede loafers, $450, farfetch.com