Dressed to Thrill: Anne Hathaway in Erdem
Our chic celebrity outfit of the day.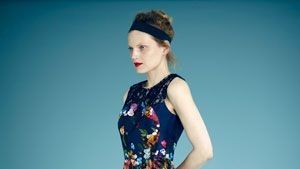 (Image credit: Courtesy of Erdem)
Though the fourth season of The Rachel Zoe Project doesn't kick off until next month, it seems the series' star stylist has been keeping plenty busy. Apart from that whole raising-a-baby thing, she's been selecting a stellar lineup of looks for client Anne Hathaway (opens in new tab) to sport throughout her One Day press tour. On Tuesday night, Anne stopped by to see Conan O'Brien in a beautiful floral frock from Erdem's Resort 2012 collection. From the actress' styling choices (bold red lip, loose n' wavy locks) to the fit and deep blue hue of the dress, the entire ensemble's a knockout. While there were no great shots of Miss Hathaway in the dress, you can see it nicely in this video.
But the best part about Anne's Conan visit? In a move that belied her Erdem's sweet print and proved the actress is no shrinking violet, Hathaway busted out an anti-paparazzi rap "in the style of Lil' Wayne" that had us cracking up. Check it out below!
http://www.youtube.com/watch?v=uKvQvWTZFWg (opens in new tab)