The 31 Best Anne Hathaway Performances of All Time: A Definitive Ranking
Anne Hathaway is Hollywood royalty, able to bring out strong performances in every film. Here, we've ranked her 31 best film performances.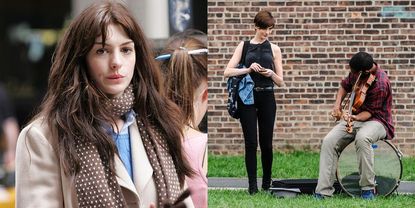 (Image credit: Getty Images)
Marie Claire Newsletter
Celebrity news, beauty, fashion advice, and fascinating features, delivered straight to your inbox!
Thank you for signing up to Marie Claire. You will receive a verification email shortly.
There was a problem. Please refresh the page and try again.
Ever since she broke onto the scene with The Princess Diaries, Anne Hathaway has taken Hollywood by storm. From Get Smart to her Oscar-winning turn in Les Misérables, Hathaway's career has always been enjoyable. We've ranked the 31 films in Hathaway's filmography, and number 1 definitely is going to surprise you.
1. 'Don Jon' (2013)
Honestly, I completely forgot Anne Hathaway was even in this movie until I saw it on her IMDB. It's ranked so low because she's basically a glorified cameo, playing an actress in a movie Joseph Gordon-Levitt and Scarlett Johansson's characters go to see, nothing more. She does have a ton of chemistry with Channing Tatum, though. Sorry, Joseph Gordon-Levitt! We'll revisit this when we rank Brie Larson movies... maybe.
2. 'Don Peyote' (2014)
What even is this movie? It came and went rather quietly during its release, and seemingly for good reason. Hathaway is criminally underused, even though she does the best she can with what she's given. But if you're gonna sell "Anne Hathaway in a stoner movie," I'm going to demand a lot more than this.
3. 'The Other Side of Heaven' (2001)
An early-career move for Hathaway, and there's a reason you've never heard of this one. Hathaway (along with the film's other lead, Ugly Betty's Christopher Gorham) is way better than the film's simplistic, sappy narrative, and she basically only helps to serve the film's framing narrative. Her performance is expected, hence the low ranking.
4. 'Passengers' (2008)
Honestly, I don't know how a movie starring Anne Hathaway and Patrick Wilson could be this... uh... bad. Okay, it's not bad, per se–it's just dreadfully generic. It's one the least suspenseful "suspense" films I have ever seen in my life. Hathaway does as good as she possibly can as Dr. Claire Summers, a grief counselor working with a group of plane crash survivors.
5. 'The Intern' (2015)
For Nancy Meyers, The Intern is a passable movie, if a little forgettable. Hathaway stars opposite Robert DeNiro as the CEO of a start-up with an initiative to hire senior citizens for internships. It's a perfectly fine movie, really. I spent a lot of this movie hoping it wouldn't end with De Niro and Hathaway pairing up. Spoiler Alert: It doesn't, thankfully.
6. 'Valentine's Day' (2010)
Reuniting with Princess Diaries director Garry Marshall (RIP), this 2010 film was meant to be the American version of Love Actually, an ensemble film of intertwined stories because life is just one big connected circle, right? But like most Americanized versions of British films, this one is a flop, and Hathaway must have done it out of loyalty to Marshall, because I cannot see a reason she would be attracted to this weird role, one that involves shaming sex workers (Hathaway's character works for a phone sex line). Everyone in this movie deserves more, but Hathaway in particular definitely does.
7. 'The Dark Knight Rises' (2012)
Anne Hathaway deserves a second chance at a superhero franchise, because her turn as Catwoman wasn't much better than Halle Berry's. In a film already packed to the brim with stars, Hathaway feels like an afterthought, even though she's playing an iconic character like Catwoman. Hathaway rarely gives a weak performance, but this most definitely is one of them.
8. 'Alice Through the Looking Glass' (2016)
There is absolutely no way Anne Hathaway signed onto this movie without some kind of prior obligation. Acting in front of a green screen with a gorgeous gown on would bore me too, Anne. I get you.
9. 'Song One' (2014)
This one is a weird one, and a part of Hathaway's filmography that may have just passed along the way. Like, I actually forgot this movie existed, and I thought it was another Anne Hathaway film. Hathaway plays a sister who returns to New York to care for her estranged brother after he enters into a coma, and meets/falls in love with her brother's favorite musician. It feels like it's been done before, and Hathaway has better movies worth watching. You can skip this one, no one will notice.
10. 'Alice in Wonderland' (2009)
I wasn't a fan of the sequel, and I'm not a fan of the original, either. Is it a gorgeously shot film? Most definitely. But Hathaway is far and away the best performance (because she's not chewing the scenery to the nub, Johnny Depp) but by the time she arrives on screen, you'll find yourself too exhausted and overwhelmed to enjoy her performance. It's gonna be a no from me, dawg.
11. 'One Day' (2011)
Ah, yes, the film you thought was Song One. The two films share a word in common in its title, and a general generic sappiness. The movie follows Hathaway and Jim Sturgess (Across the Universe) on the day they met, and follows their lives on that same day over the next 18 years. The reason this movie is ranked so low is a) the entirely unnecessary third-act twist feels like an attempt to emotionally manipulate its audience unnecessarily, and b) Hathaway's Yorkshire accent is... uh... unintentionally hilarious.
12. 'Rio 2' (2014)
Is it better than the original? Nope, but still worth watching. Rio 2 takes Blu (Jesse Eisenberg) and Jewel (Hathaway) and their three children out of the titular city and into the Amazon rainforest to give their kids a little sense of perspective of their life. It's totally formidable, and Hathaway delivers (as usual), but the first one is a must-watch, this isn't as necessary.
13. 'Love and Other Drugs' (2010)
Every part of this movie should have been better than it was. Jake Gyllenhaal and Anne Hathaway in a romantic comedy about a pharmaceutical rep who falls in love with a free-spirited woman with a chronic disease? It had all the makings of brilliant (just look at the trailer!) but it just falls short. Yet another case of Hathaway doing the Hatha-most with what she's been given. She does better romantic comedies for sure, you'll see.
14. 'Get Smart' (2008)
Hathaway is entirely exceptional in this film based on the television series of the same name. But this isn't a vehicle for Hathaway–it's a vehicle for Steve Carell, and Anne Hathaway must support him along the way. Again, entirely serviceable as a performance, but not her best.
15. 'Rio' (2011)
A movie about birds isn't expected to be great, but Rio upends that entire concept. Hathaway stars as a Spix macaw named Jewel, and this movie feels like happiness in 90 minutes. If you don't enjoy things, you probably won't enjoy Rio. The only way this movie could be improved is if Hathaway was allowed to sing on the film's (already fantastic) soundtrack. I'm #TeamAnneHathawaySingingInMovies.
16. 'Hoodwinked!' (2005)
If there's one thing Anne Hathaway loves, it's a film that's a twist on a folk or fairytale. (See: Ella Enchanted.) Hoodwinked! falls in the same vein, a retelling of the Little Red Riding Hood tale. Hathaway stars as Red, and even in a voice performance, she's just... stellar. This isn't your average fairy tale, but it's so adorable you'll love it.
17. 'Interstellar' (2014)
Yes, you have to bring in a notebook to take notes while you watch this movie, but that's part of the fun of it! It's a movie about astrophysics, and love, and wormholes, and fifth-dimensions, but Hathaway delivers a performance that makes this confusing movie worth watching.
18. 'Becoming Jane' (2007)
Everything about this movie is just alright, but Anne Hathaway (and the wardrobe, my goodness, the wardrobe) is out of this world good in this turn as Jane Austen. Yes, there are times when the film's plot seems too perfect to be real in this biographical film, but Becoming Jane should be on the lists of "best romance films." It's almost ridiculous that it's not.
19. 'Nicholas Nickleby' (2002)
Remember that time when Anne Hathaway was doing a ton of period films? This was the beginning of that era in Hathaway's career, and this is by far the best one she did. Playing the love interest to the titular Nicholas (Charlie Hunnam, before Sons of Anarchy), Hathaway is marvelous in this stage in her young career. I'd fall in love with her too.
20. 'The Cat Returns' (2005)
Hathaway is the voice for the English-language version of this Japanese animated film about a schoolgirl who finds her entire world flipped upside down when she rescues a cat. Hathaway is great and charming in an early-career voiceover role, and makes me want to live in the mysterious underground world where cats run everything.
21. 'The Princess Diaries 2: Royal Engagement' (2004)
In a sequel no one really needed or asked for, Hathaway returns to the role that thrust her into international stardom. Princess Mia is 21, out of college, and ready to ascend to the throne to lead the country of Genovia when she learns she cannot become Queen without a King, and if she's not married in 30 days will forfeit the throne. Hathaway's return to the role doesn't disappoint whatosever, though. I'm sure Kate Middleton and Meghan Markle used this film as inspiration for their own royal weddings.
22. 'Ella Enchanted' (2004)
I'm a bit biased–the novel the movie comes from was one of my favorites growing up, so I was bound to love this twist on the traditional Cinderella tale. While it takes liberties from the novel (it's more "inspired by" than a true adaptation), Hathaway is a true gem as Ella, a young girl under an obedience spell from a well-intentioned witch with bad timing that makes her do every single command told to her. Of course, that means she literally holds her tongue when told to "hold her tongue," but it's not so funny when she's forced into servitude by her evil stepmother. The movie pokes fun at itself and fairy tales, and Hathaway gives one of the most charming performances she ever pulled off.
23. 'Bride Wars' (2009)
This one's for the rom-com lovers out there. Anne Hathaway and Kate Hudson star as best friends who have had every detail of their weddings planned for more than 20 years, including holding it at the Plaza Hotel. When there's a mixup in the booking and their weddings are booked for the same day, the best friends turn on each other and hilarity ensues. Who doesn't love just a little bit of sabotage? I'm not typically a fan of the "women turning against each other over something 'feminine'" trope on film, but Hathaway gives a take on the role that makes it more palatable.
24. 'Havoc' (2005)
Hear me out on this one before you rage about how high it's placed on this list: Anne Hathaway's career depended on this movie more than people give it credit for. Without this movie, Hathaway would still be Princess Mia of Genovia to a lot of people (not that that's a bad thing.) and Havoc showed people she was way, way, way more than the Disney Princess people believed her to be. The "bored rich teenage girl gets mixed up with the wrong crowd and realizes she may not know everything" trope has been done before and done since, and certainly done better in other iterations, but Hathaway perfectly toes the line of sympathetic and unlikable. Growth.
25. 'Colossal' (2017)
Colossal is so much more than your typical monster movie. In a nutshell, it's a 90-minute metaphor for toxic masculinity at work and the way men attack women for things beyond their own control. Hathaway stars as Gloria, an unemployed writer with a binge drinking problem who comes to realize that she's unintentionally causing a giant monster to wreak havoc in South Korea. Casual, right? It's so good, and Hathaway plays the premise–which an actor with less of an understanding could play over the top– with the realism it deserves. Don't miss the third-act twist.
26. 'Brokeback Mountain'
This was so much more than the "gay cowboy" movie that it's known for being. A true love story, but also, man, Hathaway gives a nuanced performance as Lureen Newsome, the Texas rodeo queen who winds up settling down with Jake Gyllenhaal's Jack Twist. Her part is small, but at this point in Hathaway's career she was still proving herself. Meryl Streep approved Hathaway for The Devil Wears Prada after watching her performance in the scene where Lureen tells Ennis (Heath Ledger) what happened to Jack. Sometimes it's the smallest parts that lead to the biggest ones.
27. 'Ocean's 8' (2018)
It had been quiet on the Hatha-horizon for a while before she re-emerged to be the breakout performance in Ocean's 8. Like, this is a career-making performance, a comedic tour-de-force from an actress we typically know for her dramatic work. Hathaway kills it as Daphne Kluger, a actress lacking in the brains department but thriving in the "false sense of superiority" department who the Ocean's team plots to rob. Not only does she look the best she has in her entire career due to some Rihanna compliments, she also crushed it in this performance in every way.
28. 'Les Misérables' (2002)
I have a confession to make: I'm a theater nerd who doesn't think Les Misérables is the best musical ever. Actually, I can't stand it and have always thought it was massively overhyped. But even I had to take a step back and reconsider my stance when I saw Hathaway's performance of 'I Dreamed a Dream'. Hathaway performed the song live-to-tape in a single take. You see Hathaway give everything to the performance–every quiver, the despair, the humiliation, the anger. Hathaway's own mother played Fantine on Broadway before retiring to raise a family, so this is just a full-circle moment.
29. 'The Princess Diaries'
Ah, the one that started it all. This movie has everything: a makeover montage, Julie Andrews, a music scene featuring a 2000s popstar, and a girl learning she's a princess. There's a reason this movie made Anne Hathaway into a star, and it's because she's so believable as Mia Thermopolis. Her "SHUT. UP." is iconic.
30. 'Rachel Getting Married'
I will shout this from the rooftops for the rest of my life: Anne Hathaway should have won an Oscar for this performance. Hathaway is literally heartbreaking as Kym, a drug addict on a temporary leave from rehab to attend her sister's wedding as the (unintentional) maid of honor. Kym and her sister, the eponymous Rachel as well as the rest of their family have a dark history from an accident Kym was involved in. It's uncomfortable, it's dark, and Hathaway is a marvel. Plus, I dare you to try to make it through this perfect Neil Young cover without crying. You can't.
Celebrity news, beauty, fashion advice, and fascinating features, delivered straight to your inbox!
Amanda Mitchell is a writer and podcaster with bylines at Marie Claire, OprahMag, Allure, Byrdie, Stylecaster, Bon Appetit, and more. Her work exists at the apex of beauty, pop culture, and absurdity. A human Funfetti cake, she watches too much television, and her favorite season is awards season. You can read more of her work at amandaelizabethmitchell.com or follow her on Instagram and Twitter @lochnessmanda.