Tim Gunn's Rules of Style
The Project Runway mentor and fashion guru answers all your style conundrums.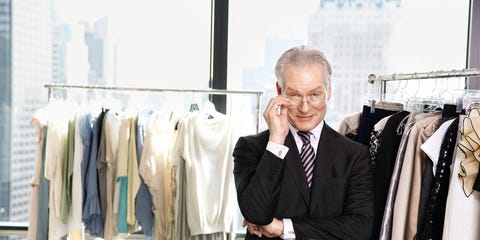 The Project Runway mentor and fashion guru answers all your style conundrums.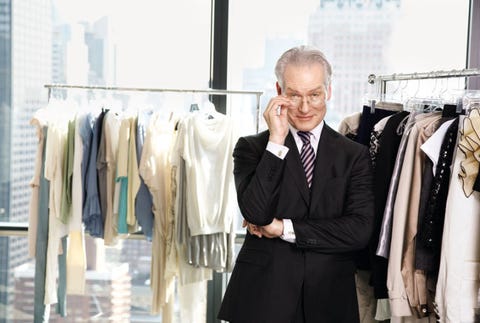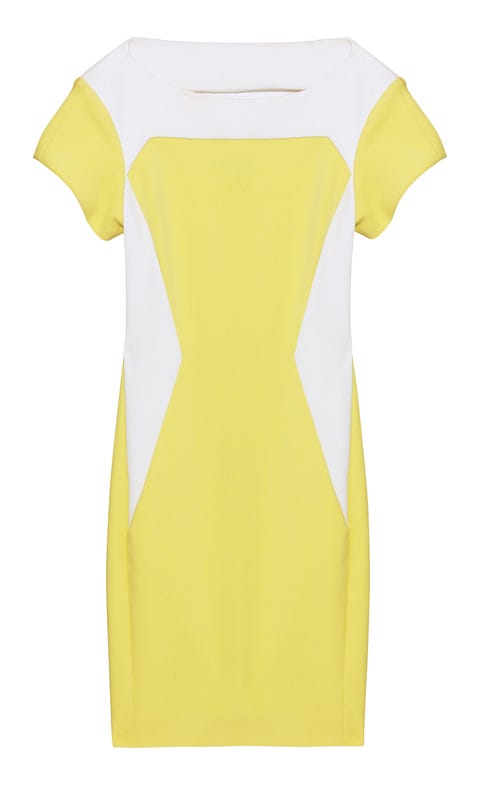 Richard Majchrzak/Studio D
Wide Range
"I have extremely broad shoulders and an athletic back. In feminine dresses, I feel like I look too manly — being small-chested doesn't help. Any advice?"
Women can be categorized in two ways: those whose shoulders are narrower than their hips and those whose shoulders are wider, with the popular belief being that the latter is easier to dress. It is! Our clothes give us the opportunity to create an optical illusion. Sleeveless items will always enhance you. When wearing sleeves, make sure they're fitted. Color blocking is also great for your build: Look for tops in which the sleeves and bodice are different colors. V-necks will be most flattering — and under no circumstances should you wear anything with a shoulder pad. Finally, your ideal dress is a sheath, rather than a shift: Both styles are sleeveless, but a sheath has darts in the bodice for a fitted look. Celebrate your great shape!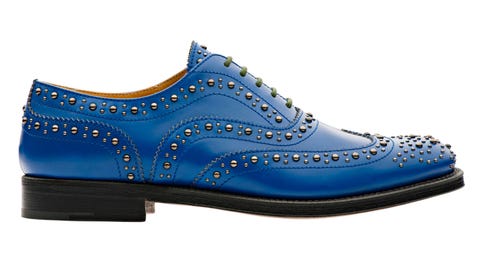 Richard Majchrzak/Studio D
Match Point
"I just bought a pair of navy oxford flats. Since most of my wardrobe is black, I have no idea what to wear them with! Any outfit suggestions?"
The oxford flat is such a classic style and so inherently casual that you should avoid trying to dress it up. Regarding your color challenge, I love pairing navy with black. In fact, I do it myself! I acknowledge that this is rule breaking, but what are rules for anyway? The key is making sure there's a discernible difference between the navy and black. So opt for a deeply saturated color, not one that flirts with navy, as in "navy-ish"; still, the color shouldn't be so dark that it reads as being almost black, which is midnight. You want harmony and balance, too. Use your visceral eye. It won't betray you!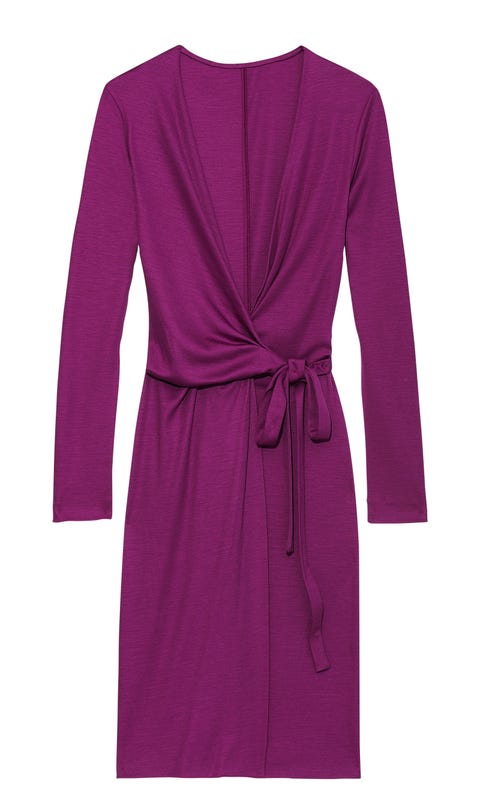 Richard Majchrzak/Studio D
Go Figure
"I'm a new mom still working on losing the belly. The catch: We're planning for another baby in the near future. I feel like I'm in this holding pattern of fashion. Do I buy clothes now or wait until after the next baby? My self-confidence is starting to suffer."
First, congratulations! How thrilling! Second, I assure you that you can have both: impending or receding motherhood and fashion. For mothers in your position, I suggest wrap styles because they are intended to be custom fit to your shape. As you shrink or grow, the wrap style will shrink or grow with you. In addition, these items will serve your wardrobe long after your pregnancy (unlike most maternity clothes), so consider them a deserving investment.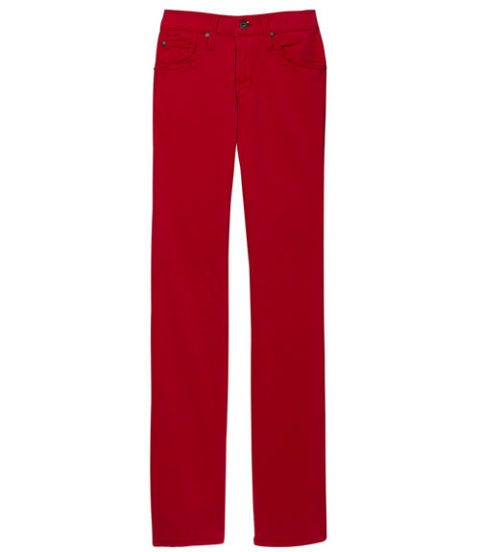 Richard Majchrzak/Studio D
Red Hot
"I'm obsessed with pants and jeans in red and cobalt. Is there an age limit to such brightly colored apparel? I'm in my early 40s. How can I make them work?"
I love colored denim, too, and I've used it in a number of "Timterventions" on The Revolution. There is absolutely no age limit with these deeply color-saturated jeans and pants. Just be mindful of the particular style: Avoid anything skintight (aka jeggings), and I'm not a fan of tapered or flared styles, either. Look for a straight-leg style. I find that it's flattering on most women. Also, one length does not accommodate all shoes! With flats, pants should have a slight break across your foot. If you're wearing heels, then the pants should fall to just an inch above the base of the heel. Got it?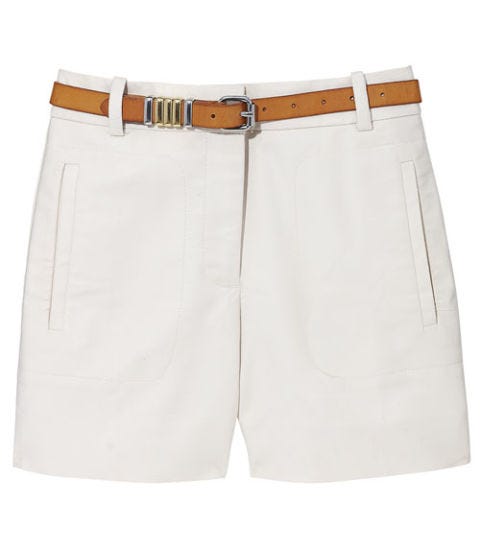 Richard Majchrzak/Studio D
Get Shorty
"I am 4'9" and a size 8. Shorts emphasize my already short legs — no length is ever right! I can't wear jeans when it's 90 degrees, nor do I want to wear a dress or a skirt every single day. Any suggestions for a style of shorts that will look somewhat presentable?"
The fashion challenges for petite women are many, as you know only too well. Every woman's goal, regardless of height and weight, is to appear as long and lean as possible. With shorts, it's important that you look for the following: a slimmer fit (no volume); a length that falls at least an inch above your knee (don't cut your leg in half); and a color that approximates your skin tone. Why? Because it will make your leg — from thigh to ankle — appear longer. Finally, choose tops that, if not tucked in, fall no farther than the widest part of your hip.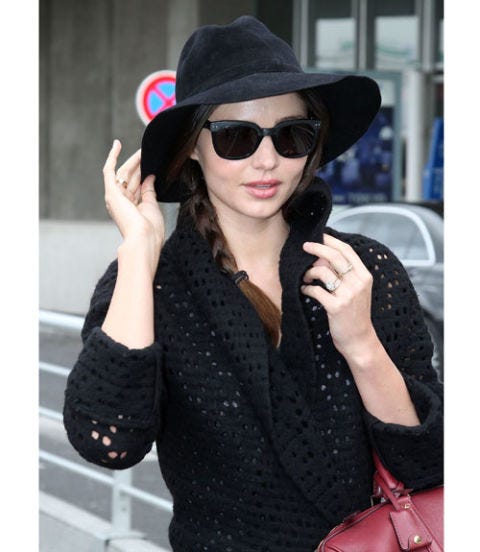 Shades Apart
"I consider myself lucky that I don't need prescription glasses, but I've spent years searching for the perfect pair of sunglasses that suit my face with no luck. My face is round and the bridge of my nose is high. Any ideas?"
I share your aversion to sunglasses. I, too, have difficulty finding a style that I think looks good on me. Consequently, I rarely wear them. Like our clothing, sunglasses should flatter our faces. In your case, choose a style that is slightly wider than the broadest part of your face. You want minimal curves, so rectangular lenses will be more flattering. In addition, look for styles with higher temples. While these design features will be the most suitable for your face, that doesn't mean you'll have corresponding confidence. My suggestion: Make yourself wear them. That's how I got over my aversion to pocket squares. Now I'm addicted!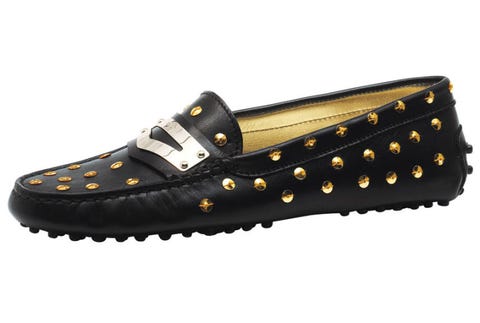 Richard Majchrzak/Studio D
Broken Beauty
"I had foot surgery, and now I have to wear a clunky walking boot. I'm 5-feet tall and the boot has taken over! Any suggestions for trying to look stylish with it? Besides ballet flats, what are some good shoe options?"
About a year ago, I too was confined to one of those dreaded boots. While you're recovering, I suggest adopting a menswear approach: Wear pants that cover the boot and do whatever you like above the waistband. I always wore a black shoe because it mitigated the effect of the black orthopedic boot. Since you'll be embracing flats while you're healing, consider taking the menswear look a little further: Menswear-inspired footwear, such as a wingtip, is very on-trend at the moment. And buying new flats won't be a waste because you'll be shying away from heels for a number of weeks after you're free of the boot. Heal, repair, and don't sacrifice your style!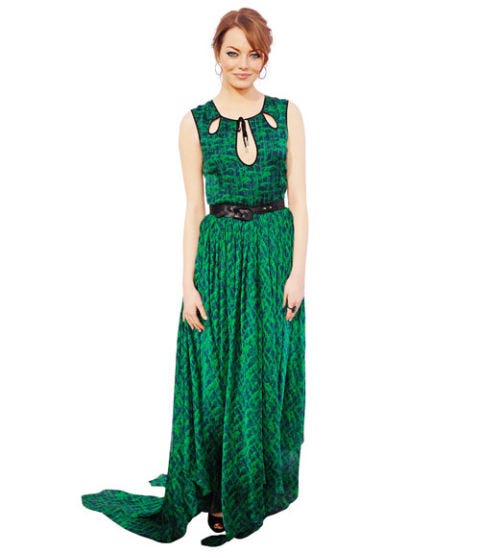 Coloring It In
"I am a very pale redhead — a ginger, specifically. I tend to wear dark and neutral tones because they fit my personality best. Are there any colors that are off-limits for my skin tone and hair combination? I've always wanted a sexy red dress, but would that work?"
I am rapturous about redheads, so congratulations! I find that pale redheads look best in deeply saturated colors, such as jewel tones: ruby, amethyst, emerald. Avoid pastels and any neutral that's close to your own skin tone. (I am not using that pervasive word nude because a color is nude only if it's the color of your skin.) When presented with the what-colors-can-I-wear problem, I encourage women to perform a skin test — that is, hold the textile under your chin and see how it reflects onto your face. The paler you are, the fewer good color options you have. Women with dark skin can have a color bonanza!
This content is created and maintained by a third party, and imported onto this page to help users provide their email addresses. You may be able to find more information about this and similar content at piano.io